Malaysia's leading metaverse and virtual spaces development company Virtualtech Frontier (VTF) launched, Mitoworld, the first no-code metaverse building SaaS platform in APAC.
According to its press release, the new platform will enable businesses to "create their own custom metaverse experiences without the need for complex coding or significant financial investment," all for a recurring subscription fee of US$99 a month.
In his opening speech, VTF CEO Jason Low, envisioned Mitoworld to "ease businesses in achieving their virtual dreams through metaverse integrations." He also said that the SaaS platform was designed to be "beginner-friendly" and would cater to "businesses of all sizes and industries."
"Businesses can leverage Mitoworld to build sustainable online virtual worlds that can become long-term hubs for its fans and consumers to interact with the brand and each other. Metaverse can also be used to host virtual campaigns or hold digital exhibitions without having to consider the high cost of hiring, upskilling and device upgrades" he added.

Backed by 500 Global and Blockchain Founders Fund, Mitoworld aims to bring onboard businesses into the Metaverse, a market projected to hit US$936.6 billion by 2030 according to Grand View Research.
"With Mitoworld we want to break down the barrier to entry and give thousands of enterprises and SMEs from all around the world an accessible and affordable route to a nearly trillion-dollar metaverse market," said Low.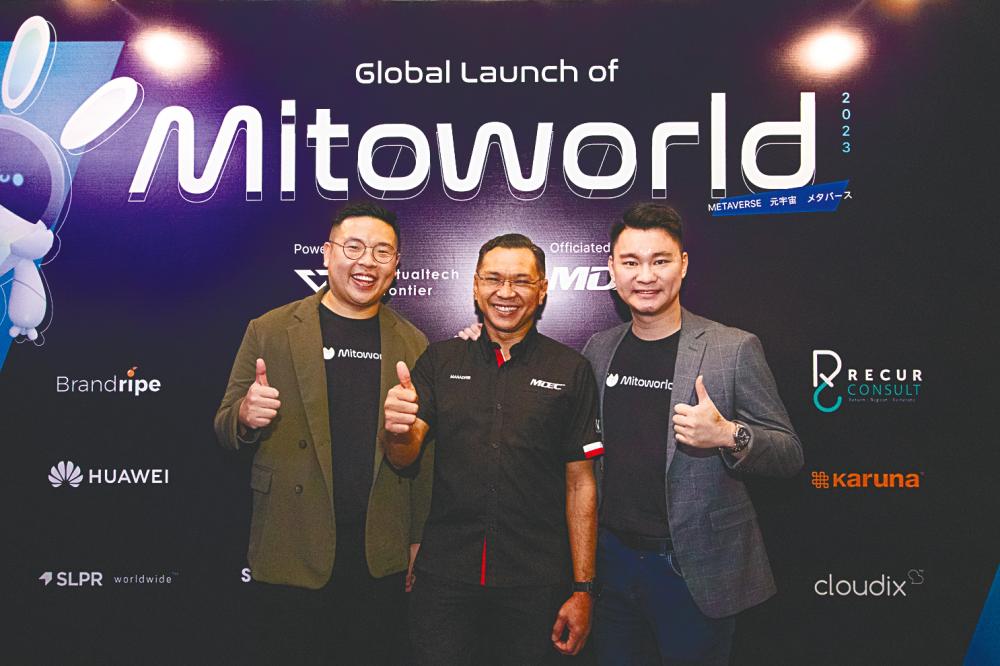 Also in attendance and to commemorate the platform's entry into the market was the Malaysian Digital Economy Corporation (MDEC). In his speech, MDEC CEO, Ts. Mahadhir Aziz, praised the platform as an innovative solution that can "positively facilitate Malaysia's tech export."
During his speech, he also encouraged other tech industry players to take "the first step forward" in determining the global tech landscape as Malaysia is positioned to be a global leader in tech service and product exports.
"As far as the government is concerned, MDEC will help facilitate a company's market entry into regional markets provided you have an application based solution that is demanded by the industry," said Aziz.
Read More: Talking Heads: Metaverse Impact on Asia, ft. Deloitte's Duleesha Kulasooriya
Metaverses akin to Landing Pages
While Blockhead was sceptical with metaverse products, we were presented with a metaverse demonstration that compared itself as the better landing page for user engagement.
During the product demonstration, chief product officer Angeline Seah mentioned that after spending months in market research, they had found validation.  
"We know brands need a metaverse because they want to unlock new revenue streams, elevate brand experiences and contain traffic in one space," said Seah.
Her presentation demonstrated a case study showing positive results for an educational metaverse product, showcasing a 90% onboarding rate of 1,200 unique users and an average user stickiness time of 18 mins.
Seah also mentioned that current metaverse solutions would set any company back on average US$85,000 in development costs and the semi-custom Metaverse platform was a more cost efficient alternative. "With the platform [Mitoworld], you need less than 10% of the cost as you would in developing, deploying and maintaining a metaverse."
Together with her team, they have now built close to 400 metaverses on the platform, each with a specific use case within Southeast Asia for clients ranging from entrepreneurs, businesses from various industries and creatives.
Read More: Meta "Short-Sightedly" Pulls NFTs From Instagram in Crypto U-Turn
---
The world of Web3 can be quite a whirlwind. Whether it's crypto news in Singapore, South East Asia or even across the globe, we understand how busy the industry is keeping you, so we kindly send out three newsletters each week:
BlockBeat for a wrap-up of the week's digital assets news
Blockhead Brief for weekend happenings as well as what to look forward to in the week ahead
Business Bulletin for macroeconomic updates and industry developments.
To avoid FOMO and access member-only features, click here to subscribe for FREE.