HSBC is buying Silicon Valley Bank's UK arm for just £1 in a move that "strengthens" the tech sector.
Silicon Valley Bank (SVB) collapsed on Friday, sending shockwaves through global markets and leaving billions of assets of businesses and investors stranded.
Read more: Silicon Valley Bank's Collapse Underscores Risks From Rising Cost of Money
On Monday morning UK time, HSBC UK announced that it is acquiring the British arm of the US bank.
In a statement, the Bank of England said it "can confirm that all depositors' money with SVB UK is safe and secure as a result of this transaction."
SVB UK would be facing insolvency by the Bank of England if a buyer had not been found.
HSBC CEO Noel Quinn said in their own statement that the deal means "SVB UK customers can continue to bank as usual, safe in the knowledge that their deposits are backed by the strength, safety and security of HSBC."
Quinn described the deal as making "excellent strategic sense" for HSBC UK and is in line with their tech focus.
"This acquisition makes excellent strategic sense for our business in the UK," he said. "It strengthens our commercial banking franchise and enhances our ability to serve innovative and fast-growing firms, including in the technology and life-science sectors, in the UK and internationally."
With the acquisition also comes SVB's debt. As of Friday, SVB UK had loans of approximately £5.5 billion ($6.7 billion) and deposits of around £6.7 billion ($8.1 billion).
At the time of writing, HSBC's share price is down over 3.60% following the announcement of the deal.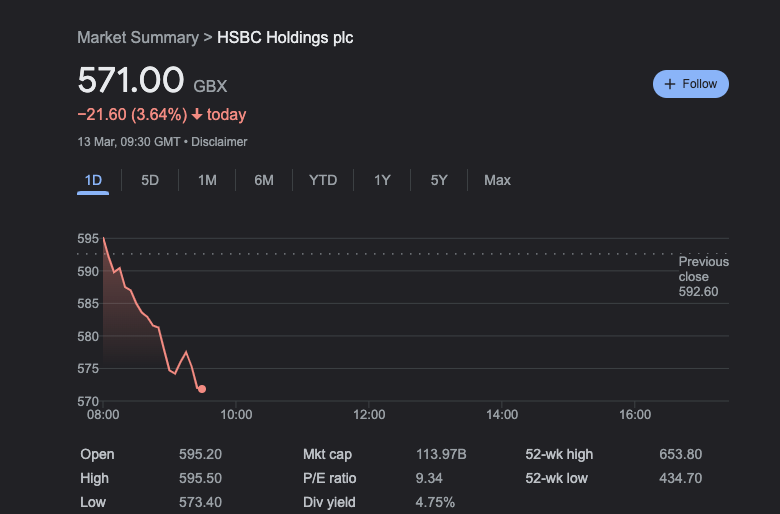 The world of Web3 can be quite a whirlwind. Here at Blockhead, we understand how busy crypto is keeping you, so we kindly send out three newsletters each week: BlockBeat for a wrap-up of the week's news; Blockhead Brief for weekend happenings as well as what to look forward to in the week ahead; Business Bulletin for the most important business and economic developments in the industry. To avoid FOMO and access member-only features, click here to subscribe.