BlackRock has announced a new ETF that focuses primarily on tech companies exposed to the metaverse.
Named "iShares Future Metaverse Tech and Communications ETF (IVRS)," the fund invests in companies that "provide products and services that are expected to contribute to the metaverse in areas including virtual platforms, social media, gaming, 3D software, digital assets, and virtual and augmented reality."
Its top five companies by percentage share are Meta, Apple, Nvidia, Netease and Roblox.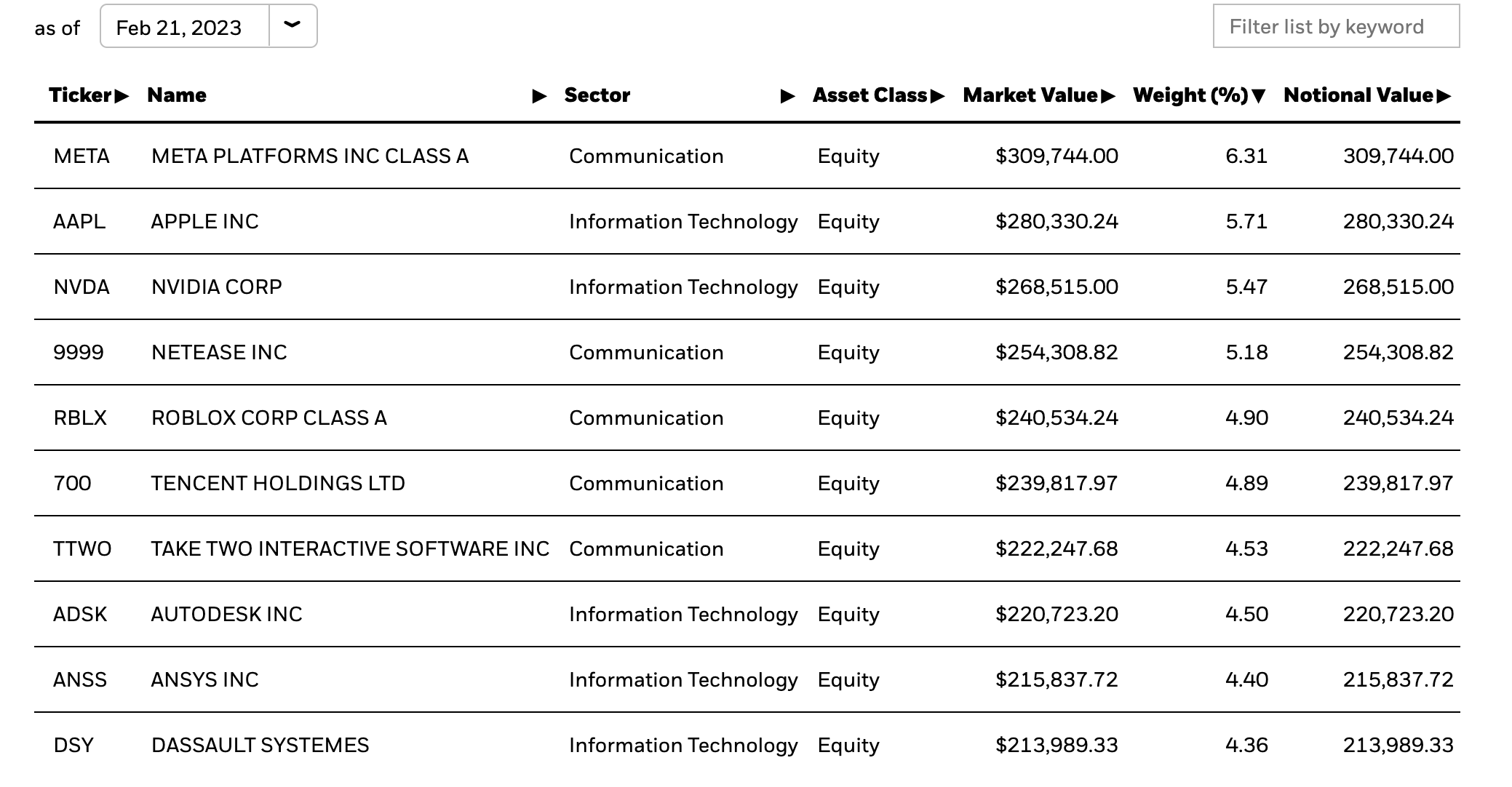 Tencent also accounted for 4.90% of the fund. Tencent Cloud recently announced a slew of web3 partnerships and products including "metaverse-in-a-box," which integrates Tencent Cloud's infrastructure with gaming, media and entertainment.
Read more: Tencent Cloud Unveils "Metaverse-in-a-Box," Web3 Partnerships
The product helps businesses develop metaverse applications, offering acceleration, flexibility and immersion.
Metaverse woes
Whilst Tencent is pushing its metaverse ambitions, it's a different story for other tech titans. Earlier this month, Microsoft announced it is abandoning its industrial metaverse group just four months after its initiation, laying off 100 staff members in the process. But yet, Microsoft accounts for 2.90% of BlackRock's metaverse ETF portfolio.
Read more: Microsoft to Shut Down Industrial Metaverse Arm, Cuts Jobs
What's more, Meta is BlackRock's biggest position in its metaverse ETF, accounting for 6.31%. In its most recent quarter, Meta's revenue beat was quickly soured by when its metaverse arm, Reality Labs, reported a whopping loss of US$13.7 billion in 2022, compared to a loss of US$10.2 billion in 2021.
In Q4 alone, the segment's loss was over US$4.3 billion, marking its worst quarter since Q4 2020.
Read more: Meta's Metaverse Arm Reality Labs Revenue Win Overshadowed By Growing Losses
Worse still, Meta CFO Susan Li said Reality Labs expects losses to deepen throughout the year. "On Reality Labs, we still expect our full year Reality Labs losses to increase in 2023, and we are going to continue to invest meaningfully in this area given the significant long-term opportunities that we see," Li said on the earnings call.
Even Animoca Brands, which unveiled plans to establish a metaverse fund worth $2 billion last November, cut its target to $1 billion. "We had initially looked at a target of $1 billion, whether it goes upsized or downsized we don't know yet," Animoca Brands chairman Yat Siu said in a Twitter Spaces discussion with Bloomberg. "Given the market circumstances, it could be less."
BlackRock's $5 million ETF competes with Global X Metaverse ETF (VR), Roundhill Ball Metaverse ETF (METV) and Fidelity Metaverse ETF (FMET); all of which have experience declining returns.
Read more: 2023 Could Be the Year for Metaverses & NFTs – Here's Why
Nonetheless, BlackRock appears to be optimistic about the metaverse's future potential.  
"[The metaverse] at this juncture, it is much like the internet of the early 1990s or the smartphone of the early 2000s. We expect it is going to be big, and very likely change people's daily lives," said Reid Menge, co-portfolio manager of the BlackRock Technology Opportunities Fund, in a blog post.