Table of Contents
Meta has just released its Q4 2022 earnings, which is proving to be rather bittersweet.
On Monday, Meta revealed encouraging numbers that beat Wall Street expectations, as well as announcing a US$40 billion share buyback.
Revenue came in at US$32.17 billion, beating expectations of US$31.53 billion, even though it fell 4% from a year later.
Despite a third straight quarter of declining sales, Facebook parent company's news was received well by the market, sending its stock price up as high as 20% after hours.
Read more: Meta Has a Meta Problem, Not a Metaverse Problem
"Our community continues to grow and I'm pleased with the strong engagement across our apps," Meta CEO Mark Zuckerberg said in a statement. "Our management theme for 2023 is the 'Year of Efficiency' and we're focused on becoming a stronger and more nimble organization."
"We just grew so quickly for like the first 18 years," Zuckerberg added in the conference call. "It's very hard to really crank on efficiency while you're growing that quickly. I just think we're in a different environment now."
Reality Labs in reality
A deeper dive into Meta's results shows that it's not all good news across the board, especially for its metaverse arm Reality Labs.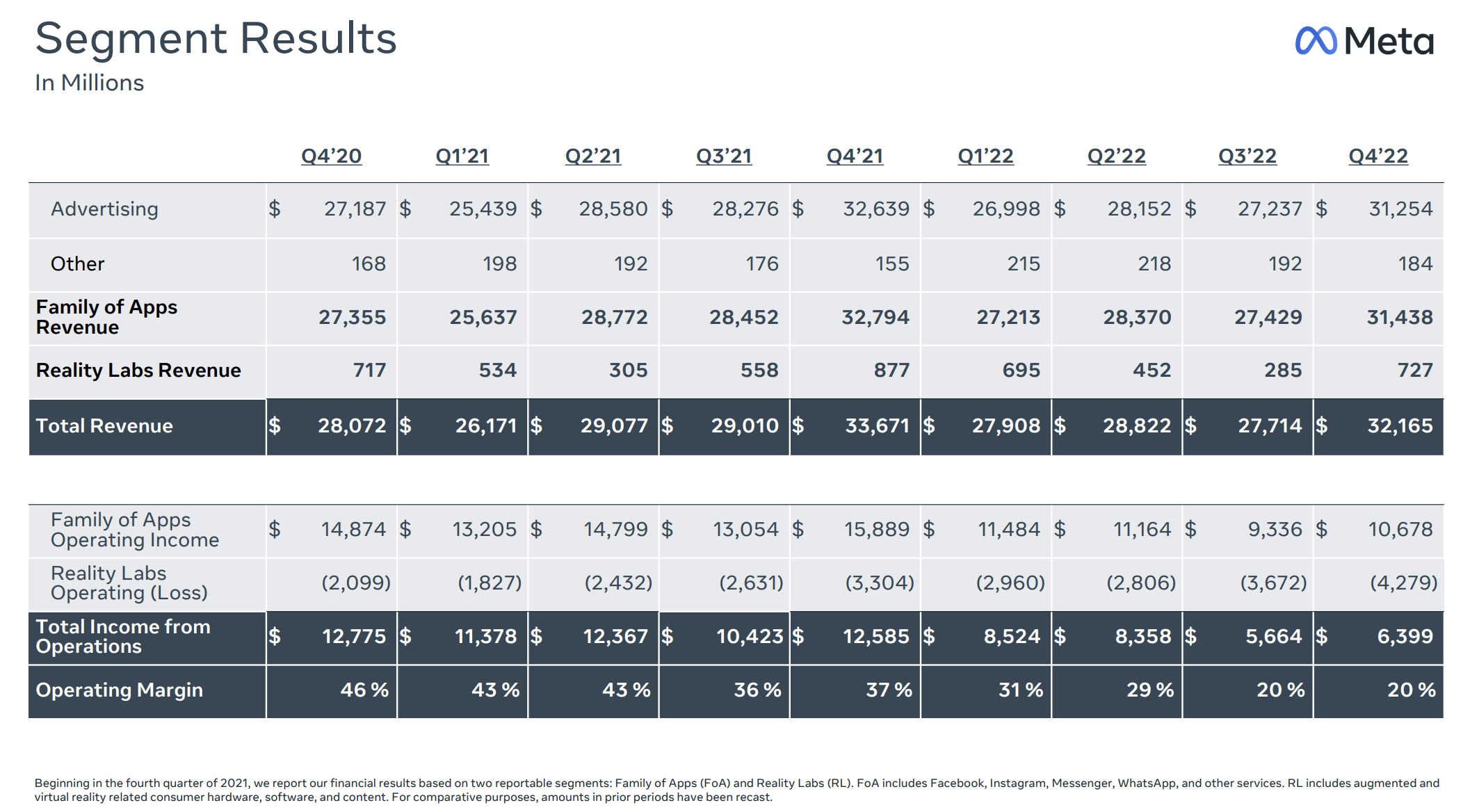 Revenue for Reality Labs was actually positive news. In Q4, the metaverse segment behind its VR headset Meta Quest 2 earned US$727 million, exceeding analysts' expectations of US$715.1 million. The figure was over double that of Q3's US$285 million.
However, the revenue beat was quickly soured by when Reality Labs reported a whopping loss of US$13.7 billion in 2022, compared to a loss of US$10.2 billion in 2021. In Q4 alone, the segment's loss was over US$4.3 billion, marking its worst quarter since Q4 2020.
Worse still, Meta CFO Susan Li said Reality Labs expects losses to deepen throughout the year. "On Reality Labs, we still expect our full year Reality Labs losses to increase in 2023, and we are going to continue to invest meaningfully in this area given the significant long-term opportunities that we see," Li said on the earnings call.
"The MR (mixed reality) ecosystem is relatively new, but I think it's gonna grow a lot over the next few years," Zuckerberg said.
Nonetheless, Zuckerberg and his team are remaining optimistic about their metaverse venture, and plan to launch its next-generation VR headset featuring Meta Reality.
Read more: 2023 Could Be the Year for Metaverses & NFTs – Here's Why
Describing the Quest Pro headset as "the baseline for all headsets going forward", Zuckerberg added, "I expect that this is going to establish this technology as the baseline for all headsets going forward and eventually, of course, for AR [augmented reality] glasses as well."
Zuckerberg also pointed to how 100 million people have created avatars in WhatsApp, owned by Meta, since the messaging app launched the capability in December.
"Most people are going to experience the metaverse for the first time on phones, and start building up their digital identities across our apps," he said, suggesting such features could drive more users towards Meta's metaverse products.
In November 2022, Meta laid off 11,000 employees citing spending on their Virtual Labs arm. At the time, George Wong, growth head of Singapore for The Sandbox said Meta's problems "were not because of the money" but "because they tried to do everything themselves."
"It's not that Meta was building a metaverse, that wasn't the problem. It was how much they spent, and how little they got. That's why they had cost cutting deductions to manage their bottom line."