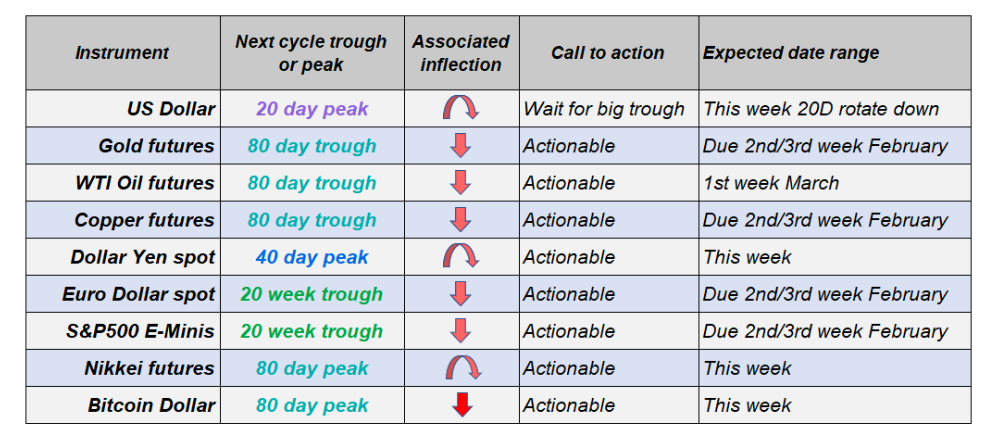 Bitcoin: 80 day cycle peak in -> Down
The 80 day cycle trough is due this week and price will have to fall hard to meet it on time.
The analysis has shifted the outer range of the next 80 day cycle trough to later this week. The 20 day FLD price cross down projects to below 21,800 where the 40 day FLD is met. This implies a very sharp sell off to catch up.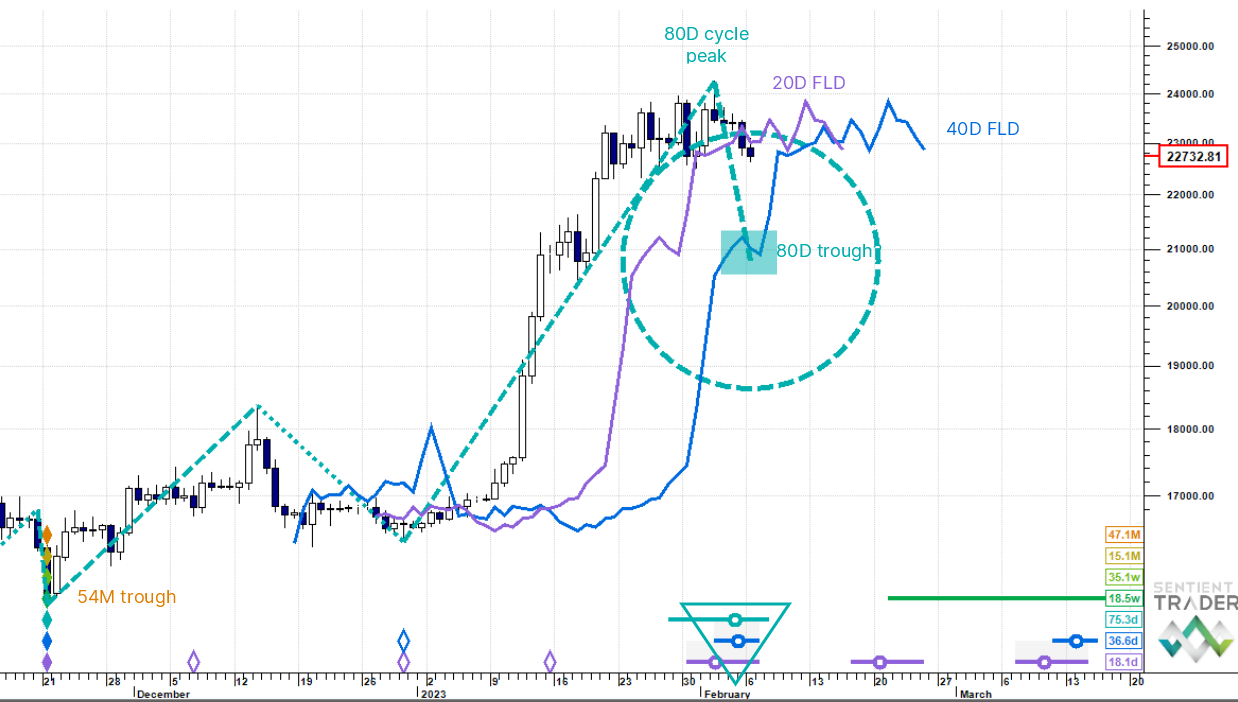 Dollar Index: 40D cycle rollover - Rotate down
Last Friday's price spike was probably the final 20 day cycle peaking.
Pref view: looking for a hard pullback into the big 40 week cycle trough around 20 February. Alt view: a little more upside before final collapse.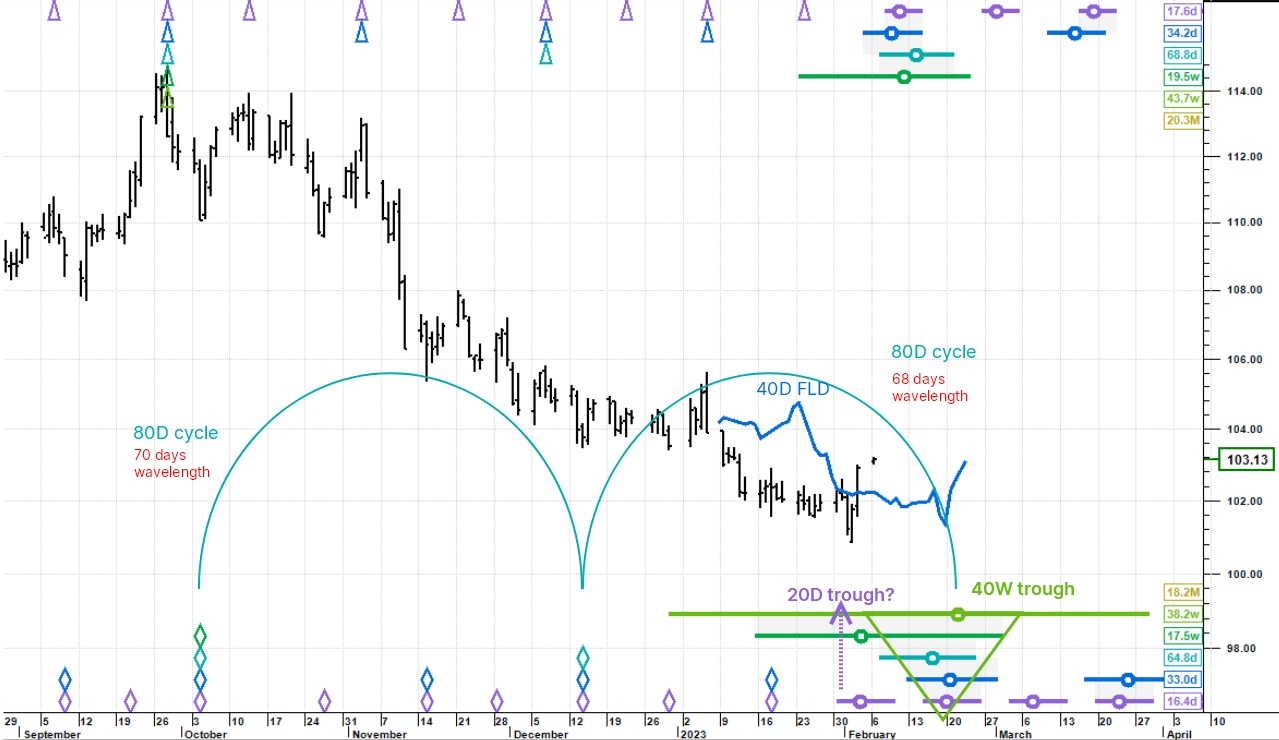 The last 80 day cycle into the big recovery trough
Last Monday's note placed the 40 week cycle trough somewhat ahead of us still. There is a stack of circles and whiskers clustered around 20 February. These mark the time location of future cycle troughs and the magnitude of the stack goes up to the 40 week cycle - i.e. its big.  By Hurst's principle of synchronicity all of the shorter cycles will also bottom at the same time.
In which case the next 80 day cycle trough will also be that of the 40 week trough.  So we are tracking the current 80 day cycle (which bottomed mid-December) to take us into the big low, which should herald a meaningful recovery. The last 80 day cycle wavelength was 70 days and the current 80 day cycle is expected to be 68 days long, the long-term average length of this cycle.  It is currently 51 days (or 79% along) and so its status is hard down.
20 day cycle spike
We think that the very last 20 day cycle in the current 80 day cycle bottomed last Thursday.  It probably caused last Friday's price spike through the 40 day FLD which projects to 103.6.
Our view is that it is too soon to place the 40 week trough last week, which reiterates the case for a pullback into the big trough. This is not the time to be aggressively selling the dollar for more than loose change, but rather an opportunity to be lining up trades for a bullish dollar regime.
Gold: 40W cycle topped out -> Down
The 40 week cycle peak came in as expected. Pref view: tracking the next 80 day cycle trough due lower this or next week.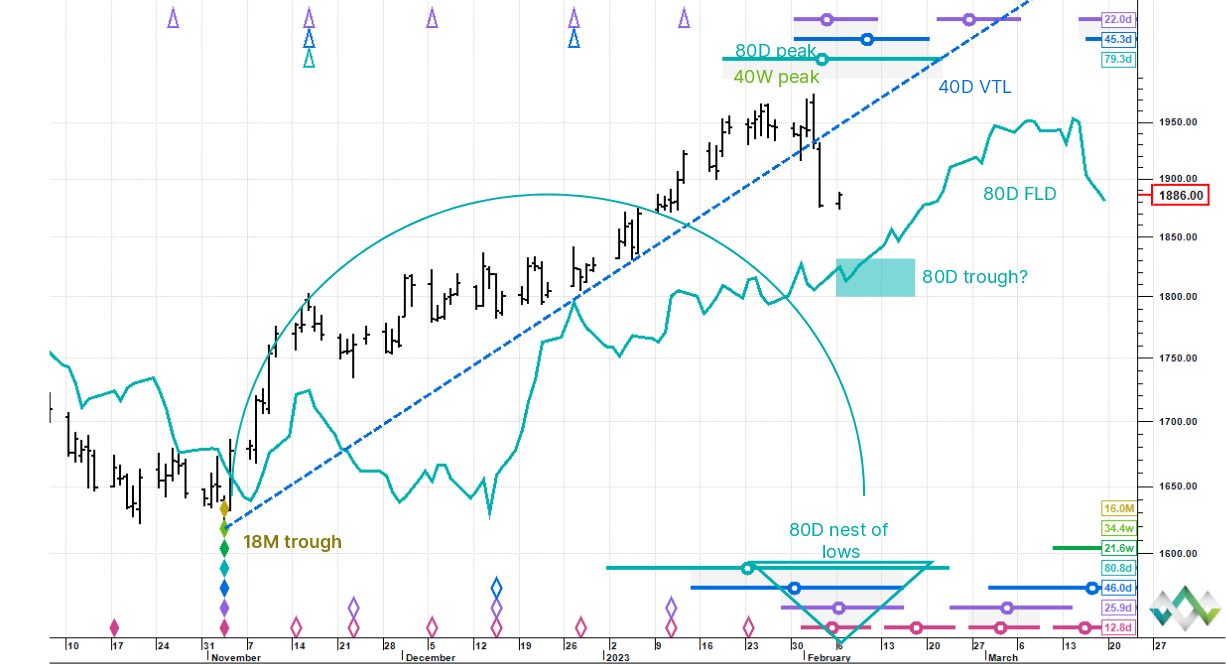 The 40 week cycle peak is in place
We had been tracking the 40 week cycle peak for some time and it came in on Friday.  Price is now falling hard and the next lower target is the 80 day cycle trough.  The cluster of trough circles and whiskers associated with the 80 day trough is quite loose and although it is concentrated around Monday 6 February the outer range could place the trough as far out as 23 February.
We are taking a more aggressive stance for now and suggest that the maximum range is circa 16 February.
80 day cycle downswing potential support zone
The 80 day FLD is a potential support level around 1,840, so pay close attention here.  Also, because the most recent peak was high magnitude, its not unreasonable to expect a stronger push down. The early November 2022 trough was a big cycle (18 month cycle) and the current 80 day cycle peaked late (right translated), therefore the underlying trend is bullish and we think that the 80 day FLD holds price.
With that said, a hard penetration through this line could generate a downside projection to 1,650. We will be watching nearer the time.
Euro Dollar - expected 40W peak is in -> Down
With the late stage 40 week cycle peak in place, now looking down for 20 week trough from mid to end of this month.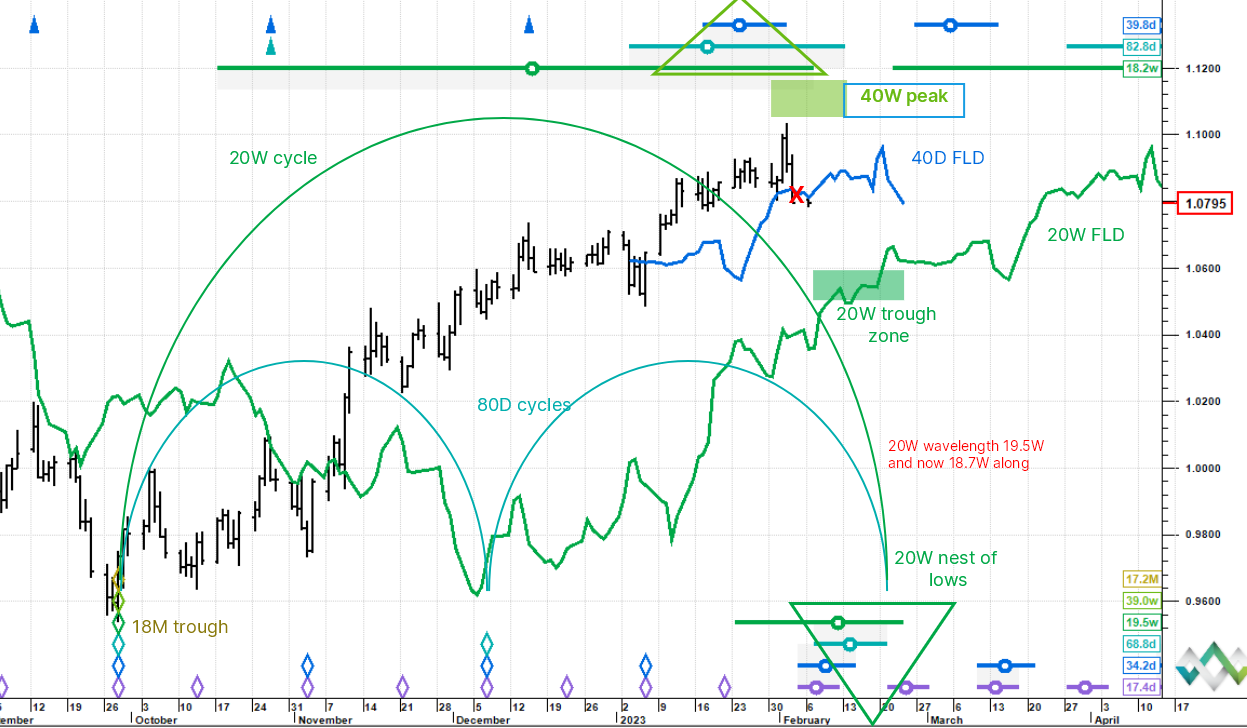 Downside projection
The awaited 40 week cycle peak looks to be in and price has just crossed down through the blue 40 day FLD.  This generates a downside projection of 1.065, which because of the recent high magnitude peak is likely to overshoot to the downside.  A 20 week cycle trough is due between 14 and 24 February and in this set up the green 20 week FLD running across the chart could offer support around 1.05.  This is where we are focusing for now.
Underlying trend is still bullish
The end September trough was that of an 18 month cycle and this is only 19 weeks along and should therefore still be rising.  This is evidenced by the extreme lateness of the recent 20 week cycle peak.  As such, we are not expecting a monster sell off and price should recover reasonably well at the next 20 week trough.
---
This note is published in conjunction with Hurst Cycles Notes. A Macro Outlook note comes out every Monday. The macro outlook series (subscription $37 per month) covers much of the macro complex: US Dollar, Gold, Copper, Oil, Yen, Euro, SPX, Nikkei, Bitcoin and US 10-year yield, along with extra content, long term views on multiple assets and updates every week.