"Crypto winter risks turning into ice age," the FT reported a couple of days ago. However, the NFT market is saying otherwise.
On Monday, Rick and Morty co-creator Justin Roiland released a free-to-mint NFT collection called "Art Gobblers."
The 2,000 piece project, which was backed by web3 venture firm Paradigm, yielded 5,000 ETH in trading volume in its first two hours. At the time of writing, the project has hit 12,679.65 ETH in trading volume, with NFT prices reaching as high as 15 ETH with a current floor price of 13.69 ETH, positioning it at the top of OpenSea's trending NFTs.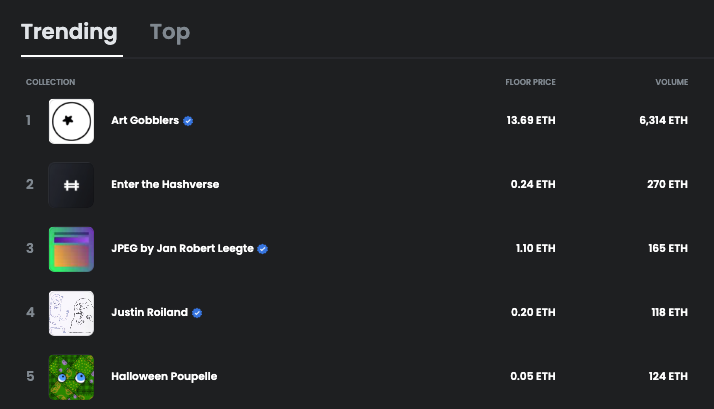 Each NFT funcitons as its own on-chain transferrable art gallery, allowing owners to "digest" artwork on the project's website and add to their "art bellies."
Holding Gobblers earns the owner ERC-20 tokens called GOO, which can be used to mint art. The holders can then create "pages" which are blank canvas NFTs to digest, trade or "glaminate" custom artwork.
The ecosystem is inspired to create a "decentralized art factory owned by aliens" according to Art Gobblers' whitepaper.
"As artists make cool art, the cultural relevance of Art Gobblers will grow. As cultural relevance grows, Gobbler art will be in higher demand from collectors. As artists see higher collector demand, they will produce cooler art," the project states.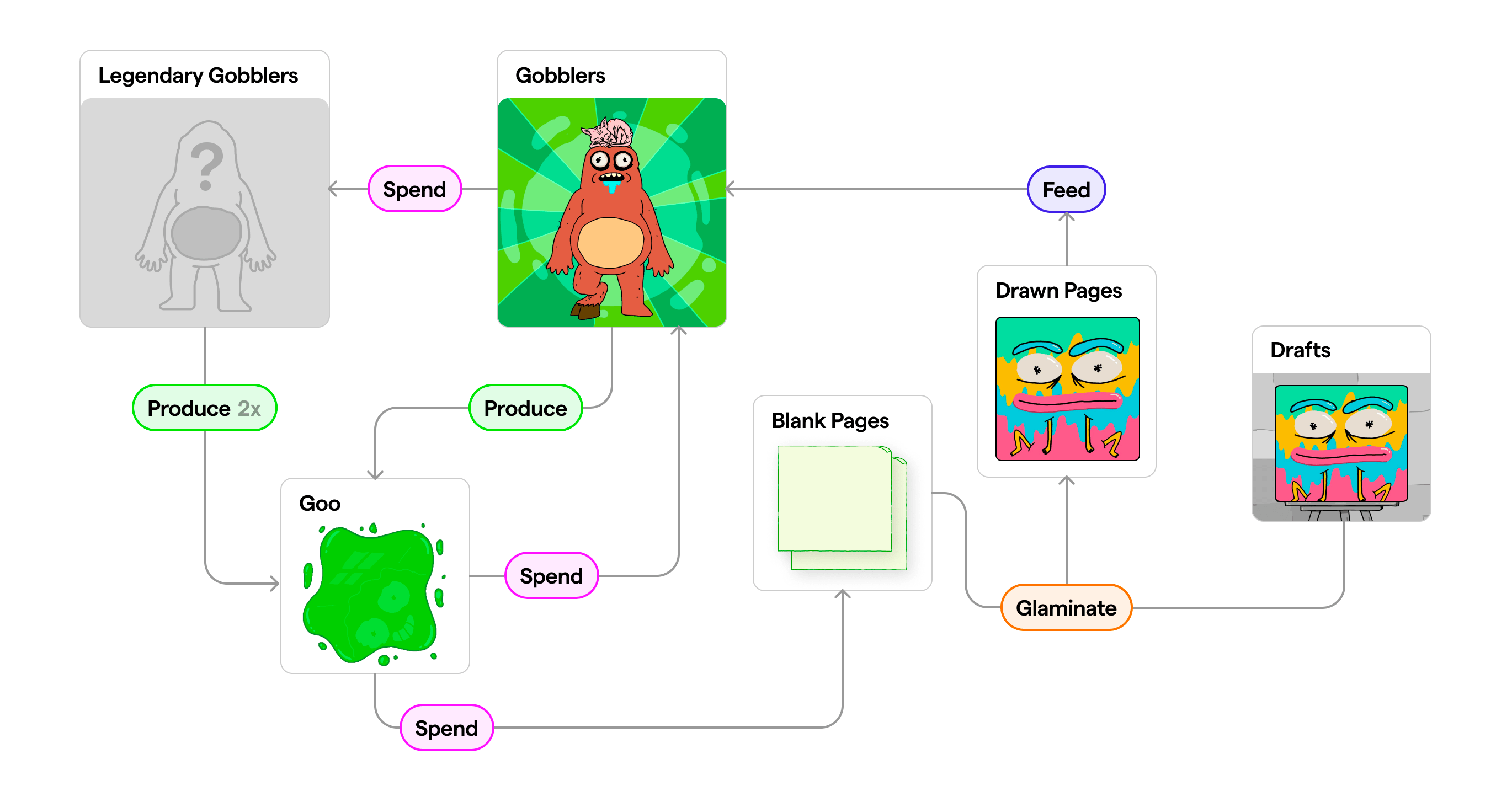 Hate to say we told you so
Admittedly, we didn't have the foresight that Art Gobblers would surge in the manner it did, but the block heads at Blockhead have been harping on about the insatiable appetite of the NFT market for a while.
You'd be forgiven for thinking NFTs are dead. OpenSea's trading volume has been on the decline for its fourth consecutive month to US$303 million – its lowest since June 2021.
However, trading may have slowed down, but it's certainly not an accurate reflection of the degen desires. Speaking at Token 2049, famed crypto tweeter punk659 said "You should think of NFTs being at the level of maturity of crypto at around 2012 to 2013."
"What we have with NFTs is a platform for the representation of arbitrary non-fungible digital auctions – art, collectables, brands, and metaverse assets," he explained.
As well as gaining key insights about the NFT space at Token 2049, Blockhead also learned some valuable lessons from speaking to people on the ground:
The previous bear market created some great concepts that addressed actual pain points; the expectation is that this time it will be easier to scale projects with improving infrastructure.
The industry is starting to see consolidation from crypto winter, and survivors are more confident than before as they eat up more market share.
OpenSea low trading volumes don't accurately reflect the strong appetite for NFTs, and project starters are still hungry for it.
The industry is excited about opportunities arising from merge, despite ETH's post-merge crash.
Low trading volumes on OpenSea could also be accounted for by BAYC holders jumping ship to other platforms. Cryptoslate reports that "sellers are deserting the platform for rivals because of the benefits others have for listing on them. A user pointed out that Blur IO was incentivizing users with the promise of a $BLUR token airdrop planned for January 2023."
That said, the appetite for NFTs doesn't signal an end to crypto winter. As Nicole Yap, founder of 8SIAN (one of the biggest Asian female led NFT projects) told Blockhead in a recent interview, "Projects that started with me that sold out, even with the same amount of ETH or even more, don't exist any more because of a lack of funds."
Crypto winter has consolidated cryptocurrencies and NFTs, leaving only the strongest projects surviving – perhaps crypto winter has taught degens to be more selective about where to allocate their funds.
In the meantime, broader macroeconomic concerns continues to dampen the wider crypto market, keeping bluechip cryptos at bay. Be sure to keep an eye on the daily insights from our in-house Blocksmith for more market analysis.