Crypto winter has been brutal for the web3 world. With countless crypto firms and projects meeting their demise, it would seem that the appetite for the next-gen world has diminished. However, consolidation in the market has resulted in web3 survivors (albeit the few of them) becoming more valuable than before.
Speaking at Token 2049, famed crypto tweeter punk659 said "you should think of NFTs being at the level of maturity of crypto at around 2012 to 2013."
"What we have with NFTs is a platform for the representation of arbitrary non-fungible digital auctions – art, collectables, brands, and metaverse assets," he explained.
Also speaking on the same panel, WhaleShark said the NFT boom and subsequent decline was because capital from "larger crypto environments" like DeFi were flowing into the NFT market in search of quick profits.
"A lot of people said that because non-fungible tokens are non-fungible, they should be immune to the ups and downs to the larger markets", he said.
Institutional investors haven't shied away from the sector either. Uniswap has just raised $165 million in a Series B funding led by Polychain Capital to expand its existing product offerings as it plans to launch NFT projects in the future.
Even Singapore is appreciating the web3 opportunities lying ahead. It was previously reported that Uniswap had received backing from a Singapore soverign fund, despite MAS's tight grip on the crypto space in the city-state.
Misconceptions surrounding the NFT space understandbly come from looking at data from OpenSea. Earlier this week, daily trading volume on the platform hit a yearly low of US$6.2 million, with a weekly trading volume of just US$70 million. Search interest on Google for "NFT" also peaked in January 2022 and has declined steadily since.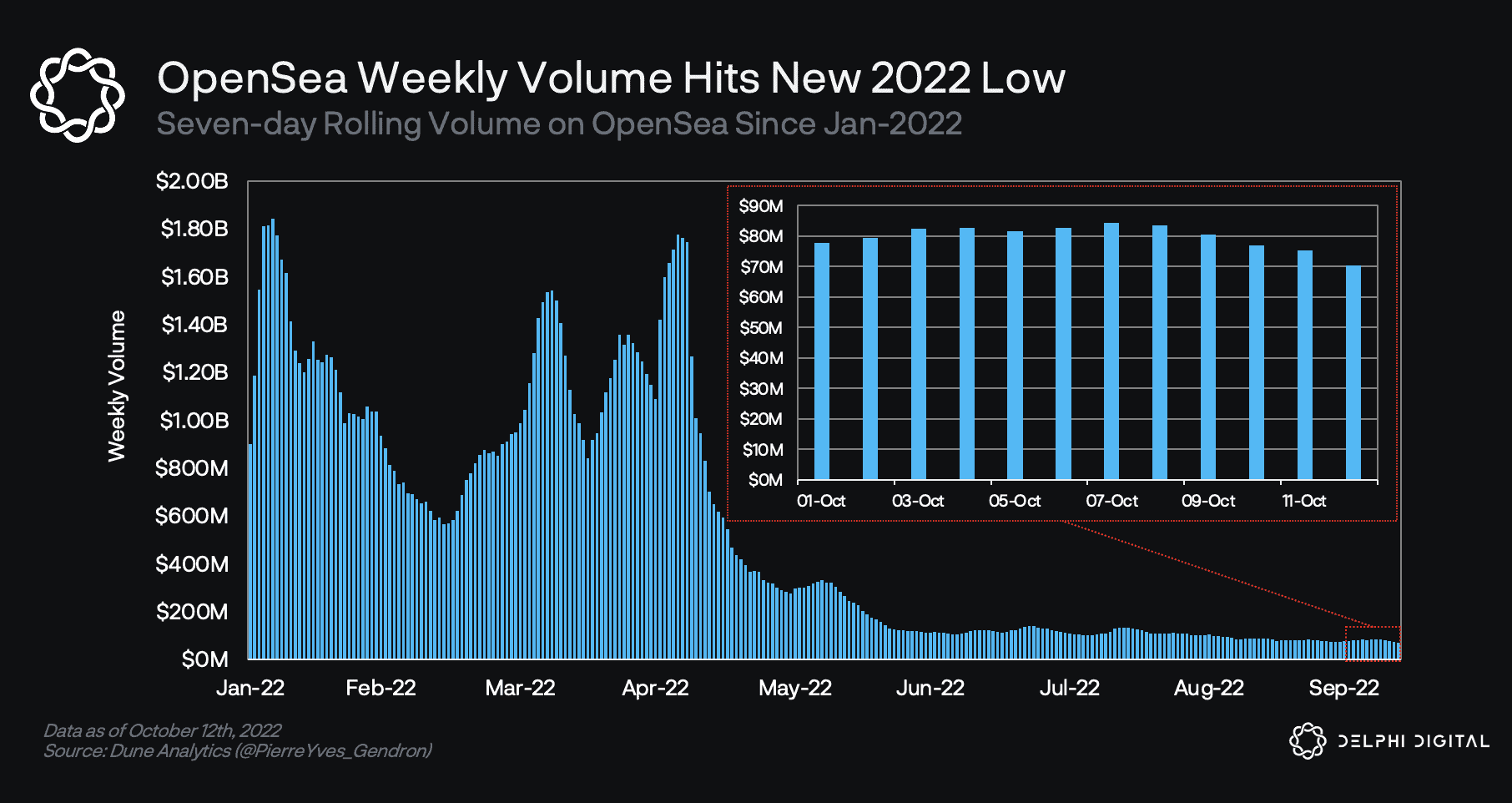 NFT sales have also plunged in Q3, down by 60% from Q2. US$3.4 billion was traded in NFT sales, down from $8.4 billion the previous quarter and $12.5 billion at the market's peak in Q1.
However, data is only part of the story. As well as gaining key insights about the NFT space at Token 2049, Blockhead also learned some valuable lessons from speaking to people on the ground:
The previous bear market created some great concepts that addressed actual pain points; the expectation is that this time it will be easier to scale projects with improving infrastructure.
The industry is starting to see consolidation from crypto winter, and survivors are more confident than before as they eat up more market share.
OpenSea low trading volumes don't accurately reflect the strong appetite for NFTs, and project starters are still hungry for it.
The industry is excited about opportunities arising from merge, despite ETH's post-merge crash.
Nicole Yap, founder of 8SIAN (one of the biggest Asian female led NFT projects) told Blockhead in a recent interview that "projects that started with me that sold out, even with the same amount of ETH or even more, don't exist any more because of a lack of funds." For Yap, the key is to "treat your project like a startup company… like a real company" and have reserves. "If you sold out a 10,000 NFT project, you'd probably have like 800 ETH, so you should have at least 30% in USDT."
Coming out of crypto winter, NFT trading may be dreary, but the appetite hasn't shrunk. The NFT community is learning that survival is a long term play, and project builders are gradually adopting the patience for it.
With "utility" being the buzzword for the new wave of NFTs, it will be increasingly challenging for NFT projects to prove their worth, but as an industry, we're still expecting it to thrive.