Table of Contents
"The reality with Asian women in Asian households is that you're just expected to stay home take care of the kids of your husband's family," 8sian founder Nicole Yap tells me, with a sigh of frustration. But it's exactly this ramped up frustration that drove Yap to create one of Southeast Asia's most successful Asian female-led NFT projects.

Having minted out all 8,888 NFTs earlier this year, Yap's project was an unmitigated success.
From MapleStory to BTChanel
Yap's web3 journey began at the tender age of 16 when she invested in Bitcoin back in 2013. Half inspired by a Yahoo article and half inspired by her immense hours of gaming on MapleStory, the young Yap saw the value in digital assets.
"I saw this article on Yahoo about the future of currencies and Bitcoin," she recalls. "Back then, I was playing MapleStory; in MapleStory you have fake money to buy stuff so you can look cool, with really nice hair, for example. Every week I would save up my lunch money to buy '@cash' – I spent like 100-200 ringgit (US$21-42) on stuff so my MapleStory character could look really cool."
"I was really into gaming so when I found out about Bitcoin in this article and how it could solve real-life problems, I was interested," Yap continued. "The article said gold is not as scarce anymore but there will only ever be 21 million Bitcoin to be created. The next thing I knew I was Googling how to buy Bitcoin, but back then there weren't any platforms to buy it! The main option was P2P – I'd have to pay someone on PayPal and hope they would send back Bitcoin. I used a platform called VirWoX, which has since been shut down. I was getting rugged a lot."
"Treat your project like a startup company… like a real company."
With an allowance of 200 ringgit per week, Yap put all her pocket money into buying BTC at around US$80. "A few months later, Bitcoin surged to around US$1,000–2,000, so I sold all of them," Yap said. "The first thing I bought was a Chanel bag! For a 16-year-old to buy a Chanel bag, it was a dream. I was flexing it in school, telling my friends and parents, but they thought I was scamming people."
"I wanted all the Chanel handbag colours," Yap admitted. "This was my inspiration to learn more about cryptocurrencies. I learned how to trade, how money works, how graphs works, understanding patterns. All the money I earned, I invested into handbags."
From Bubble Teas to NFTs
Not too soon after Yap immersed herself fully into the crypto space, diving down the rabbit hole and succumbing to Reddit and Telegram groups, the market crashed. She later moved to Melbourne for five years for school and was grateful for her crypto, which helped to support her student life and her family, despite the crash.
Fast forward to after her Aussie stint, she found herself returning to Malaysia with a partner and a daughter. Sadly, the crypto market had failed to pick up still, but the entrepreneur inside her quickly found a new revenue avenue: bubble tea.
"When I returned to Malaysia, I saw this trend of bubble tea, you know that brown sugar thing," Yap explains. "But I realised there were only three stores in central Kuala Lumpur. Everyone was queuing for it and they were selling like 800 cups a day. So I thought, damn I want to start my own. I bought over a bubble tea franchise. We grew from three outlets to eighteen outlets; one was even in Melbourne."
However, Yap's bubble tea bubble was soon burst by the pandemic. "That's when I got involved in NFTs," Yap says. "When the pandemic happened, I was home a lot and I was pregnant with my second kid."
"The first time I heard about NFTs was from my friend who was in this trading group who told me to open a MetaMask and transfer some ETH to mint this Bored Ape," Yap continued. "This was back in March 2021. I didn't mint it because the whole purpose back then was to use the Bored Ape as a profile picture. I'm a girl so why would I want to mint a male monkey?"
Bored Ape's lack of diversity sent Nicole on a wild goose chase to find an NFT project she could identify with. "When World of Women came out in June, I thought yes finally, a women's project is here and I could own a digital women photo. That was the whole purpose of NFTs back then – we weren't even looking for utility staking or that kind of thing."
However, Yap once again found herself stumped as there were no Asian traits in the NFT project. "For me as an Asian woman, I wanted to identify with a profile picture that's Asian and a woman." Yap was also deterred by the "male dominated" Discord chat groups she found herself in. "They were all talking about girls, cars, pokers and weed. I didn't feel I belonged to that community."
Creating 8sian, but as an Asian
Feeling frustrated at the narrow landscape of the NFT scene, Yap was inspired to be the change she desired.
"I wanted to create a safe space for Asian women," Yap said. "At that time, even though Asian people invested a lot in cryptocurrencies, they were not in NFTs. So I thought if I was able to create really beautiful Asian NFTs that would appeal to them, they would actually invest and build in the space. That's how I think we can reach mainstream adoption."
However, Yap quickly learned why there are so few Asian women in the space. "Guys are more willing to take risks, especially when there's money involved. Hopefully when the space matures, we'll have more girls becoming confident to jump in the space."
"I like taking risks, but people around me, especially my girlfriends, they prefer the safe route. Their boyfriends or husbands would be more willing to invest, even when they don't understand what it is."
Furthermore, Yap says there is even more pressure as an Asian woman. "As an Asian woman, when we're married, we have all these commitments. In the Asian household, especially when you're married, you're expected to stay home and take care of the kids of your husband's family. It would hinder girls more from an Asian household to take risks, especially when the market goes up and down. My friends around me are all well educated, we went overseas to study etc., but our culture means we have pressures from our families."
8sian hatred
Launching an NFT in any capacity was a challenge – let alone an Asian-based one. "There was no handbook or secret formula for launching an NFT project," Yap tells us.  "I was putting myself out there, going on Twitter spaces every day, with some spaces lasting nine hours."
Her team was spread across multiple continents and timezones too. "We had a team of nine people before mint, and they were all overseas. I was on my laptop all the time, on Zoom calls all the time."
Additionally, Yap had to juggle her responsibilities as a mother of two, as well as running the bubble tea store. "My family wasn't supportive either," Yap said. "They were saying 'you have a full company to run with actual employees, why are you focusing on selling digital art like this?'"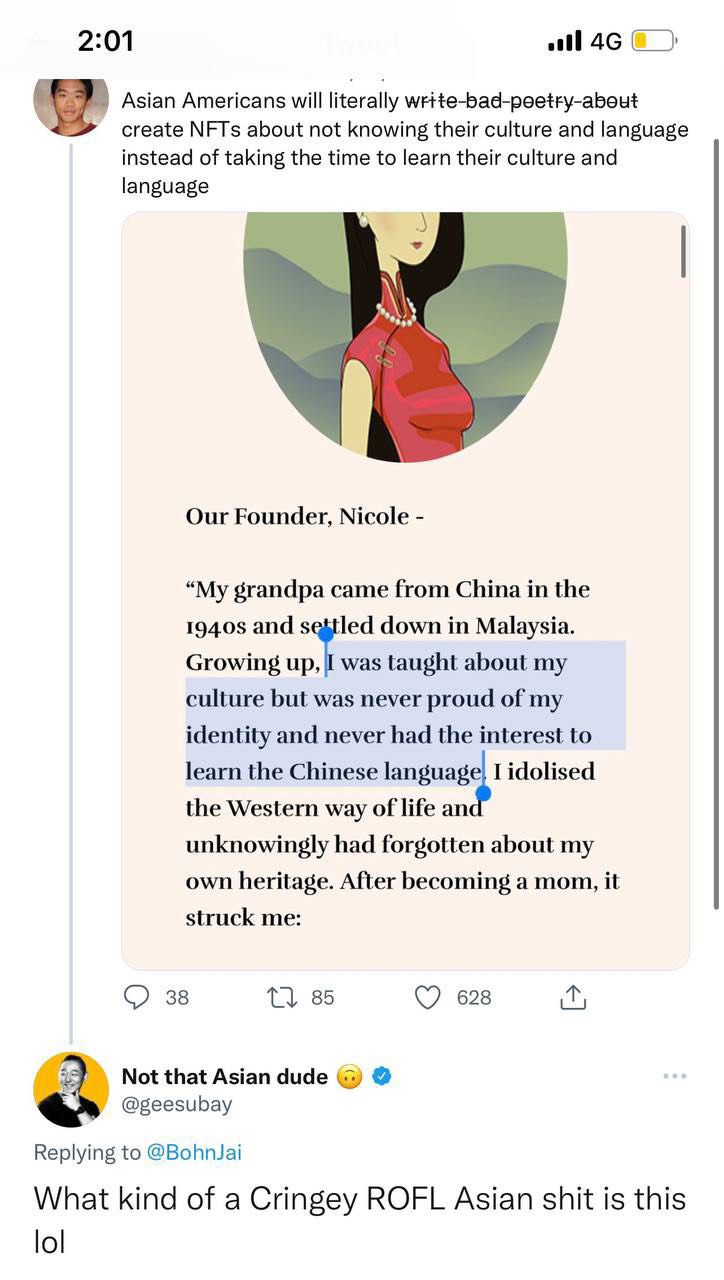 If this wasn't enough detterence, Yap also faced backlash from the NFT community itself. "I was reaching out to all these crypto influencers who had hundreds of thousands of followers, and a lot of them actually shot me down. They literally told me my project was not going to work."
Yap's worst experience was from a Twitter user with a blue tick who called her project cringey. "He was quite influential in the Asian American space," Yap recalled. "He took a screenshot of our NFT project and my story on my website, and a lot of people were supporting him and retweeting his post. People were saying really nasty things. Some were sending DMs to me and one of them even stalked me and found a photo of my son and said really, really nasty things."
But Yap stayed strong and channelled out the hate. "People generally don't like changes, espcially for something that has never been done before." Funnily enough, someone recently retweeted the tweet and tagged Yap, who then saw that some who had previously left hateful comments went on to buy an 8sian NFT.
Utility vs Community
"Utility" has been the buzzword this year for NFT projects, but Yap isn't too concerned with the pressure to conform. Instead, Yap says the project's "true value lies in community. At the end of the day, we're a PFP project. A lot of people have asked us to do more things like airdrops, staking and tokens. It's not our priority."
"My priority is to have a community that has the same vision," Yap explains. "We want to empower more women and Asians, and to empower Asian cultures in the space, especially in this whole new world of metaverses. Having a presence in the metaverse is really important."
In terms of monetary value for our holders, each time there's a transaction on OpenSea, 2.5% of royalties go into a fund called the CLF (community led fund). "It's kind of like a DAO but I vet the proposals. We started with 24 ETH in the fund. All of the 4,400 8sian holders can go on Discord and can decide what they want to do with it. We've sent ETH to help the Ukraine aid, we used it to buy a World of Women NFT and even a Cool Cat."
"If the the community makes a decision to buy an NFT that could potentially moon, we can coordinate that. If they want to divide all of the money among themselves, everyone gets like US$5, according to recent calculations. So although it's not much, it's a form of utility – at least there's some value in there."
Uniqlo Malaysia x 8sian
8sian is partnering up with Uniqlo Malaysia after successfully registering a trademark for its brand. "Through the licensing, Uniqlo pays us to rent our assets so they can print it on T-shirts they sell," Yap explained. This is why we have filed worldwide IPs and trademarks for the 8sian brand. It was a huge investment for us but I feel that it's a step we need to take to own our IP not just in the NFT world but in the real world as well."
"Just how you look at Mickey Mouse, and you know that it's Disney, I want people to look at our 8sian PFPs and knows that this it's 8sian. I'm still trying to figure out how I can have a business model where I could potentially go to big brands and licence our artwork to them on behalf of our 8sian holders, and we can come into a three way contract on the blockchain, that it would be paid out to them."
Ideally, Yap wants 10% of royalties of the Uniqlo shirt sales to go back to 8sian holders. Currently, the 8sian PFPs available for print belong to Yap but she hopes she can expand the model. "I want to be everywhere, not just Southeast Asia or Asia," she said.
What Crypto Winter?
Crypto winter has been the ultimate test for NFT projects, and 8sian has proven its salt. Whilst Yap admits that "crypto winter hit us really hard," the young entrepreneur had the foresight to hold reserves in USDT. Sadly, this isn't the case for many of her peers with whom she started out with. "For some of the people who were with me when we first launched, their project just isn't around any more. They tell me it's because they don't have the funds any more."
Yap emphasised that projects/companies in the web3/metaverse space need to ensure that finances are covered. "There's a lot of expenses going out, but if you don't have money in your company account, there's no way you can sustain yourself."
"Projects that started with me that sold out, even with the same amount of ETH or even more, don't exist any more because of a lack of funds," she continues. "Some even sold over 10,000 NFTs but couldn't last."
Her advice to those thinking about starting an NFT project is to "treat your project like a startup company… like a real company. For example, if you sold out a 10,000 NFT project, you'd probably have like 800 ETH, so you should have at least 30% in USDT."