Table of Contents
Bitcoin and other cryptocurrencies traded sideways throughout the week, with the world's largest cryptocurrency dipping below US$23,000 for now.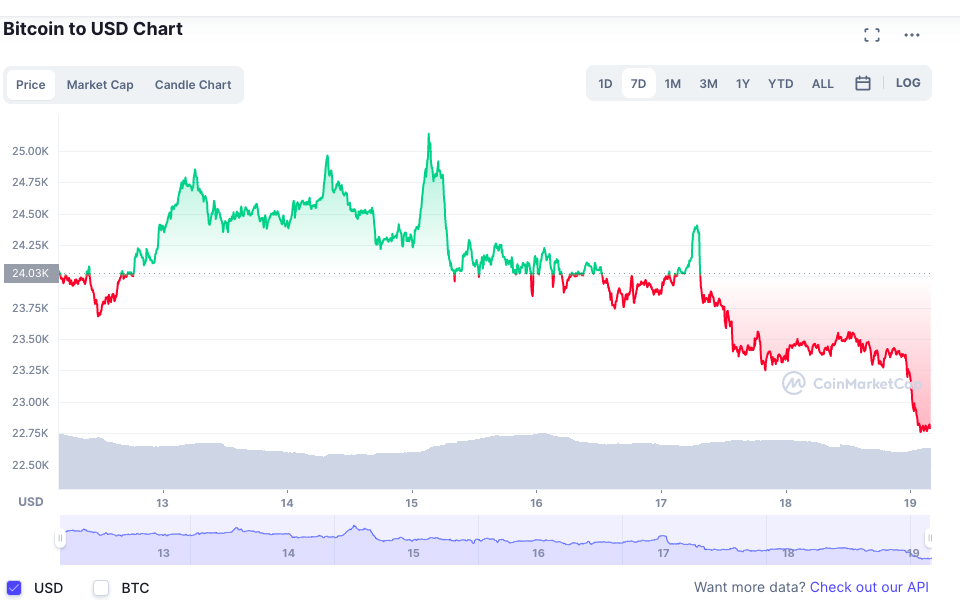 Last week, BTC reached a two month high of US$25,000 after the release of the US CPI data, which showed a slower-than-expected reading, raising hopes that inflation would decelerate. At the time of writing, Bitcoin (BTC) is trading at US$22,798.15 (-2.87%)
Excitement for Ethereum's upcoming "The Merge" has also seemingly died down, with the world's second-largest cryptocurrency changing hands at US$1,741.05 (-5.50%). Major altcoins such as Solana (SOL), Avalanche (AVAX), and Polkadot (DOT) have also been trading in red within the same period.
OpenSea Trading Volume Falls
According to data from DappRadar, only US$10.1 million worth of NFTs were traded on OpenSea on 9 August compared to US$184.5 million that users traded exactly 7 months ago, when the platform reached all-time highs in its trading volume.
The top NFT collections have also experienced significant downturns in their trading volumes. BAYC (Bored Ape Yacht Club) NFTs saw a 13% drop in trading volumes in the past month while CryptoPunks saw their trading volume decline by 53%.
Crypto.com Secures UK License
Singapore-based digital assets exchange Crypto.com has been officially registered with the UK's FCA (Financial Conduct Authority) as a cryptoasset business.
According to blog post on the company's website, the registration will enable Crypto.com to offer its products and services to customers in the UK, compliant with local regulations.
"This is a significant milestone for Crypto.com, with the UK representing a strategically important market for us and at a time when the government is pushing forward with its agenda to make Britain a global hub for crypto asset technology and investment," said Kris Marszalek, co-founder and CEO of Crypto.com.
Read more: Crypto.com Names Ex-Govt Official as GM in Singapore
Last week, the exchange secured the Electronic Financial Transaction Act (EFTA) and Virtual Asset Service Provider (VSAP) registrations for its operations in South Korea after it acquired payment services provider PnLink Co. and virtual asset provider OK-BIT Co.
In June, Crypto.com was granted an in-principle approval from MAS (Monetary Authority of Singapore), entitling it to offer payment services within the Payment Services Act, including Digital Payment Token (DPT) services to customers in Singapore. It just named a long-term civil servant to the top post at its headquarters.
CME Group Launches ETH Options
Derivatives marketplace Chicago Mercantile Exchange (CME) is planning to offer options for ether (ETH) futures on Sept. 12, the company said in a statement Thursday.
"As we approach the highly anticipated Ethereum Merge next month, we continue to see market participants turn to CME Group to manage ether price risk. Our new Ether options will offer a wide array of clients greater flexibility and added precision to manage their ether exposure ahead of market moving events", said said Tim McCourt, global head of equity and FX products, CME Group.
CME plans to launch options contracts for its Ether futures, sized at 50 ETH per contract. The futures options is expected to start trading on September 12.
Celebrity Crypto Ads Disappear
According to a report by Bloomberg, the crypto industry's recent push into TV advertisements have taken a hit, coinciding with the recent market downturn as commercials starring high-profile celebrities like Matt Damon, LeBron James and Tom Brady have all disappeared from US television.
"Ad sellers shouldn't expect growth in this vertical the remainder of the year due to the crash in crypto valuations and emerging allegations of fraud among companies in the crypto market," said Eric Haggstrom, director of business intelligence at Advertiser Perceptions
"Crypto has been a boom and bust industry since its inception, and advertising budgets will follow the same trajectory", he added.
Read more: Crypto's Focus on Sports Advertising Reinforces its Dude-Culture
Spending on television advertisements by major crypto firms including Crypto.com, Coinbase Global Inc. and FTX, fell to US$36,000 in July in the US – down from a high of US$84.5 million in February during the almost entirely crypto ads-themed Superbowl.
Trading Volume
According to data from CoinMarketCap, the global crypto market cap stands at US$1.08 trillion, a 3.19% decrease since yesterday. The total crypto market volume over the last 24 hours is US$64.28 billion, a 11.63% decrease.
Fear & Greed Index
Risk appetites are still slightly sapped – the Crypto Fear and Greed Index currently stands at 33 indicating fear, and down slightly from a week ago, when it hit 41. The index uses 5-6 measurements to assess the current sentiment of the market and then rates that level of emotion on a scale of 1-100 – 1 is extreme fear and 100 is extreme greed.