Table of Contents
Bitcoin and other cryptocurrencies traded upwards over the weekend as sentiment in the space continues to improve.
At the time of writing, Bitcoin (BTC) is trading at US$24,871.50 (+2.28%) but over the weekend topped US$25,000 for the first time since June. Meanwhile Ethereum (ETH) is trading at US$1,980.72 (-0.18%) with weekend highs of US$2,000.96. Major altcoins such as Solana (SOL), Avalanche (AVAX), and Polkadot (DOT) have also been trading in green within the same time period.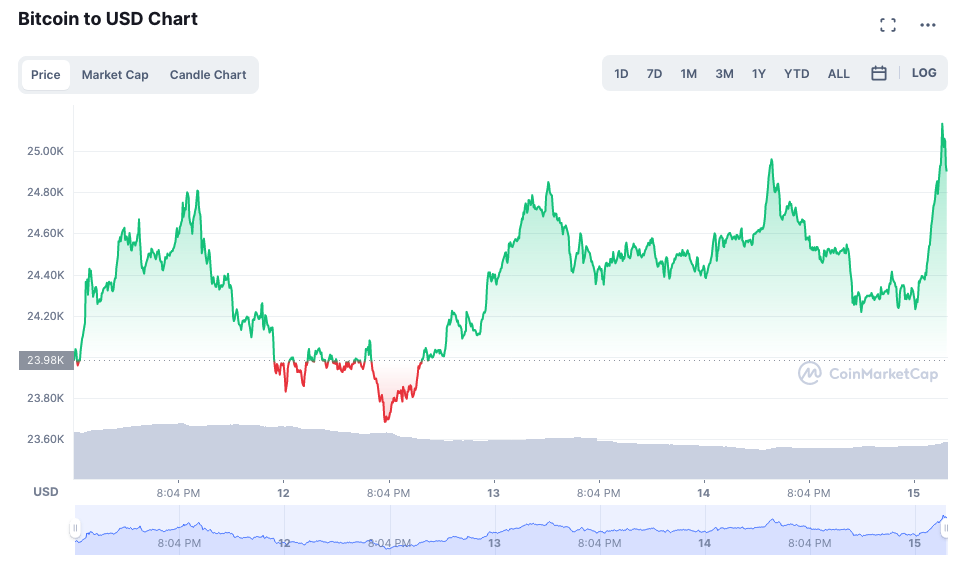 Sam Bankman-Fried in Talks to Buy Majority Stake in Huobi, Justin Sun Denies Reports
Huboi Global founder Leon Li is in talks to sell a majority stake in the crypto exchange. The deal would value the firm at over US$3 billion. Li, who is looking to sell around 60% of the firm, has held prelimary talks with Justin Sun and FTX founder Sam Bankman-Fried according to Bloomberg.
However, Sun denied the reports in a tweet, stating "we have not engaged any matters related to the Bloomberg story at this moment."
If completed, Li's US$1 billion stake would be one of the biggest deals in the crypto space. FTX has acquired a number of companies amid crypto winter including Liquid, Bitvo and BlockFi.
Binance Recovers 83% of Funds Stolen From Curve Finance
Binance CEO Changpeng Zhao has annouced the crypto exchange has frozen a large portion of stolen funds from decentralized exchange Curve Finance.
"Binance froze/recovered (sic) $450k of the Curve stolen funds, representing 83%+ of the hack," Zhao tweeted. "We are working with [law enforcement] to return the funds to the users. The hacker kept on sending the funds to Binance in different ways, thinking we can't catch it."
Curve Finance suffered a frontend attack on Monday with over US$570,000 in ETH being stolen. Crypto exchange FixedFloat also managed to freeze 112 ETH of Curve funds.
"What has happened strongly suggests to start moving to ENS instead of DNS," Curve stated.
Suspected Tornado Cash Developer Arrested
An alleged Tornado Cash developer has been arrested in Amsterdam. The 29-year-old is suspected to be involved in the development of the crypto mixer service, which was banned earlier this month by the US Department of the Treasury due to its role in money laundering.
Netherlands' Fiscal Information and Investigation Service (FIOD) made the announcement, stating the individual "suspected of involvement in concealing criminal financial flows and facilitating money laundering," and that "multiple arrests are not ruled out" as investigations into Tornado Cash continue.
Crypto mixers pool contributors' funds together and redistributes them, muddying the digital trail for law enforcement.
Mark Cuban Sued for Promoting Crypto "Ponzi Scheme"
Billionaire Shark Tank star and Dallas Mavericks owner Mark Cuban is facing a class action lawsuit for promoting Voyager Digital's crypto products, which plaintiffs described as "a massive Ponzi scheme." The lawsuit further alleged that Cuban "duped millions of Americans into investing."
Plaintiffs argued that Cuban "went to great lengths to use their experience as investors to dupe millions of Americans into investing — in many cases, their life savings — into the Deceptive Voyager Platform and purchasing Voyager Earn Program Accounts ('EPAs'), which are unregistered securities."
"As a result, over 3.5 million Americans have now all but lost over 5 billion dollars in cryptocurrency assets. This action seeks to hold Ehrlich, Cuban, and his Dallas Mavericks responsible for paying them back."
Cuban even spoke at a Dallas Mavericks press conference "where he strongly supported and touted the partnership between his company and the Voyager defendants," according to the lawsuit.
However, the case may not go to trial if the judge does not certify that the 12 representatives named in the lawsuit are representaive of over 3 million Americans.
Read more: Celsius Users = Rekt as Platform Joins Voyager in Chapter 11 Club
Last month, Voyager Digital filed for bankruptcy after revealing its US$665 million exposure to Three Arrows Capital (3AC).
Trading Volume
The global crypto market cap is US$1.18 trillion, a 0.29% increase since yesterday. The total crypto market volume over the last 24 hours is US$68.43 billion, a 26.12% increase.
Fear & Greed Index
Risk appetites are still sapped – the Crypto Fear and Greed Index currently stands at 45, indicating fear. The index uses 5-6 measurements to assess the current sentiment of the market and then rates that level of emotion on a scale of 1-100 – 1 is extreme fear and 100 is extreme greed.
The index has improved from July, during which it fell to 21 (extreme fear).