For much of Singapore, the final week of July is fairly non-eventful. With National Day just around the corner, most Singaporeans are reserving their energy as they prepare to rejoice and celebrate their beloved nation in August. However, in the Singapore web3 world, the end of July 2022 brings round a slew of crypto-related events, conferences and (more importantly) after-parties.
As dedicated reporters of the Little Red Dot's web3 scene, we immersed ourselves in the week-long web3 festivities, including Singapore Blockchain Week, MetaJam Web3 Summit and Web3 Con (held at iconic nightclub Zouk). Emerging enlightened and somewhat hungover, here's what we've learned.
Paper Panelists
Taking a look at the long roster of panelists throughout the week, we're not exactly sure what qualifies someone to be a speaker at crypto events. Ranging from web3 leaders to countless NFT project founders, panels varied in quality to say the least.
Predictably, Singapore Blockchain Week housed the creme-de-la-creme of speakers including Animoca founder Yat Siu (who attended via video link), whilst MetaJam Web3 Summit was home to more localised projects. Meanwhile, the lineup at Zouk was a mishmash of both.
Our favorite panel undoubtedly goes to Yat Siu's virtual chat, whilst our least favorite included a panelist who was seemingly so bored that he began playing on his phone. The stark difference in turnout between an all female panel featuring Irene Zhao and an all male panel held directly after it made us chuckle too.
Media NGMI
Not to toot our own horn, but Blockhead was an official media partner of Singapore Blockchain Week. But as it turns out, this meant diddly-squat. As an industry norm, the media pass tends to offer all-access to the event. Yes, it's an incredibly privileged pass, and rather entitled of us to expect it, but ultimately, it's a necessity to provide the widest coverage possible. This was not the case at Singapore Blockchain Week.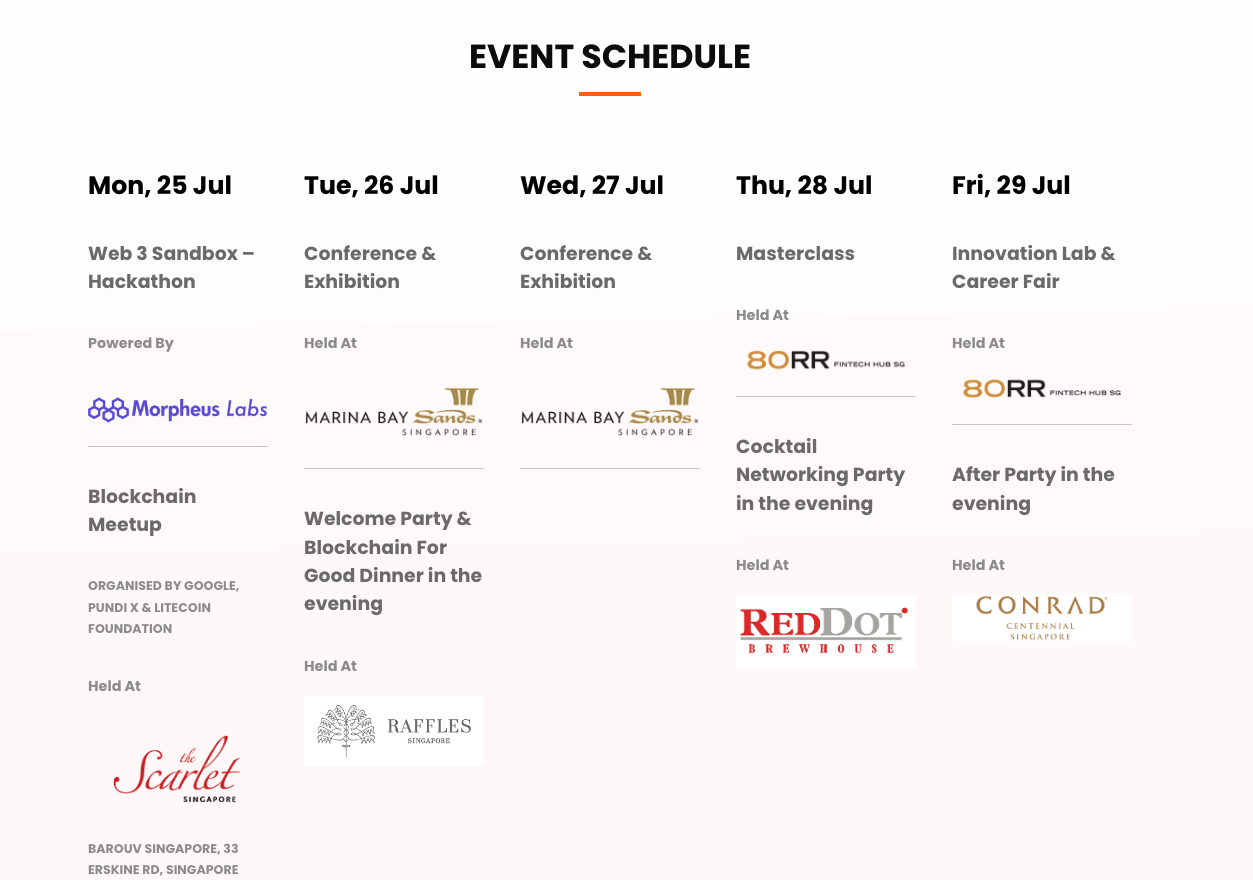 Out of the nine events across Singapore Blockchain Week, we were able to officially attend just four, despite being an official media partner of the event. When chasing the event organisers for information regarding the other events, the Blockhead team was met with cold responses stating the events were over-subscribed.
At the conference itself on Tuesday and Wednesday, media were not granted access to the Speaker's Lounge – bizarre considering the media generally is offered access to the lounge to talk to the speakers. Those guarding the entrance informed us they were specifically directed to not allow media in. Surely it's in the best interest of the event and the speakers for media to talk to them? That said, after convincing the event organiser that allowing speakers and media to mingle is a good idea, the Blockhead team gained access to the "exclusive" lounge.
It was a similar story with the after party events throughout the week. Some were more accepting to the idea of media covering their event, whilst others sternly turned media away.
Web3 needs more mainstream exposure and media coverage, but Singapore crypto events don't seem to agree.
Crypto Characters are Crazier IRL
The crypto world is filled with eccentric characters, and Singapore Blockchain Week was no different. From a lifelong dedicated Bitcoin believer to a shy institutional BAYC holder, Blockhead compiled the five types of people we met at Singapore Blockchain Week.
With fascinating and alternative insights about the web3 industry, these characters certainly kept us entertained during the week. "One day we'll all become robots, and we'll be using the Blockchain exclusively. That day will come," is perhaps our favourite quote, whilst a "fuck you Rei" from a frustrated flyer girl who purchased PXN NFTs at 3 ETH won our sympathy vote.
Meanwhile, subtle hints from Herbert Sim – better known as the Bitcoin Man – about cypher punks and the inception of Bitcoin has us digging for the true identity of Satoshi Nakamoto. "This is coming from me: Satoshi Nakamoto is a PERSON… but he's meant to be anonymous. It's how Bitcoin has flourished up to today, simply because he's anonymous," Sim told us.
Web3 is Inclusive, But After Parties are Exclusive
As briefly mentioned above, Blockhead didn't have the easiest time accessing the endless stream of after parties throughout the week. Nonetheless, our determined team are far from ones to fold easily, especially when partying is involved. Whilst we won't reveal how our team swindled their way into some of the parties as VIPs, we can certainly comment on how the party-vibes went.
With free-flowing alcohol at each after party, the prospects seemed too good to be true. Of course the catch here was that these after parties were an extended excuse to network.
Packaged as exclusive parties, they allowed industry insiders to flex, shill and rub shoulders; the alcohol was bait and our team took it. The net result was sobriety across the board, with web3 attendees remaining reserved in their approach to one another.
Perhaps most frustrating was the lack of certainty surrounding the events. Collectively we met over eight different people who each claimed their company was hosting the main afterparty of each event, each assuring us entry, but all stating a different party location.
That said, the Web3 Con afterparty told a different story. Perhaps people were too fed up with sipping drinks and forcibly making small talk throughout the week, but by the time the post-Zouk conference came around, the crowd were keen to let their hair down and make full use of the unlimited free bar. Some may have taken it a bit too far, but it was fantastic to see web3 people actually having a good time for once.
GG
A week of blockchain events might be too much for anyone to muster, but for web3 folk, it sits high on their wishlist. Sadly, the week was underwhelming, offering little for us to takeaway both in terms of new knowledge in the space, and lasting memories with the community.
Fortunately, the Blockhead team did manage to meet some fantastic people at the events, forming longlasting friendships in both professional and social settings.
Despite our disappointment, we sincerely look forward to the upcoming crypto events, including Coinfest Asia in Bali, Play-2-Earn Expo and TOKEN2049, which we hope will have more potential.