Bitcoin and other cryptocurrencies traded sideways throughout the weekend, with the world's largest cryptocurrency sitting rather comfortably on the US$21K point for now.
At the time of writing, Bitcoin (BTC) is trading at US$21,159.23 (-1.20%) while Ethereum (ETH) is trading at US$1,219.42 (-1.24%). Major altcoins such as Solana (SOL) and Avalanche (AVAX) have also seen limited movement, while meme and "forgotten" coins such as Dogecoin (+10.04%) and LUNC (25.39%) are suddenly soaring for no apparent reason.
As one user on CoinMarketCap explained, they're pumping because "your moma said so…lol".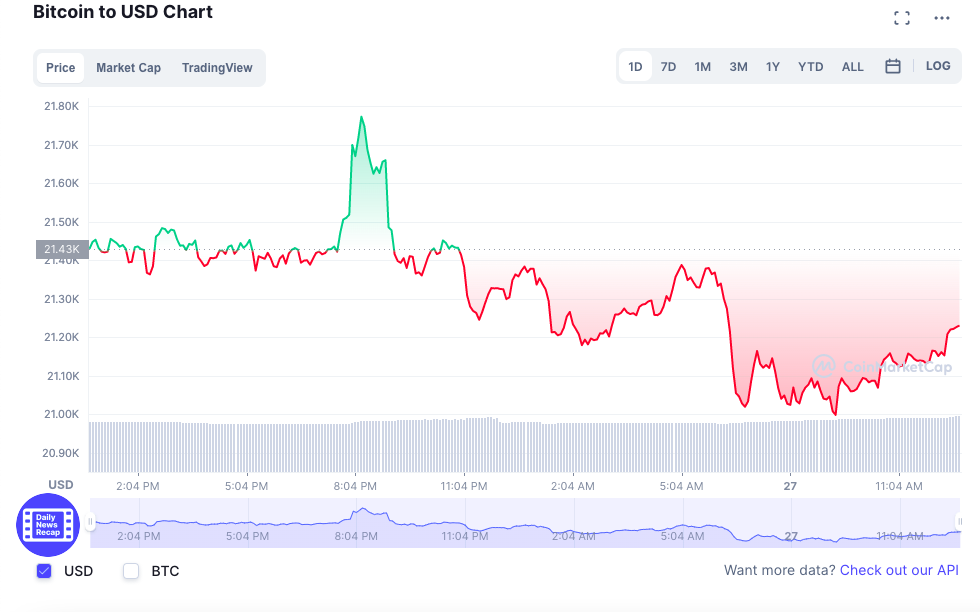 Another day, another crypto money heist
A hacker has exploited a vulnerability to steal US$100 million from Harmony's Horizon Bridge, which allows users to transfer their crypto assets between blockchains including Ethereum, Harmony, Bitcoin and Binance Smart Chain.
According to blockchain analytics firm Elliptic, assets were stolen on both Ethereum and Binance Smart Chain. A variety of assets were taken, including ETH, BNB, USDT, USDC and DAI, and the tokens were subsequently swapped for ETH using decentralised exchanges.
According to blog post on Friday, Harmony notified multiple cybersecurity partners, exchange partners, and the FBI to assist with its investigation. It also attempted communication with the hacker with an embedded message in a transaction to the culprit's address.
Harmony has since committed to a US$1 million bounty in exchange for the return of the funds. The team will also advocate for no criminal charges when the funds are returned.
Over US$1 billion has been stolen from cross-chain bridges so far this year. In March, the Ronin Network, which supports play-to-earn game Axie Infinity, lost more than US$600 million in a security breach. Wormhole, a bridge connecting Solana to other DeFi networks, also lost over US$320 million in a separate hack a month earlier.
Goldman Sachs goes discount shopping
Reports have emerged that Wall Street giant Goldman Sachs is looking to raise US$2 billion to purchase the assets of distressed crypto lender Celsius.
The proposed deal would enable investors to snap up Celsius' assets at big discounts in the event of a bankruptcy filing, according to people familiar with the matter. It is also believed that the deal could still happen even if the embattled lender does not declare bankruptcy.
"Goldman didn't want to buy into the top of the market. This is more their style", one source told Blockworks.
Read more: Below 0° Celsius: When Your Deposit Gets Frozen
Celsius, which had more than US$8 billion lent out to clients and US$12 billion in AUM as of May of this year, abruptly announced on June 12 that it would stop withdrawals from its platform, citing "extreme market conditions."
Binance's CZ converses with Singapore regulators
Binance CEO Changpeng Zhao (CZ) has thanked Singapore's chief fintech officer Sopnendu Mohanty, for inviting him to the Point Zero Forum.
CZ tweeted that both he and Mohanty stated that "it is very important for industry players and regulators to communicate deeply."
Mohanty commended the leadership of some of the leading crypto players in the industry including Crypto.com and Binance in a LInkedIn post on Friday, stating that they are "fully committed to to building a secure and sustainable innovation solving real problems, and identifying real-economy opportunities". Mohanty had referred to cryptocurrencies as "an unreal economy" just days earlier.
CZ also pointed out that there were several misleading media titles about Binance, crypto, and Singapore, with many trying to "drive a wedge between us." He also stated that Binance and the MAS continue to "work closely and collaboratively together".
FYI, here's Blockhead's headline: Singapore Regulators "Brutally" Bite Back Against Bad Crypto Behaviour
Trading Volume
According to data from CoinMarketCap, the global crypto market cap stands at US$951.10B, a 0.72% decrease since yesterday. The total crypto market volume over the last 24 hours is US$57.19 billion, a 15.10% increase.
Fear & Greed Index
Risk appetites are still sapped – the Crypto Fear and Greed Index currently stands at 12, indicating extreme fear. The index uses 5-6 measurements to assess the current sentiment of the market and then rates that level of emotion on a scale of 1-100 – 1 is extreme fear and 100 is extreme greed.
This week's index is an improvement from last week's score of 9, with the market rebounding slightly after the bloodbath two weeks ago. However, the index has stayed at this level (extreme fear) for numerous weeks now, and it seems like it will remain at this level for some time to come as investors continue to assess the rising chances of a recession.