Table of Contents
The Other Side (TOS) has been outed for insider trading, with at least two members within the team having admitted to fraudulent mishandling of the project's community treasury.
Following an internal audit triggered by a TOS community member who first noticed the suspicious transactions, team members @0xAjt55 and @milx#9779 were found to have rigged the system to receive over 50 ETH worth of NFTs themselves.
Suspicious wallets
As part of the project's main utility, TOS offered weekly "Moonpods" that holders could open for either $MOONZ (TOS' ecosystem token), whitelist spots, or coveted NFTs such as Azukis, Project PXN, and Otherdeeds.
The first suspicious wallet, flagged by Discord community member hendrix#6391, belonged to sevensiblings.eth; the owner had received 5 NFTs,  including highly coveted top prizes like Otherdeed, BBRC – IVYBOY, and PXN: Ghost Division, from TOS_MAXI_2 (a treasury wallet) over the course of a month.
Additionally, the wallet had only staked one moonwalker (TOS NFT) – out of a total supply of 9,000 – and still won an NFT every week. This was highly irregular, especially when most other holders would largely be receiving varying amounts of $MOONZ every week.

Another suspicious wallet with similar behaviour was awarded an Azuki, PXN and WoWG.




Apology & doxxing
Project leader 0xAjt55, who has since been doxxed as Alvin John Tan, has responded to the allegations in a message on Discord in which he said he "would like to come clean and apologise to the community for the mistakes [he] has made."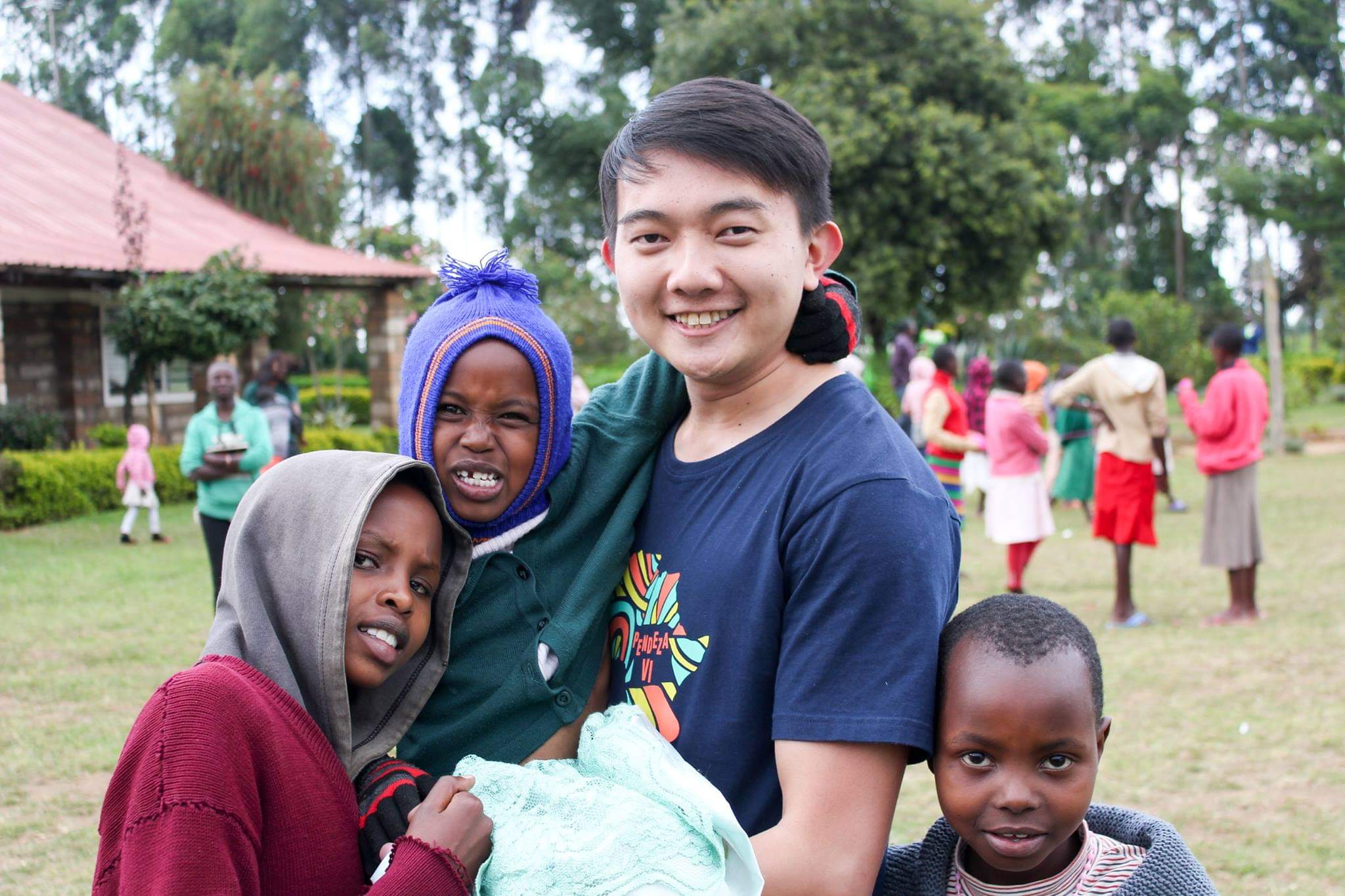 "There were 5 NFTs that were distributed through moonpods that were not accounted for in our backend database" Tan said. "3 out of these 5 was [sic] sent to wallets that are tied to me. I will take responsibility for the costs of these 5 NFTs."
Tan admitted to sending the Azuki grand prize to the personal wallet of @milx#9779 – doxxed as Mitch Lim – with the "intention for both of us to split the profits. We did not include the Azuki prize on the backend and also deleted the backend."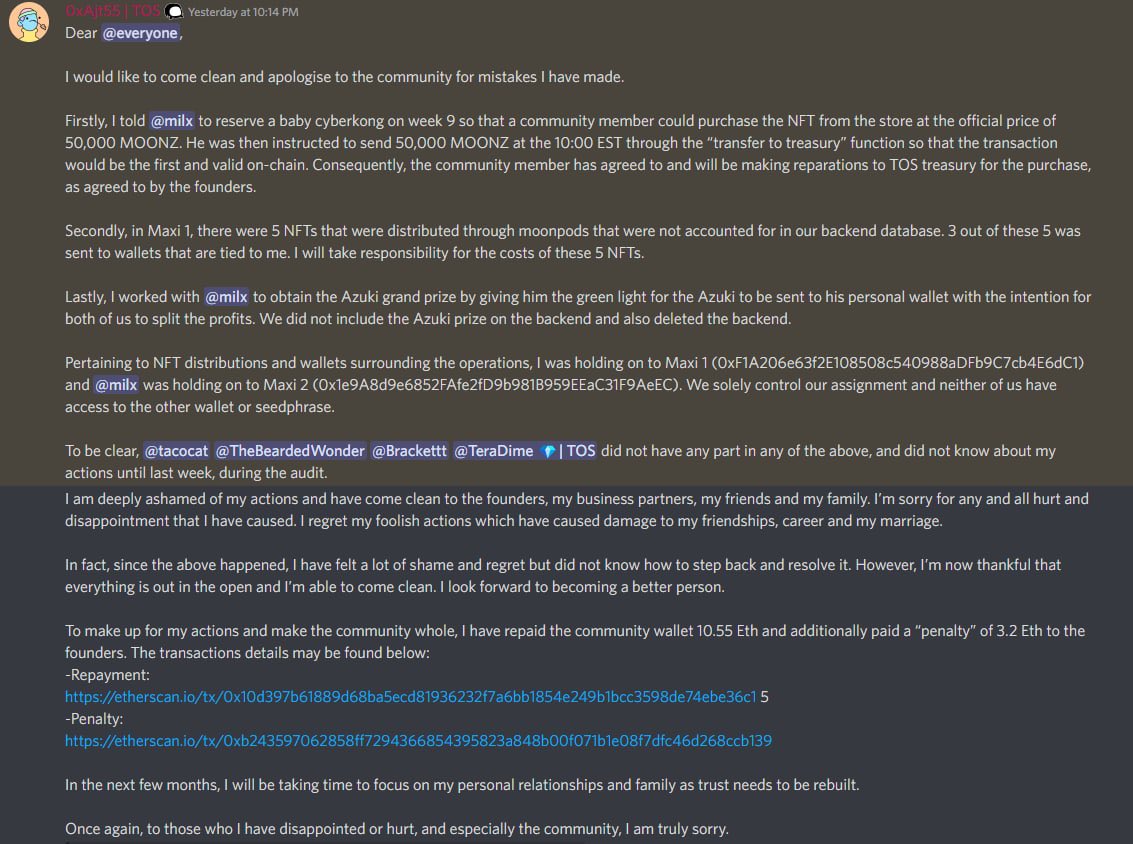 Tan explicitly stated that other founders and members of the TOS core team were not complicit in his egregious actions, and that they only discovered what he had done during an audit.
"I am deeply ashamed of my actions and have come clean to the founders, my business partners, my friends and my family. I'm sorry for all the hurt and disappointment that I have caused. I regret my foolish actions which have caused damage to my friendships, career and my marriage."
Tan has vowed to repay the community wallet 10.55 ETH and to pay a "penalty" of 3.2 ETH to the founders.
TOS & community response
Following the revelation about Tan, TOS released an official statement on their Discord. "22.606 ETH of community funds were discovered to be misappropriated from TOS_MAXI managed by 0xAjt55," the stataement reads.
"32.61 ETH of community funds were discovered to be misappropriated from TOS_MAXI_2 managed by @milx#9779," TOS added.
TOS stated that an internal audit had been carried out but is opening up a community vote as to whether an external audit is necessary too.
Read the full statement in the screenshots below.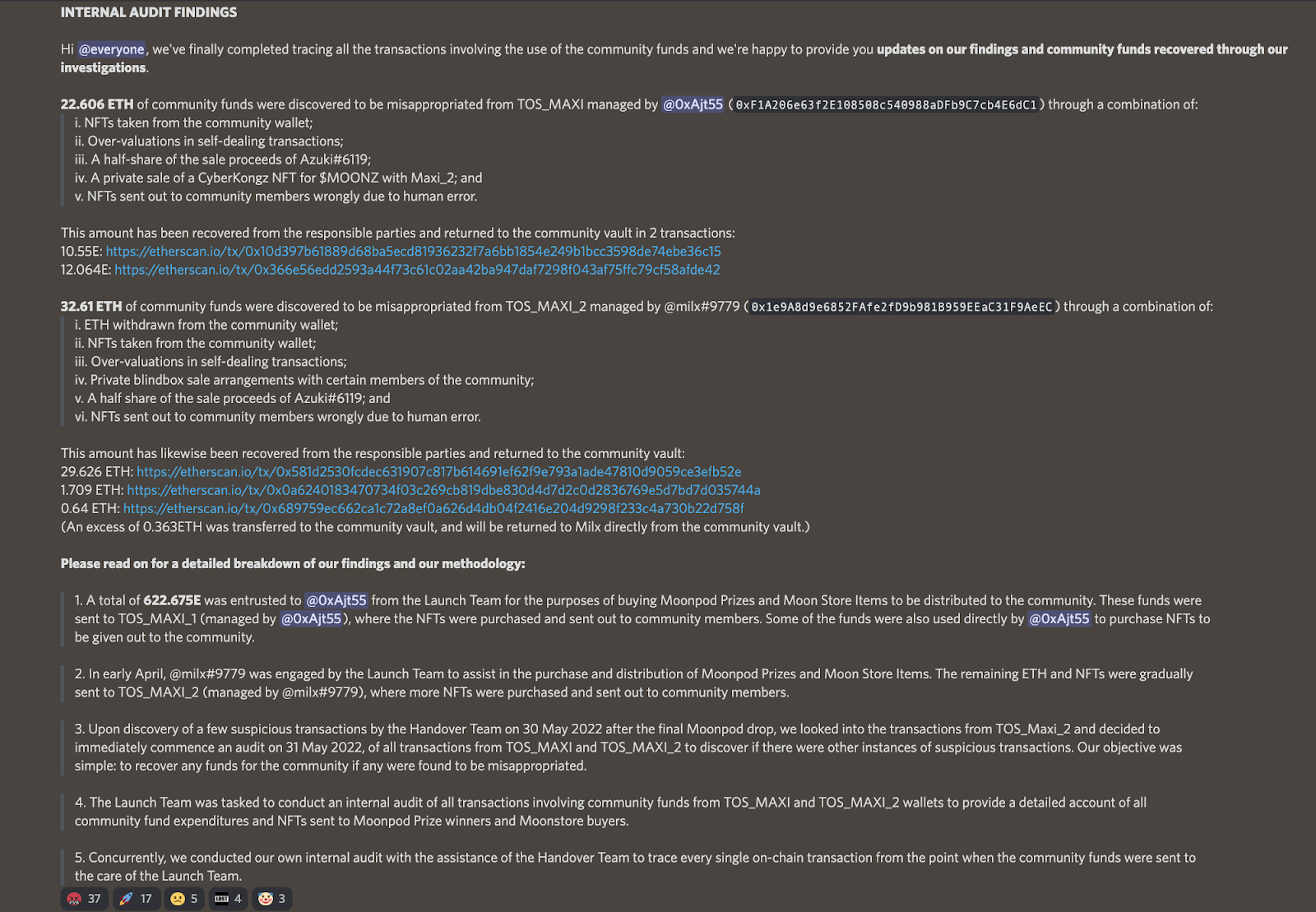 How TOS holders are reacting
Discord user hendrix#6391, an Indonesian with business relations in Singapore, was the first community member to bring the suspicious transactions to light.
For Hendrix, the appeal of TOS was the perceived security of a Singaporean project.
"I thought Singaporeans would not rug their investors," Hendrix said to Blockhead in an interview. "Singapore is well-known for being an investment country as one of the financial capitals in Asia. I joined this NFT project mainly for investment."
I thought Singaporeans would not rug their investors.
Monitoring the TOS raffles, Hendrix stumbled across a red flag. "I found sevensiblings.eth won the top prize NFT for two consecutive weeks," he said.
"I thought it was impossible that people could win top prize NFTs every week. The chances were very low – he could only buy up to three raffle tickets but received one Moonpod every week. It was too suspicious the he won every week."
Hendrix said he felt "very very disappointed" about his discovery, describing the launch team as "arrogant" and unsympathetic to the community. "I feel the launch team is arrogant. I don't see their sympathy to the community after what have happened. They think they already doing great job just by delivering their roadmap. They very much lack responsibility."
Sadly, Hendrix has accepted that the culprits will not be held accountable. "I think this fraud will just go away and will be forgotten without any real action."
Moving forward, Hendrix feels the incident has negatively affected his "judgement on NFT projects from Singapore."
Support local?
Another holder, a Singaporean who goes by the name of Ethan, or FireBomBom#3525 on Discord, has been a TOS holder since 18 February 2022.
"I did not manage to get a whitelist but had always heard that it's a good community and since it was a Singaporean project," Ethan said to Blockhead.
"I thought to support local and decided to join them. There was also the weekly Moonpods that we could get so was hoping to get some NFTs/WLs from it."
"In hindsight, I feel that I should have done more research into the team before I made my decision to invest in T-O-S," he said he was "lucky to get the ShinSekai WL from one of the Moonpods and was even luckier to managed to sell them near the top."
The NFT holder highlighted how "everyone was very hyped before each week of the moonpods drop but every Sunday night, almost everyone would be disappointed and hope that they would get something better next week."
Reflecting on the insider trader allegations, Ethan said he was "fucking pissed about it."
"The blockchain does not lie so I believe if someone found such transactions, they definitely are doing something dirty behind our backs," he said. "Can't believe they did this to their holders and there were in fact many Singaporeans who are actually supporting their project."
His frustration is shared by the TOS community – many of whom "have almost given up hope to get any funds back," according to Ethan.
They definitely slow rugged us and were probably hoping to hand over the project hoping that nobody found out.
"They definitely slow rugged us and were probably hoping to hand over the project hoping that nobody found out. I am pretty sure some of the team members/mods are unhappy about this as well as several of them did vote for my proposal to refund the community funds as well," he added.
Despite TOS's official statement, the community still remains displeased. Ethan said he feels "very pissed because the founders should be taking more actions in bringing these guys to justice, instead of pushing for phase 2."
"Now they just want to close the case and move on to the next phase, whereas all of the holders want the culprits to be reported to the police. Totally have no more confidence in this team to push on with the project. Heard that the founders and the culprits are IRL friends and know each other for more than 10 years so they don't want to report them to the police."
Ethan believes legal action should be taken against the founders. "If it's a web2 company, [it's] already considered embezzlement and criminal breach of trust. [They] should be jailed man. The founders should take the heat as well because their actions now are like protecting the culprits. Just say sorry and return money can get away scot-free already. In fact the money returned also not enough."