Three Arrows Capital (3AC), a Singapore-based crypto hedge fund, is rumoured to be insolvent after unconfirmed reports of the firm missing a margin call and experiencing a liquidation event surfaced online.
On-chain data from Nansen shows that 3AC has been the biggest seller of the stETH (staked ETH) token in the past week. According to data from Etherscan, a wallet belonging to 3AC withdrew 80,000 stETH from DeFi lending protocol Aave on Tuesday, and converted 38,900 stETH (approximately US$45 million) to ETH.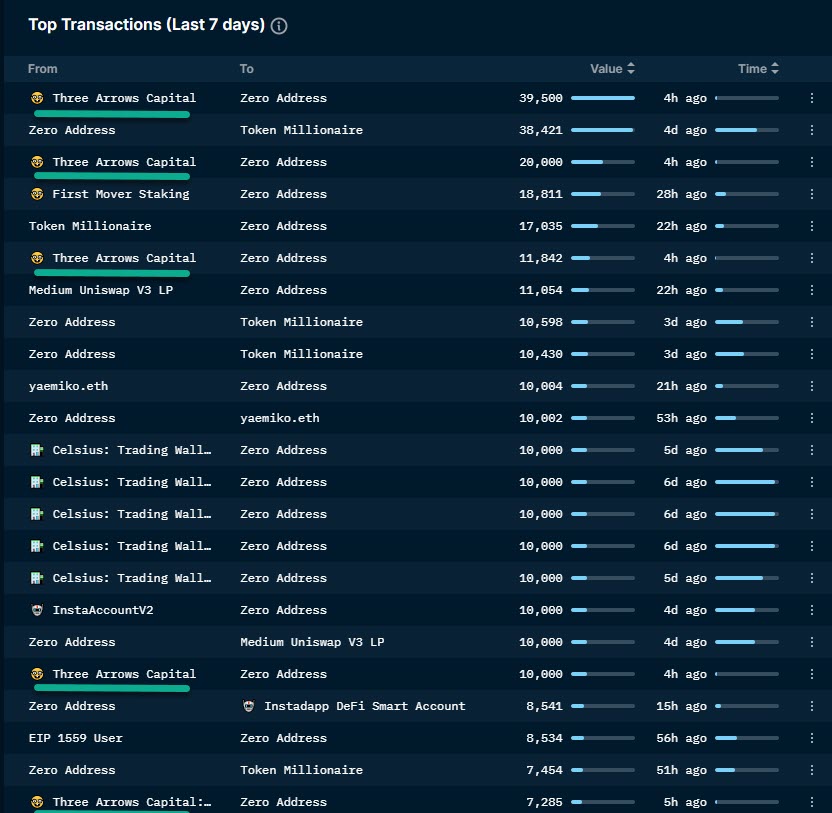 "People think Celsius is the biggest stETH dumper but its 3AC and it isnt relatively close," crypto trader MoonOverlord wrote. "They are dumping on every account and seed round address they have, most looks like its going to payback debts and outstanding borrows they have."
stETH was launched by DeFi platform Lido Finance as a way to provide liquidity to traders who are "staking" their ETH on Ethereum's PoS (proof-of-stake) Beacon Chain. Lido currently has a 30% share in all staking activity on Ethereum. According to Goldman Sachs, such a large concentration of deposits can "theoretically increase systemic risk".
According to DeFi analyst @DeFiyst, 3AC began dumping their sETH immediately after the Terra debacle in May, with the company pulling 127,000 stETH in liquidity (worth US$246 million at the time) from DeFi protocol Curve.
"They have been in and out of AAVE, wstETH, etc. until the selling began this week", they tweeted.
Twitter user @Danny8BC who reportedly trades using 3AC's trading accounts, said that the company allegedly withdrew US$1 million out of their accounts on Monday morning.
"I hope you pay us back asap", he tweeted.
3AC co-founder Zhu Su has since responded to the rumours, stating that the company is "fully committed to working this out". But while 3AC has been dumping stETH, Su has also been shilling the token.
"Most of the steth fair discount analysis I've seen misses that from an onchain functionality perspective, steth is nearly pari passu (ranking equally) w eth functionality in defi. It is the most sound source of native protocol yield on Ethereum This makes it an attractive part of an eth-denom port", he tweeted on Sunday.
His response also comes amid a string of unusual activity including prolonged inactivity on his Twitter account, removing every token and hashtag from his bio, and deleting his Instagram. It has also been reported that the 3AC-backed NFT fund @StarryNight_Cap has moved its entire collection of 70 NFTs worth over US$21 million from NFT platform SuperRare to a single wallet address.
3AC is a major crypto borrower, which means that any financial trouble from them will likely spillover to the rest of the markets. Investors are already skittish over the fact that Celsius Network, a major lending platform, announced a pause on all its withdrawals earlier this week, citing "extreme market conditions" and the need to put the network in a "better position to honour its withdrawal obligations". The platform has been facing pressure to sell its stETH holdings to restore liquidity to user withdrawals.