Table of Contents
Bitcoin and other cryptocurrencies took a nosedive on Monday, in a brutal bloodbath that saw over US$1.3 billion in liquidations over the past 24 hours.
The world's largest cryptocurrency plunged to an 18-month low overnight, and is now trading at US$21,621.69 (-16.22%). Ethereum (ETH) is trading at US$1,117.97 (-16.75%), while major altcoins such as Avalanche (AVAX) and Solana (SOL) have also been languishing in a sea of red since last week.
"Some key liquidation levels that the market is looking out for are US$1,150 in ETH, 0.8 in stETH/ETH and US$20,000 in BTC. We are getting uncomfortably close", said QCP Capital in a note published today.
According to data from CoinMarketCap, the global cryptocurrency market has fallen below US$1 trillion for the first time since January 2021.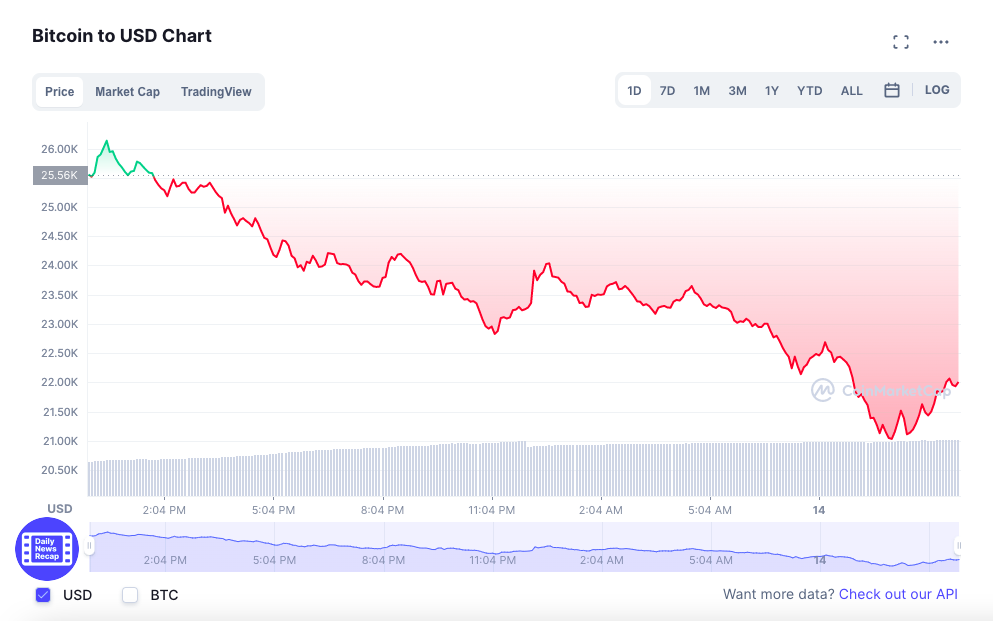 The market crash coincides with the wider sell-off in the equities market, spurred by the US Labor Department's announcement on Friday indicating that the consumer-price index increased 8.6% in May from the same month a year ago, higher than the market's expectation of 8.3% and the highest increase since December 1981.
It has also been widely speculated that the Federal Open Market Committee (FOMC) is entertaining the idea of a 75-basis-point rate increase at its meeting on Wednesday.
Contagion fears thanks to Celsius
Macroeconomic conditions aside, the slide in prices was also exacerbated by concerns over the potential insolvency in the Celsius network.
Investors are skittish about the impact and contagion if Celsius, a major cryptocurrency lending platform, becomes insolvent.
The platform recently announced a pause on all its withdrawals, citing "extreme market conditions" and the need to put the network in a "better position to honour its withdrawal obligations".
No war chest, no job
A slew of job cuts have been announced by crypto firms in recent weeks, with the uncertain economic landscape sapping risk appetites and causing a decline in users and revenue.
Crypto.com and BlockFi are the two latest firms to announce a reduction in headcount. BlockFi Inc said that it will reduce its staff by 20%, while the Singapore-based Crypto.com announced layoffs of about 260 staff, or 5% of its work force.
Earlier this month, crypto exchange Gemini Trust Co. said it plans to slash 10% of its staff. Coinbase Global Inc also announced that it will be rescinding job offers and freezing hiring.
However, it seems like Binance has gone against the grain, with its CEO Changpeng Zhao announcing that the exchange instead will instead expand hiring activity.
"We have a very healthy war chest, we in fact are expanding hiring right now", Binance CEO said via video link at the closing of Consensus 2022.
Binance Labs, the venture capital arm of crypto exchange Binance, recently announced that it closed a US$500 million investment fund which will be used to invest in "projects that can expand cryptocurrency use cases and drive the adoption of Web3 and blockchain technologies".
Fear & Greed Index
Risk appetites are really, really sapped – the Crypto Fear and Greed Index currently stands at 8, down from yesterday's score of 13, indicating [very] extreme fear. The index uses 5-6 measurements to assess the current sentiment of the market and then rates that level of emotion on a scale of 1-100 – 1 is extreme fear and 100 is extreme greed.
The index has stayed at this level for numerous weeks now, and it seems like it will remain at this level for some time to come.
Fingers crossed it dosen't fall below 5, or else it'll have to be instant noodles for the rest of the month.