Bitcoin and other cryptocurrencies tumbled over the weekend, after the US Labor Department on Friday said that the consumer-price index increased 8.6% in May from the same month a year ago, the highest increase since December 1981.
At the time of writing, Bitcoin (BTC) is trading at US$25,706.12 (-7.71%) while Ethereum (ETH) is trading at US$1,357.29 (-7.85%) – its lowest point since January 2021. Major altcoins such as Avalanche (AVAX) and Solana (SOL) have also been trading in red over the past 24 hours.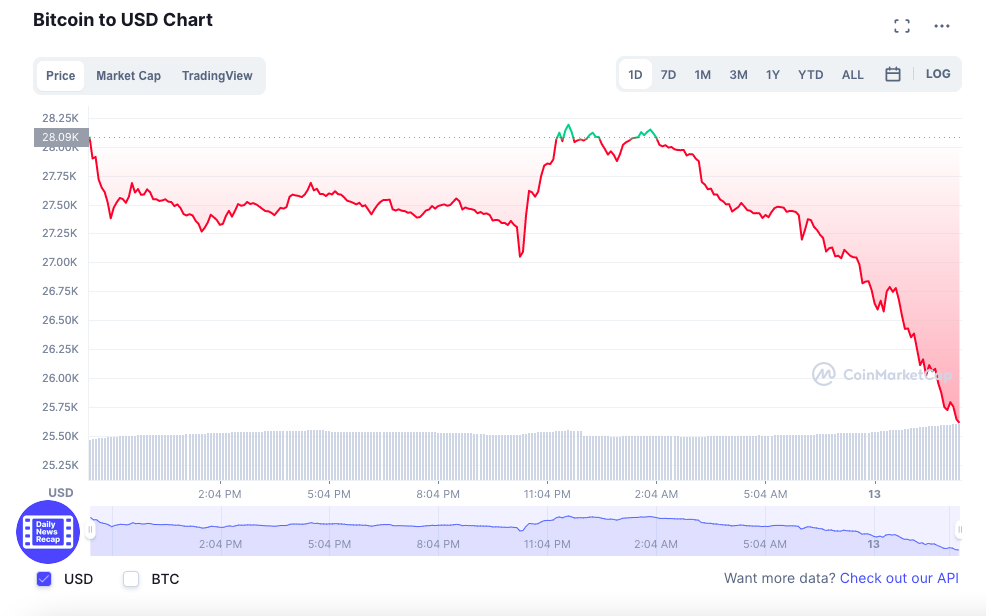 The crypto sell-off coincided with a decline in the equity markets, with the S&P 500 and NASDAQ down by more than 2.5% and 3.5% respectively.
Celsius reaches boiling point
The Celsius Network is in the limelight for the wrong reasons once again, with the platform announcing a pause on all its withdrawals, citing "extreme market conditions" and the need to put the network in a "better position to honour its withdrawal obligations".
"We are working with a singular focus: to protect and preserve assets to meet our obligations to customers. Our ultimate objective is stabilising liquidity and restoring withdrawals, Swap, and transfers between accounts as quickly as possible. There is a lot of work ahead as we consider various options, this process will take time, and there may be delays," Celsius said in blog post published today.
Analysts are concerned that the lending platform may be running out of liquid funds to pay back investors, after Alameda Research allegedly redeemed 50,000 stETH for ETH. Celsius was previously rumoured to be a seller of stETH in order to restore liquidity to user withdrawals, which may trigger liquidations.
Read more: Wash Trading, Losses: Celsius Network Has Bigger Problems Than LUNA
It is estimated that Celsius will run out of liquid ETH in five weeks at the current pace, with many concerned that the platform is already functionally insolvent. Some 27% percent of Celsius' ETH is liquid, with the remainder in stETH or staked in ETH2 — the latter being locked up for a year.
Data from Etherscan shows that Celsius transferred about 3,500 WBTC (US$89 million) to FTX within the last hour and transferred about 50,000 ETH to FTX three hours ago.
Celsius Network has been plagued with controversy over the past 12 months, including the arrest of its CFO and allegations of wash trading via its native $CEL token.
CZ closes Consensus 2022
"There's no way to prevent failures in a new industry. The only way to prevent this is to do nothing and not innovate," according to Changpeng "CZ" Zhao, who spoke via video feed at the Consensus 2022 conference.
Responding to criticism that there still is no real use case for bitcoin, and that it's not proven its safe haven credentials, the Binance founder reiterated that crypto industry is still in its early days, and compared it to the advent of the internet in 1995.
"Many of the models may work or not work that well, but the technology is here and has such potential. But there may be people who just won't see that," Zhao said at the session "Why Crypto Matters," which closed the conference in Austin, Texas on Sunday.
3AC's Zhu Su culls tokens
Zhu Su, co-founder of Three Arrows Capital (3AC), has deleted ETH, AVAX, LUNA, SOL, NEAR, MINA and other tokens from his personal introduction on Twitter, but has kept Bitcoin, DeribitExchange, DeFianceCapital and StarryNight_Cap.
In November last year, Su publicly slammed ETH on Twitter, citing the network's high gas fees and how it has "abandoned its users despite supporting them in the past". The firm then sold off a significant portion of their ETH holdings.
However, 3AC abruptly added US$400 million worth of ETH to its portfolio in December, with Su later tweeting that he'll still "bid hard on any [ETH] dump". The purchase had coincided with a major market correction.
Last month, Su tweeted that BTC could be entering an accumulation range.
Trading Volume
According to data from CoinMarketCap, the global crypto market cap stands at US$1.04 trillion, a 8.14% decrease since yesterday. The total crypto market volume over the last 24 hours is US$94.56 billion, a 31.35% increase.
Data from Coinglass shows that approximately US$447 million have been liquidated from the crypto market in the past 24 hours.
Fear & Greed Index
Risk appetites remain sapped – the Crypto Fear and Greed Index currently stands at 11, indicating extreme fear. The index uses 5-6 measurements to assess the current sentiment of the market and then rates that level of emotion on a scale of 1-100 – 1 is extreme fear and 100 is extreme greed.
The index has stayed at this level for numerous weeks now, and it seems like it will remain at this level for some time to come.