Table of Contents
Is it just us, or is there a gloomy haze surrounding Binance? For as long as we've known it, the world's largest crypto exchange naturally and comfortably positioned itself at the forefront of the market and leading discussions. But as of recent, Binance has seemingly remained out of the limelight.
Over the past few months, Binance has been embroiled in lawsuits from US regulators. Whilst this has understandably stolen Changpeng Zhao's attention, the likes of Coinbase and Ripple are equally under the SEC's microscope but yet seem to have a more active presence.
Singapore Crypto Week
TOKEN2049 Singapore is one of the most important dates in the crypto calendar. Not just for the event itself, but also for the 430+ industry side events during that week. But throughout, Binance has remained relatively muted. Sure, CZ made a virtual appearance at TOKEN2049 but his statements were vague, uninspiring, and offered no insights about Binance's current state.
"We see many traditional institutions that used to provide the withdrawal of fiat channels," he said. "Today, it actually ramps up fiat." The Binance CEO also said converting fiat into crypto is an obstacle to bringing in the next 100 million users. Well, duh.
Contrast this to Ripple CEO Brad Garlinghouse who took his opportunity at TOKEN2049 to lay into the SEC. "The only country I'd encourage people not to start a crypto company in right now is the US," he boldly said. Admittedly, CZ isn't known to be as fiery as his peers but there was still a severe lack of conviction in his talk.
Blockhead also hosted Binance's Head of VIP & Institutional, Catherine Chen, at our exclusive TOKEN2049 side event BlockClub. Whilst Chen touched upon the topic of regulation, nothing new or substantial was divulged.
Binance's presence was pretty limited at TOKEN2049's side events. Our team caught wind of just one Binance event, which wasn't even listed on the official TOKEN2049 side events document. We only chanced upon the event whilst attending another event, spotting a Binance lackey holding a sign reading, "Don't fight the inevitable, embrace it" next to a gaumless-looking Zhao.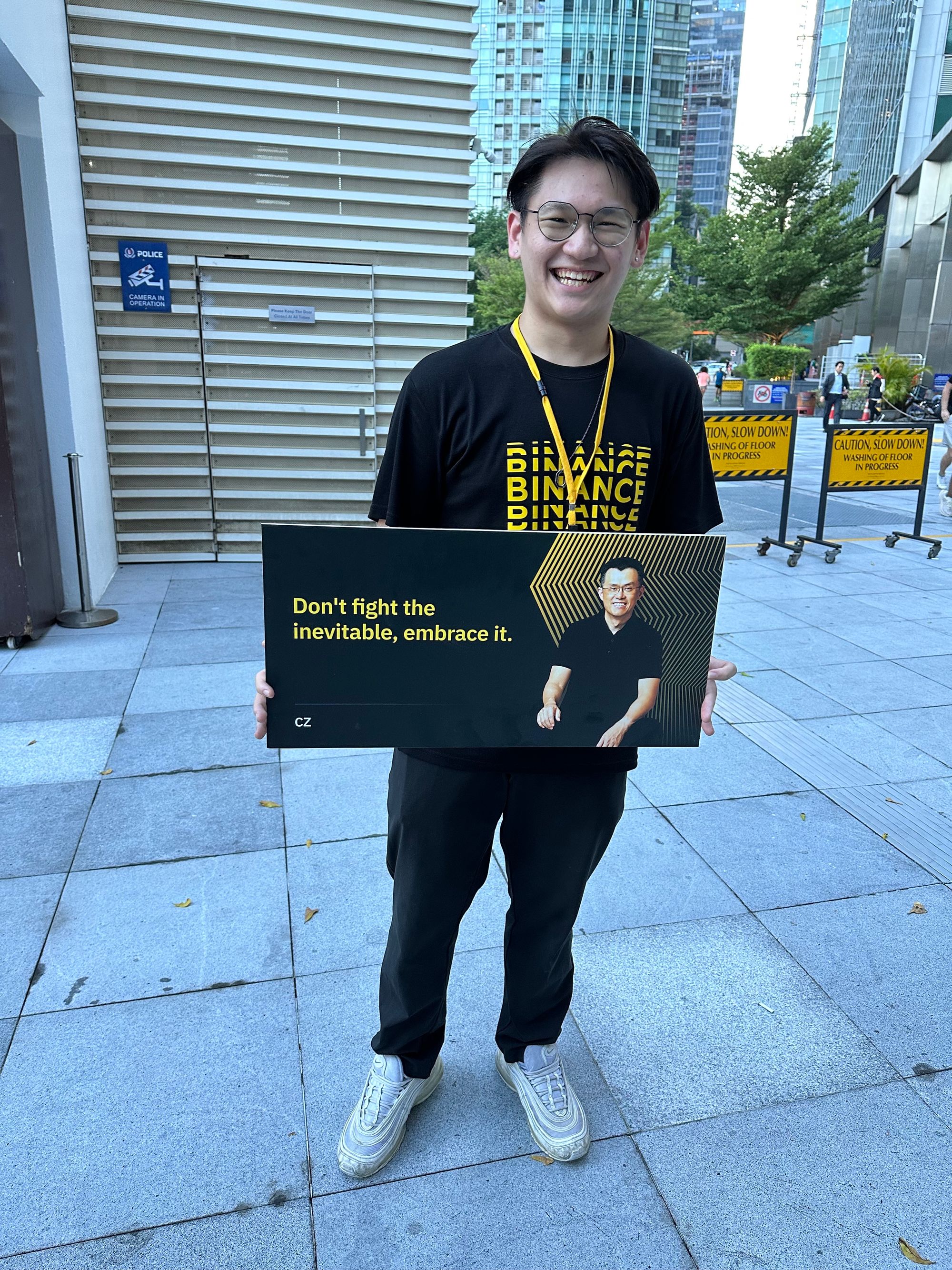 Sure, there were over 430 events to compete with, but the phrase, "Are you going to the Binance event?" was muttered by no one last week. Surely the world's biggest crypto exchange is capable of throwing a decent party during one of the most important crypto weeks.
Firing But Not Really Hiring
Letting staff go makes for bad press. Just ask Bake (formerly known as Cake Defi). But considering the brutal bear market we all find ourselves in, cutbacks are expected. However, Binance's recent resignations aren't adding up.
Last week, Binance.US CEO Brian Shroder resigned. Earlier this month, Binance's global head of product Mayur Kamat also resigned, just days after Leon Foong, Asia-Pacific head at Binance, exited. Chief strategy officer Patrick Hillmann quit one month earlier too.
Why? These cuts don't appear to be driven by cost-cutting. The official reasons mainly cite "personal reasons" and a "well-deserved break" but another 100 employees were cut from Binance.US too. Pressure from SEC regulations is the most obvious immediate trigger but like we said, Binance isn't the only one facing the heat. The most concerning part about Binance's exodus is the positions themselves.
Binance.US's 100-employee cut is unfortunate, but not as alarming as their CEO's resignation. Why are all these executives leaving, especially at a time when Binance needs its head positions to steer the ship out of troubled waters? Surely now is not the time for a "well-deserved break."
These positions are being filled through in-house shuffling but are these execs capable of filling the shoes of their big brother counterparts under such harsh conditions?
No News is Good News
At this point, Blockhead only knows what you know, which isn't much. The world's biggest exchange is leaving us all in the dark. However, this doesn't necessarily mean the worst. Perhaps Binance is quietly making moves behind the scenes and will resurface stronger than ever. Perhaps Binance's newly promoted execs are more qualified than their predecessors. Perhaps Binance is silently formulating a compelling SEC strategy. Perhaps silence is golden.
Or perhaps our concerns are valid. We'd hate to say we told you so.
Elsewhere: