Whilst crypto winter has been making the poor even poorer, the crypto rich have silently been getting richer. If your crypto investment ambitions are in the 10-figure range, we have some stats for you.
According to a new report by Henley & Partners and New World Wealth, the crypto world has spawned 22 billionaires, 182 centi-millionaires, and 88,200 millionaires. Relying solely on Bitcoin isn't as fruitful as you thought, either. Under half of the millionaires are Bitcoin millionaires, while only six are regarded as Bitcoin billionaires.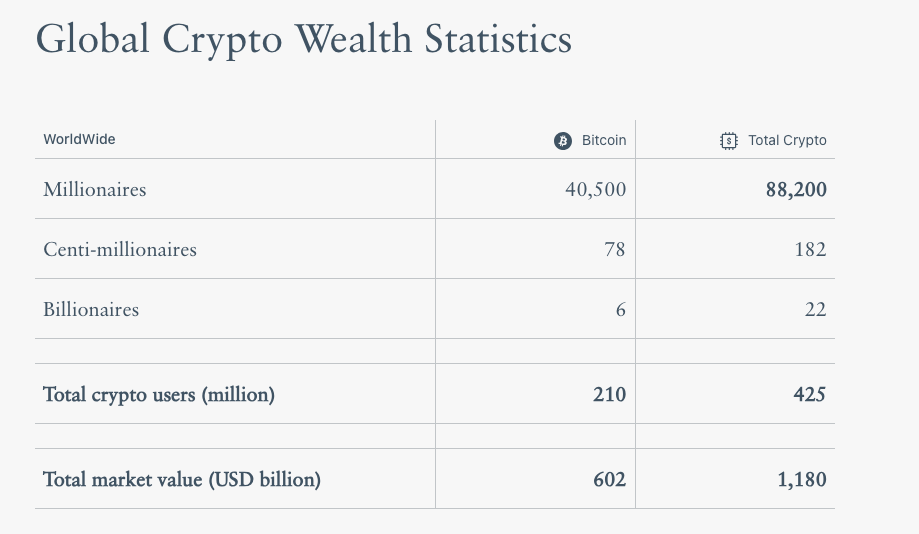 Forbes puts this year's total number of billionaires at 2,640, meaning crypto accounts for 0.8% of billionaires worldwide. Binance CEO Changpeng Zhao is listed as the world's 167th richest person with a net worth of $10.5 billion.
425 million people around the world use crypto, which also means that 0.02% of crypto users are millionaires and 0.00000005% are billionaires. The odds aren't exactly in your favour.
Increasing Your Odds
Becoming a crypto billionaire is no easy feat but perhaps setting up camp in the most crypto-friendly region could edge the odds your way. That region, according to Henley's report, is Singapore.
Earning the highest score of 50.2 on the report's Crypto Adoption Index, Singapore sits above Switzerland, UAE, Hong Kong, and the USA, which take 2nd to 5th place respectively. Singapore's score accounts for 83.67% of the available points.
Singapore scored particularly highly on tax-friendliness (10.0), economic factors (8.9), and innovation and technology (9.3).
"The [Singaporean] government cooperates closely with all actors — banks, businesses, and the public — for the optimal development of the national crypto sector, and the city-state's crypto taxes are beneficial to individuals and investors alike, with no capital gains taxes," the report stated.
Most recently, the Monetary Authority of Singapore (MAS) granted AsiaNext a Recognised Market Operator (RMO) license, allowing the institutional exchange to operate an organised market for securities and collective investment schemes.
Singapore's weakest factor was the infrastructure adoption (6.4), losing out to Asian rival Hong Kong (7.5). Overall, Hong Kong scored 45.6 points in total, just shy of UAE's 45.7.
"Hong Kong's diverse and open approach to cryptocurrencies positions it as a favorable destination for a wide range of crypto enthusiasts," the report explained.
"Its robust blockchain infrastructure and progressive regulatory framework make it a noteworthy consideration for individuals seeking to navigate the evolving cryptocurrency landscape while safeguarding their financial interests."
What you make of the stats is up to you but odds are, you're probably not a crypto billionaire. However, subscribing to Blockhead to keep updated with everything happening in the space might just put you on the right footing.