Welcome to Blockhead's Daily Digest, your go-to source for staying informed on the dynamic and ever-changing world of cryptocurrency. Whether you're a seasoned investor, blockchain enthusiast, or simply curious about the latest developments, we've got you covered with the most comprehensive news and analysis.
---
Bitcoin has struggled to stay above $30,000 thus far in 2023, but analysts believe the world's leading cryptocurrency could reach $120,000 next year.
The brilliant minds at Standard Chartered announced yesterday that Bitcoin could reach $50,000 this year and $120,000 by the end of 2024, due to miners hoarding its supply.
"Increased miner profitability per BTC (bitcoin) mined means they can sell less while maintaining cash inflows, reducing net BTC supply and pushing BTC prices higher," StanChart's top FX analyst Geoff Kendrick said in a report.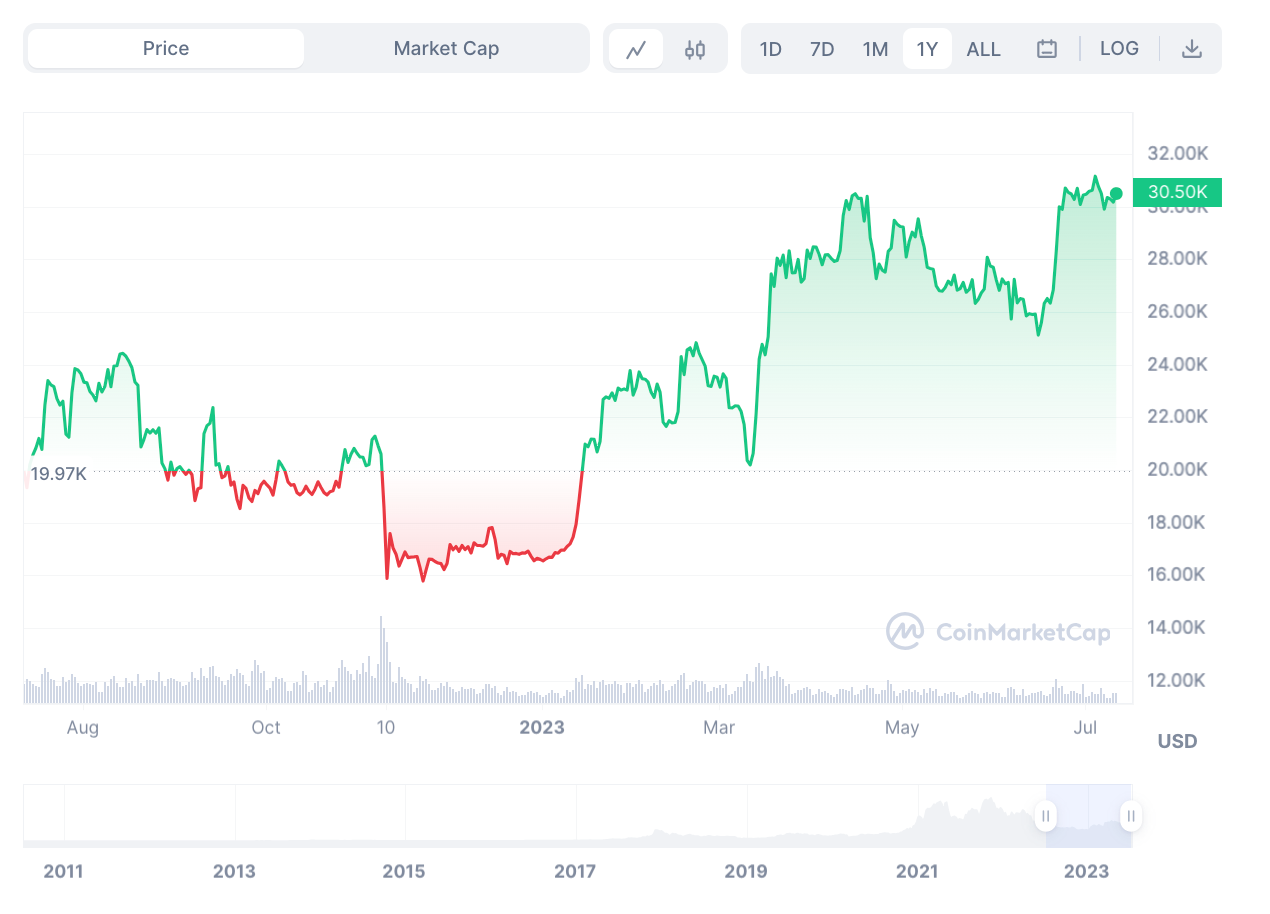 StanChart posted a report in April predicting that Bitcoin could hit $100,000 by the end of 2024 but Kendrick now believes there could be a "20% upside" to that call.
Martrixport's head of research Markus Thielen expressed further confidence and claimed that "there is now a 100% probability of that by the end of 2024."
"Bitcoin will experience another massive bull market with a price target of $125,000 (+310%) — based on the previous three signals," Thielen wrote on LinkedIn.
Here at Blockhead, we're certainly no price analysts but nonetheless support the view that Bitcoin will have a better year in 2024 (it can't be any worse can it?). That said, if the past two years have taught us anything, predicting the crypto market is a fool's game.
Elsewhere:
NFL quarterback Tom Brady reportedly lost $30 million in the collapse of FTX. Serving as an FTX ambassador, Brady was granted $30 million in now-worthless stock for promoting the company in 2021. His then-wife, Gisele Bundchen, also received $18 million in stock. FTX filed for bankruptcy in November last year. Brady and Bundchen are also being sued by FTX investors seeking repayment from celebrity endorsers.
Razer is investigating a potential hack that targeted its digital wallet, Razer Gold, which is used by customers to purchase games and in-game content. A seller on a hackers' forum had claimed to have access to Razer's source codes, encryption keys, database, and backend logins and was selling them for US$100,000 worth of private cryptocurrency Monero. The gaming firm is conducting a thorough review of its and plans to report the matter to the relevant authorities.  The seller requested US$100,000 in Monero, a privacy-focused cryptocurrency, for the allegedly stolen data.
Former SEC chairman Jay Clayton has said that regulators would be inclined to approve a spot Bitcoin exchange-traded fund (ETF). Clayton said regulators would approve the crypto ETFs, which a string of TradFi giants including BlackRock applied for, if they offer similar functionality to a futures ETF. The SEC would need to see a spot product application that provides comparable effectiveness to the futures market in order to grant approval, Clayton said. "If they're [applicants] right—that the spot market has similar efficacy to the futures market—it would be hard to resist approving a Bitcoin ETF," Clayton said.
"I was very skeptical with trading in the #bitcoin market when I was SEC Chair," says Jay Clayton. "But if you can demonstrate that the spot market has similar efficacy to the futures market, it would be hard to resist approving a #bitcoin ETF." pic.twitter.com/mig05ZUwIL

— Squawk Box (@SquawkCNBC) July 10, 2023