Welcome to Blockhead's Daily Digest, your go-to source for staying informed on the dynamic and ever-changing world of cryptocurrency. Whether you're a seasoned investor, blockchain enthusiast, or simply curious about the latest developments, we've got you covered with the most comprehensive news and analysis.
---
TradFi might be bringing a level of maturity and sophistication to the crypto industry but degens are ensuring their stamp on the space isn't fading.
Yesterday, we reported how TradFi firms are following in the footsteps BlackRock's Bitcoin ETF application. Adding to the list, which already includes WisdomTree and Invesco, is Valkyrie Digital Assets. The financial services firm has filed an application with the SEC for the Valkyrie Bitcoin Fund with the ticker $BRRR. It plans to reflect the price of CME CF Bitcoin Reference Rate - New York Variant (BRRNY).
Despite the push, BlackRock still believes institutional DeFi adoption is "many years away." Joseph Chalom, the firm's head of strategic partnerships, said that regulatory constraints are holding back TradFi.
"We go to jail if we don't know who we are trading with, we can only participate in ecosystems who are well-regulated and understood," he said.
Nonetheless, Chalom believes that companies like Coinbase, with their institutional-grade wallets, could serve as a bridge between DeFi and traditional investors.
Even Binance CEO Changpeng Zhao is warming to the idea of TradFi coming on board.
TradFi, who would have thought? 😂

— CZ 🔶 Binance (@cz_binance) June 22, 2023
Meanwhile, degens have been betting on whether the missing OceanGate Titan submarine would be found. As we now know, the five on board have been confirmed dead following a "catastrophic implosion" of the submarine.
On the Polymarket betting site, trading volumes hit over $796,800 on whether the submarine would be found by 23 June. The bets do not require the physical recovery of the submarine, but rather its location.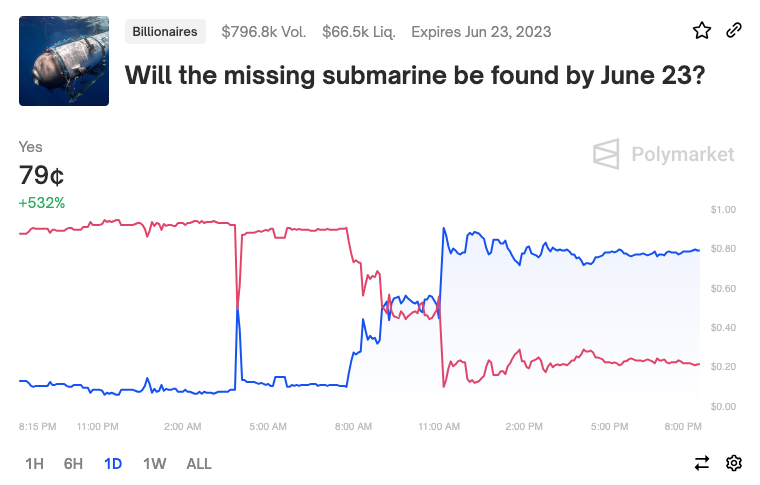 "No" bets reached US$0.93 before news of the implosion broke, with "Yes" bets valued at around $0.08. The values quickly reversed upon the discovery of the Titan's debris. Settlement of the bet will require an official statement from OceanGate, the U.S. Coast Guard, or another credible government agency or a consensus of credible reporting.
One individual, whose tweet was retweeted by Polmarket, proudly claimed to have achieved a 1,100% return on their investment in the submarine bet.
Made 1100% on the submarine bet on @Polymarket

— 5G (@coinbasebro) June 22, 2023
Rightly or wrongly, degen culture remains strong in crypto.
Elsewhere:
Binance is facing pyramid scheme allegations in Brazil. Brazilian Deputy Alfredo Gaspar has requested that Guilherme Haddad, the head of Binance Brazil, testify before parliament as part of an investigation into suspected pyramid schemes in the country. If approved by the Parliamentary Commission of Inquiry (CPI) on 27 June, Gaspar's request could see Haddad answering questions before the Brazilian Chamber of Deputies. Binance's operations in Brazil are also being investigated by the Federal Prosecutor's Office and Federal Police for potentially assisting clients in bypassing a crypto ban.
FTX has filed a lawsuit against a former aide to Hillary Clinton, Michael Kives, and his investment firm K5 Global. The bankrupt exchange is seeking to recover $700 million in investments allegedly made with misappropriated FTX funds. FTX is accusing its own founder Sam Bankman-Fried (SBF) of authorising the transfer of $700 million to K5 Global entities in 2022, using company assets for personal gain. SBF then allegedly relied on his connections with Kives to obtain rescue financing for FTX before its bankruptcy in November 2022. Such investments include the purchase of a minority stake in Kendall Jenner's 818 Tequila brand for $214 million at a time when the company was valued at $2.94 million in its filings with the SEC.
Mastercard has expanded its Engage program to bring cryptocurrency card programs to market by connecting potential card issuers with partners possessing the necessary technical expertise. By leveraging Mastercard's global network, crypto firms can benefit from the program's ability to reduce the time required to launch crypto cards and enable crypto-to-fiat conversions. The move is yet another reflection of the increasing interest of TradFi firms in digital assets.