Welcome to Blockhead's Daily Digest, your go-to source for staying informed on the dynamic and ever-changing world of cryptocurrency. Whether you're a seasoned investor, blockchain enthusiast, or simply curious about the latest developments, we've got you covered with the most comprehensive news and analysis.
---
Just one day after suing the world's largest crypto exchange, Binance, the SEC has filed a lawsuit against the largest crypto exchange in the US, Coinbase.
Alleging Coinbase operated illegally without registering since 2019, the complaint said the exchange handled cryptocurrency transactions whilst evading disclosure requirements meant to protect investors.
Coinbase's shares fell as much as 15.9% in premarket trading after news broke of the lawsuit.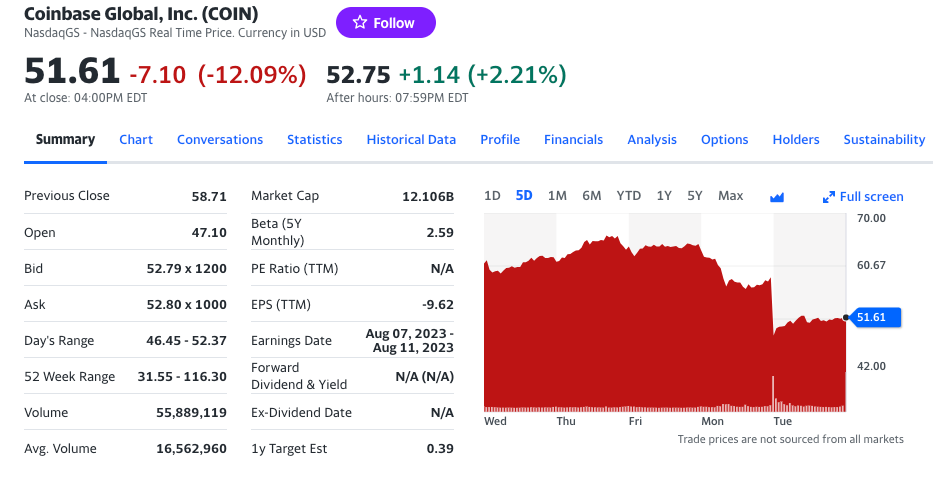 SEC chair Gary Gensler then doubled down on his stance in an interview with CNBC in which he proclaimed that the US doesn't need crypto.
"We already have digital currency," Gensler said. "It's called the U.S. dollar. It's called the euro or it's called the yen; they're all digital right now. We already have digital investments."
He then took a swing at crypto exchanges, stating, "These trading platforms, they call themselves exchanges, are commingling a number of functions. In traditional finance, we don't see the New York Stock Exchange also operating a hedge fund making markets."
In response, Coinbase CEO Brian Armstrong said the SEC "has taken a regulation by enforcement approach that is harming America."
"If we need to avail ourselves of the courts to get clarity, so be it," Armstrong tweeted. "The Coinbase suit is very different from others out there – the complaint filed against us is exclusively focused on what is or is not a security. And we are confident in our facts and the law... America will get this right in the end."
Regarding the SEC complaint against us today, we're proud to represent the industry in court to finally get some clarity around crypto rules.

Remember:
1. The SEC reviewed our business and allowed us to become a public company in 2021.
2. There is no path to "come in and…

— Brian Armstrong 🛡️ (@brian_armstrong) June 6, 2023

Elsewhere:
Circle Internet Singapore, a subsidiary of Circle Internet Financial, has obtained a Major Payment Institution (MPI) license from the Monetary Authority of Singapore (MAS). This license allows Circle Singapore to provide digital payment token services, cross-border money transfer services, and domestic money transfer services in Singapore using its suite of products, including the Circle Account, which offers institutional customers access to USDC.
Venture capital firm Sequoia is splitting its Chinese and Indian/Southeast Asian businesses into two independent firms. Citing economic and geopolitical challenges, Sequoia has scheduled for completion by March 31, 2024. Its U.S. and European venture business will continue as Sequoia Capital. Sequoia China will retain its Chinese name and use the English name HongShan, while Sequoia India and Southeast Asia will become Peak XV Partners. Separating the entities will offer more flexibility in pursuing independent opportunities and addressing portfolio conflicts, whilst adapting to geopolitical environments and compliances.
JP Morgan is partnering with six major Indian banks to introduce a blockchain-based platform to facilitate the cross-border settlement of U.S. dollar transactions. Participating banks include HDFC Bank, ICICI Bank, Axis Bank, Yes Bank, IndusInd Bank, and JPMorgan's own banking unit at Gujarat International Finance Tec-City. The blockchain project enables instant transactions 24/7, eliminating the time constraints of the traditional system. The deal could put New Delhi's GIFT City in the running as an alternative trading hub to Singapore and Dubai. Blockchain platform Onyx will be used to run a pilot project to evaluate banks' experience over the next few months.