Table of Contents
Fearing that decreasing involvement from institutional market makers may fuel more dramatic price fluctuations, traders were whipsawed as Bitcoin, the largest cryptocurrency, fell below US$27,000 for the first time in over two weeks.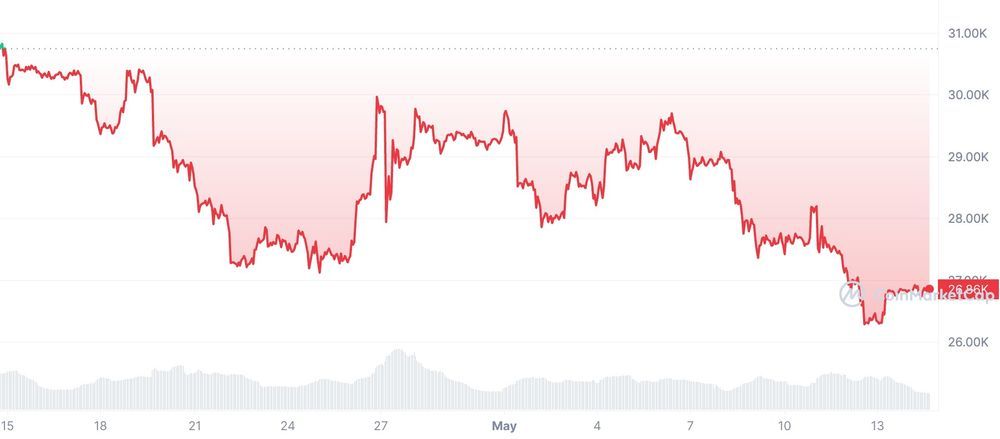 Last month, Bitcoin broke beyond the US$30,000 barrier but could not sustain that level and has fallen by almost 10% so far in May.
The cryptocurrency lost approximately 5% of its value in a few minutes last week, wiping out an earlier gain.
Bitcoin fell below the bottom of the roughly US$27,000 to US$30,000 band it has been trading in for the previous month.
Although trading activity increased during the cryptocurrency market's first-quarter price recovery, a closer look reveals that volume is at its lowest in several years due to several scandals, bankruptcies, and stricter regulation.
This has reduced activity from two of the world's leading market-making organisations, Jane Street Group and Jump Crypto.
According to a report from Bloomberg on Tuesday, citing a source familiar with the situation, Jane Street is taking things further by cutting back its worldwide ambitions in cryptocurrency due to regulatory uncertainties.
The rumour that the US government is moving big volumes of Bitcoin contributed to the price decline. Some investors were concerned that Bitcoin would be dumped onto the market when demand was low because of this.
Memecoin Mania Signals Market Top
A digital currency with a frog motif that has just been operating for a month may be a bad omen for Bitcoin bulls.
Well, that is what Kaiko data is telling us.
According to statistics provided by Kaiko, the daily trading volume of so-called meme tokens, volatile currencies that tend to go wild during heightened bullishness, has also recently given up gains, falling to around US$500 million from more than US$1 billion.
Memecoin trading has skyrocketed in recent days.
Memecoins are a cryptocurrency that draws support from online communities via popular internet memes.
Pepe, a novel amphibian-themed token, emerged as the frontrunner when it first appeared in April and garnered widespread interest and imitation.
Before and after its inception, Pepe was heavily pushed on Twitter.
Its market cap reached over US$1.6 billion on May 5 but has since plummeted, losing as much as 70% of its value.
The scenario is familiar to crypto traders with experience: A meme coin boom usually begins during a frothy moment when traders with newly fattened wallets become more prepared to take on further risk.
Previous memecoin fads have predicted market peaks, followed by multi-month Bitcoin declines, as seen by data from price tracker Dune. For instance, in May 2021, a meme-based surge driven by Shiba Inu-themed Dogecoin was quickly followed by a Bitcoin selloff that persisted until July.
In October of the same year, there was yet another memecoin rise. Unfortunately, that was only a few weeks before Bitcoin's all-time high, followed by a painful decline throughout 2017.
This time, Bitcoin and Ether went down with the unfortunate frog, which, like many memecoins, never traded for more than a fraction of a penny, even at its peak. Since May 5, both currencies have lost almost 10% of their value, marking a significant decline following four consecutive months of growth.
Even still, Bitcoin is up 60%, and Ether is up 48% since the beginning of 2023. The macroeconomic and regulatory climates are two other elements that influence price movement. For instance, speculation about future network software updates can significantly affect Ether's cost.
But only some are sceptical of the cryptos' path.
Some say Bitcoin above US$30,000 is still their bet.
A Blockhead study of 20 experts in investment management, research organisations, and institutional investors with over US$8 trillion in assets under management (AUM) combined in April had bet that the 15-year-old Bitcoin, and the coin linked to the Ethereum blockchain network, Ether, will surge further.
The most optimistic call for Bitcoin was for it to double and for Ether to triple in price by the end of next year.
But liquidity drying up, Bitcoin blockchain congestion, and regulatory tightening in the US have all taken their toll on the cryptocurrency market.
There is less of a link between Bitcoin and stock prices than there used to be, which may indicate that macroeconomic variables have less impact on digital assets.
Most importantly, small-scale investors who lost money trading memecoins could be unwilling to return to the market for a while.
But some memecoins last longer than others. Only Doge and Shiba Inu have maintained positions in the top 15 cryptocurrencies by market cap.
There are now thousands more tokens that are useless, non-tradable zombies. The cycle of prosperity followed by collapse, however, persists despite this.
Still, one has to get up and dance, at least until the music stops.
---
Stay ahead of the game by signing up as a member to Blockhead and never miss a beat in the world of digital assets.