BUSD is suffering from a market capitalization drop amid regulatory concerns.
Although still the world's third-biggest stablecoin by market cap, BUSD has taken a beating recently.
Towards the end of March, BUSD' held a market cap of over $8 billion. Since then, its market cap has fallen around 20% to $6.4 billion. Over the past week, its size has dropped 4%.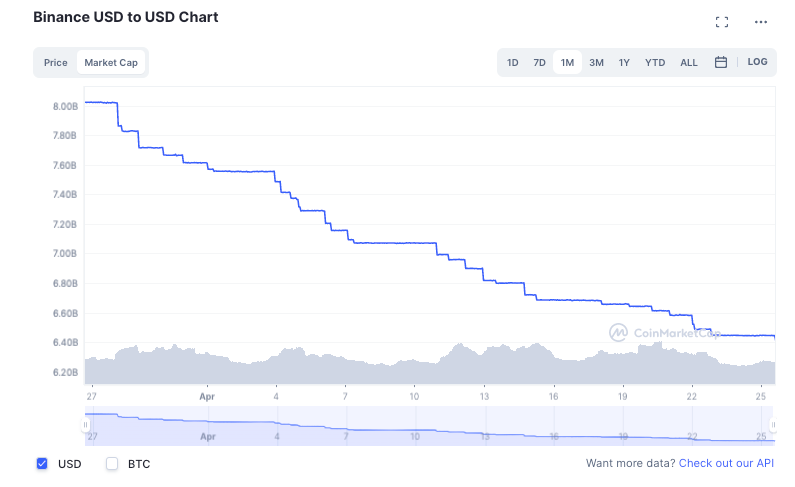 BUSD's market cap reached its all-time high in November 2022, peaking at over $23 billion.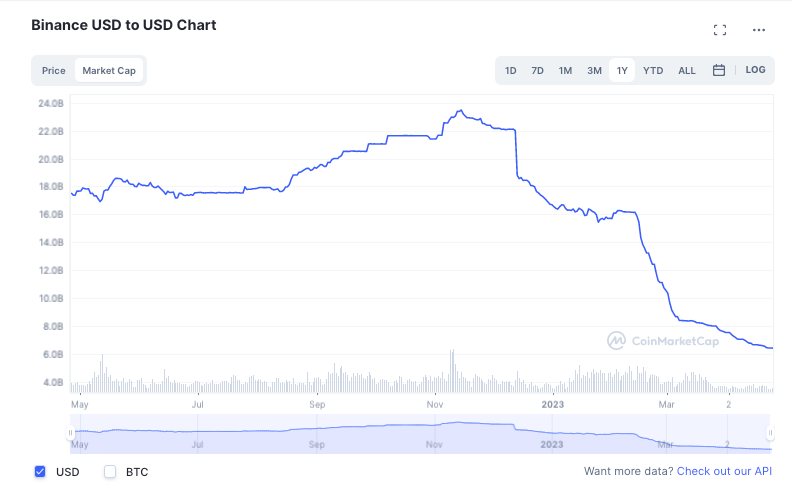 Between January and March 2023, BUSD's market dominance fell from 35% to 25%, according to Bankless.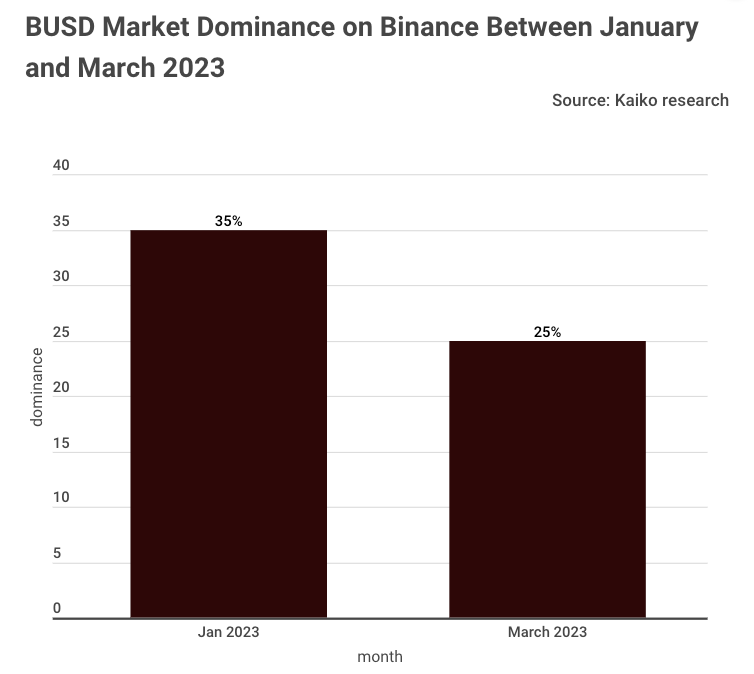 BUSD is now sitting in 13th place among all cryptocurrencies by market cap, behind the likes of altcoins XRP, MATIC, DOT and even DOGE. Shiba Inu also briefly overtook BUSD last week when the meme coin's market cap hit $6.8 billion.
Regulation and Paxos
Regulation uncertainty is believed to be the catalyst for BUSD's declining performance.
During its glory period, Binance enjoyed and wielded its position of power. In September 2022, Binance boldly removed USDC from its platform and forcibly converted positions holding the rival stablecoin into BUSD. USDP and TUSD positions met the same fate on the exchange too.
Read more: Binance Forces USDC-BUSD Conversion, Removes User Choice
Fast forward six months and the likes of Coinbase were seen delisting BUSD due to concerns surrounding crypto broker and BUSD issuer Paxos.
"Our determination to suspend trading for BUSD is based on our own internal monitoring and review processes," a Coinbase spokesperson said in March.
"When reviewing BUSD, we determined that it no longer met our listing standards and will be suspended."
Read more: Coinbase Delists Binance USD Amid Troubles at Paxos
Coinbase's move followed Paxos ending of its relationship with Binance. "The market has evolved and the Binance relationship no longer aligns with our current strategic priorities," Charles Cascarilla, Paxos CEO, said in an internal email.
Cascarilla claimed the decision was unrelated to pressure from the New York Department of Financial Services (NYDFS) and the SEC, which have recently pried into Paxos's relationship with the exchange.
Paxos had been ordered to stop issuing BUSD due to "unresolved issues."
Read more: Paxos Told to Stop Issuing BUSD, Binance Says Funds "SAFU"
BUSD's fate currently hangs in the balance as the SEC settles its action against Paxos.
---
The world of Web3 can be quite a whirlwind. Whether it's crypto news in Singapore, South East Asia or even across the globe, we understand how busy the industry is keeping you, so we kindly send out three newsletters each week:
BlockBeat for a wrap-up of the week's digital assets news
Blockhead Brief for weekend happenings as well as what to look forward to in the week ahead
Business Bulletin for macroeconomic updates and industry developments.
To avoid FOMO and access member-only features, click here to subscribe for FREE.