Table of Contents
Alchemy Pay is expanding its services in Malaysia, onboarding locals to crypto.
Users in Malaysia can now pay by domestic bank transfer, the QR Pay system and Boost e-wallet via Alchemy Pay.
Alchemy Pay's On Ramp supports Mastercard and Visa, allowing Malaysian users to buy crypto directly with Malaysian ringgit (MYR).  Transactions range from 70–50,000 MYR.
Crypto can also be accessed through bank transfers from banks including HongLeong Bank, Maybank, and Public Bank. The country's QR Pay system, which connects most Malaysian banks, can also be used to purchase crypto.
Just last week, Alchemy Pay announced it raised $10 million in funding from multi-stage web3 investment firm DWF Labs as part of a strategic partnership to expand its payment services in Korea.
Read more: Alchemy Pay Partners DWF Labs for Korean Market Expansion
Alchemy Pay's estimated valuation during the funding phase was $400 million. The funding will be used to expand Alchemy's payment business in Korea, capitalize on the region's high level of cryptocurrency acceptance, and assist Korean enterprises in achieving greater internationalization, the company said.
ACH, Alchemy Pay's token, has risen over 30% this month against the backdrop of the payment solutions provider's expansion plans.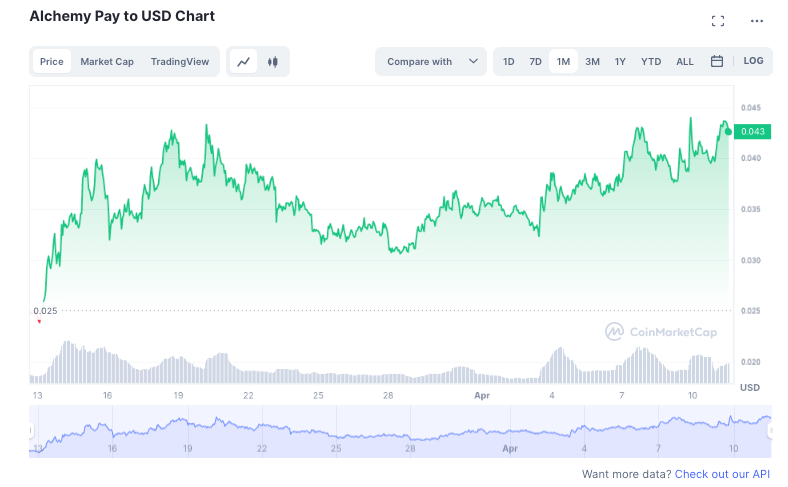 ---
The world of Web3 can be quite a whirlwind. Whether it's crypto news in Singapore, South East Asia or even across the globe, we understand how busy the industry is keeping you, so we kindly send out three newsletters each week:
BlockBeat for a wrap-up of the week's digital assets news
Blockhead Brief for weekend happenings as well as what to look forward to in the week ahead
Business Bulletin for macroeconomic updates and industry developments.
To avoid FOMO and access member-only features, click here to subscribe for FREE.