Table of Contents
BitKeep, a leading non-custodial cryptocurrency wallet, has announced its new 2023 roadmap, following a $30 million fundraising from crypto derivatives and copy trading platform Bitget.
The roadmap reveals plans by the multi-chain wallet to revamp its brand, restructure the management team, and strengthen the overall security system. Last week, Bitget announced a $30 million investment in BitKeep, increasing its shareholding and becoming the controlling stakeholder. Beyond extending the exchange's range of services, the investment also involves its support for BitKeep in global expansion and security upgrades.
According to the 2023 roadmap published on Twitter, BitKeep has started a rebranding that aims to deliver a more uniform visual presence as part of the Bitget ecosystem. As part of this rebranding, the DeFi wallet will be renamed as Bitget Wallet, and the updated logo, app, and website will undergo stylistic alterations in the coming weeks. ​

Leveraging Bitget's expertise in building a robust crypto trading platform, BitKeep unveils multiple measures to evolve its security infrastructure, including a more stringent pre-release review process, partnerships with security auditing firms like Certik, the inclusion of MD5 verification for APK packages, and the support of hardware wallet providers like KeyStone.
Moreover, the integration will allow BitKeep users to be protected by the $300 million Bitget User Protection Fund in the event of any potential security threats in the future. BitKeep also declared that it has fully compensated all the eligible users affected by the security incident in December 2022. ​
Stronger Product Focus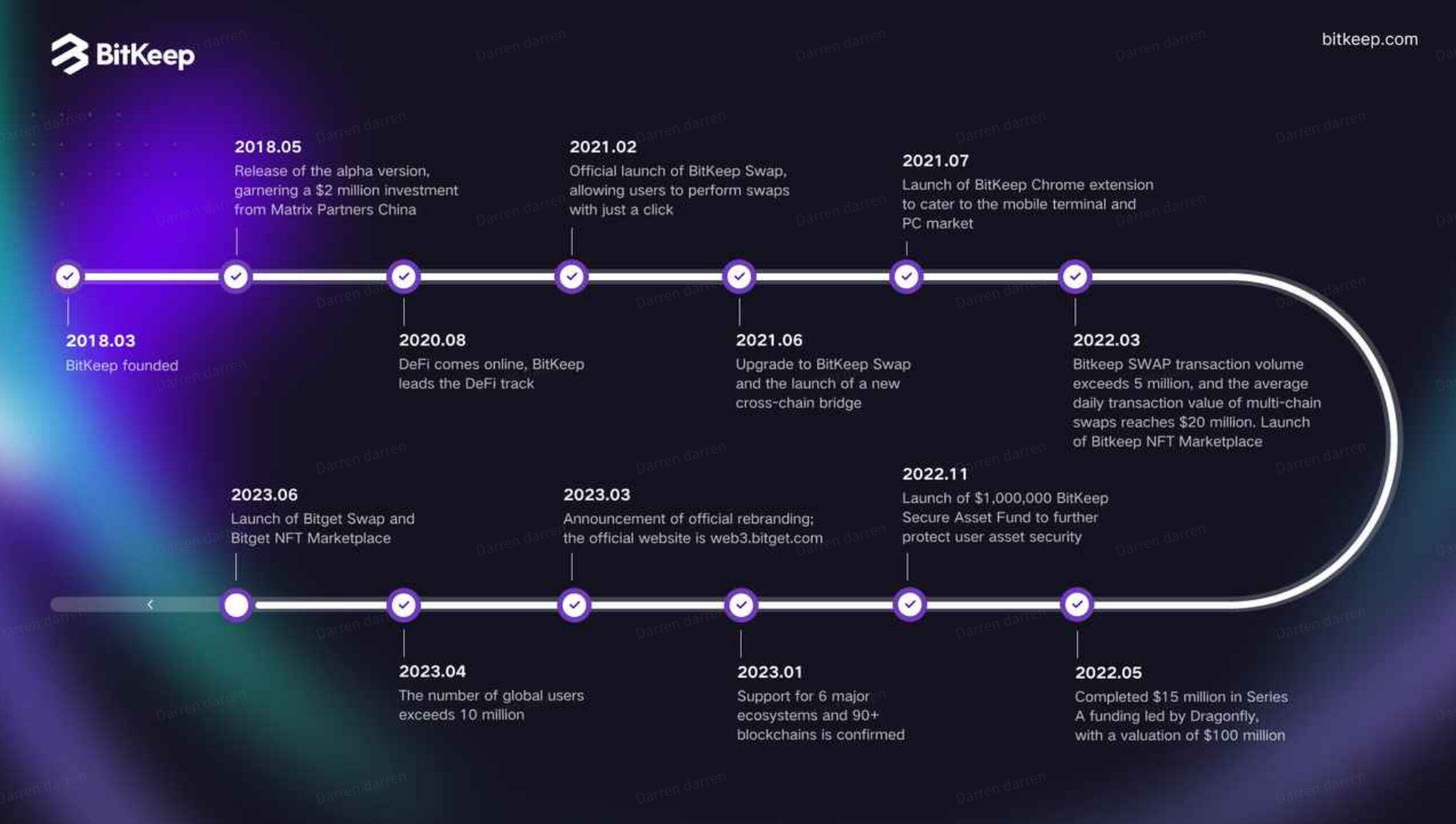 The roadmap also highlights its plan to build a more product-focused team. At the management level, Kevin Como, one of the co-founders at BitKeep, will be stepping down as CEO of the company. Karry Cheung, the current chief product officer (CPO) of BitKeep, will be promoted as the new CEO. Several talents from Bitget will join the BitKeep R&D and security team to improve the service stability and security of the non-custodial wallet. ​
Following the investment, BitKeep will continue to function as an independent entity both operationally and structurally. It will focus on building up its ecosystem as well as independent tokenomics while protecting the rights and interests of existing BitKeepers during the transition process of this strategic repositioning. ​
Aiming to serve as the ultimate portal into Web3, BitKeep will also continue to provide airdrop incentives, rich platform services, and a seamless user experience for users as well as builders working on further enriching BitKeep's ecosystem. In 2023, BitKeep will be working on enriching its suite of product offerings and will be looking to delve into the realms of MPC (multi-party computation) and AA (account abstraction). It is also developing features related to Web3 DID (decentralized identity) and is in the process of supporting the ZK-Rollup ecosystem, providing users with seamless access to everything they could need as they explore the frontiers of Web3.​
"We have successfully established ourselves as a reputable crypto wallet with a wide range of services including storage, swap, NFT marketplace, and more. After joining the Bitget ecosystem, we will be more confident in competing in the global market, reaching higher as more quality services and features are introduced - all in our endeavor to redefine what it means to serve as the ultimate portal into the Web3 space," Moka Hahn, BitKeep chief operating officer, said.​
Making Web3 User-Friendly
"We have seen a surging demand for a safer way to store their digital assets and a more user-friendly approach to dive into the Web3 world in the crypto community, and Bitget is actively exploring smarter solutions. We are working with the BitKeep team to bring the most-used DeFi features, swap, NFT marketplace, and dApps, to the millions of users in the Bitget ecosystem, inspiring the next 1 billion individuals to embrace crypto as we expect in our mission," Gracy Chen, Bitget managing director, added.​
BitKeep Wallet was established in 2018 with the goal of creating a decentralized platform for users to securely manage their digital assets. Over time, BitKeep recognized the necessity of meeting the changing needs of users within the rapidly evolving Web3 landscape. As a result, the team started exploring ways to enhance their services and cater to the dynamic demands of users. While still operating as a decentralized wallet, BitKeep Wallet now aims to provide a wider range of services.
About Bitget​
Established in 2018, Bitget is the world's leading cryptocurrency exchange with futures trading and copy trading services as its key features. Serving over 8 million users in more than 100 countries and regions, the exchange is committed to helping users trade smarter by providing a secure, one-stop trading solution. It also inspires individuals to embrace crypto through collaborations with credible partners, including legendary Argentinian footballer Lionel Messi, the leading Italian football team Juventus, and official eSports events organizer PGL. According to Coingecko, Bitget is currently a top 5 futures trading platform and a top 10 spot trading platform.​
About BitKeep​
BitKeep is a decentralized multi-chain digital wallet that provides an all-in-one solution for acomprehensive portfolio of services, including an integrated NFT Marketplace, wallet function, swap services, DApp Browser, and Launchpad. It offers reliable and secure asset management and trading services to more than 9.5 million users worldwide, covering 168 countries in North America, Europe, and Asia, and is the top-rated wallet on Google Play globally, surpassing Metamask. BitKeep currently supports over 255,400 types of cryptocurrencies across over 90
chains, including major ones such as Bitcoin, Ethereum, Polygon, BNB Chain, Fantom, and Solana.​
---
This article was prepared in partnership with Bitget. The views and opinions expressed in this article are solely those of the partner and do not necessarily reflect the views and opinions of Blockhead. Blockhead does not endorse or guarantee any products or services offered by the advertiser. Readers are encouraged to do their own research and exercise their own judgment before making any decisions.