News on Thursday of crypto-friendly bank Silvergate winding up operations sent crypto markets on a downward course, with Bitcoin and Ethereum both falling by about 8% in the past 24 hours.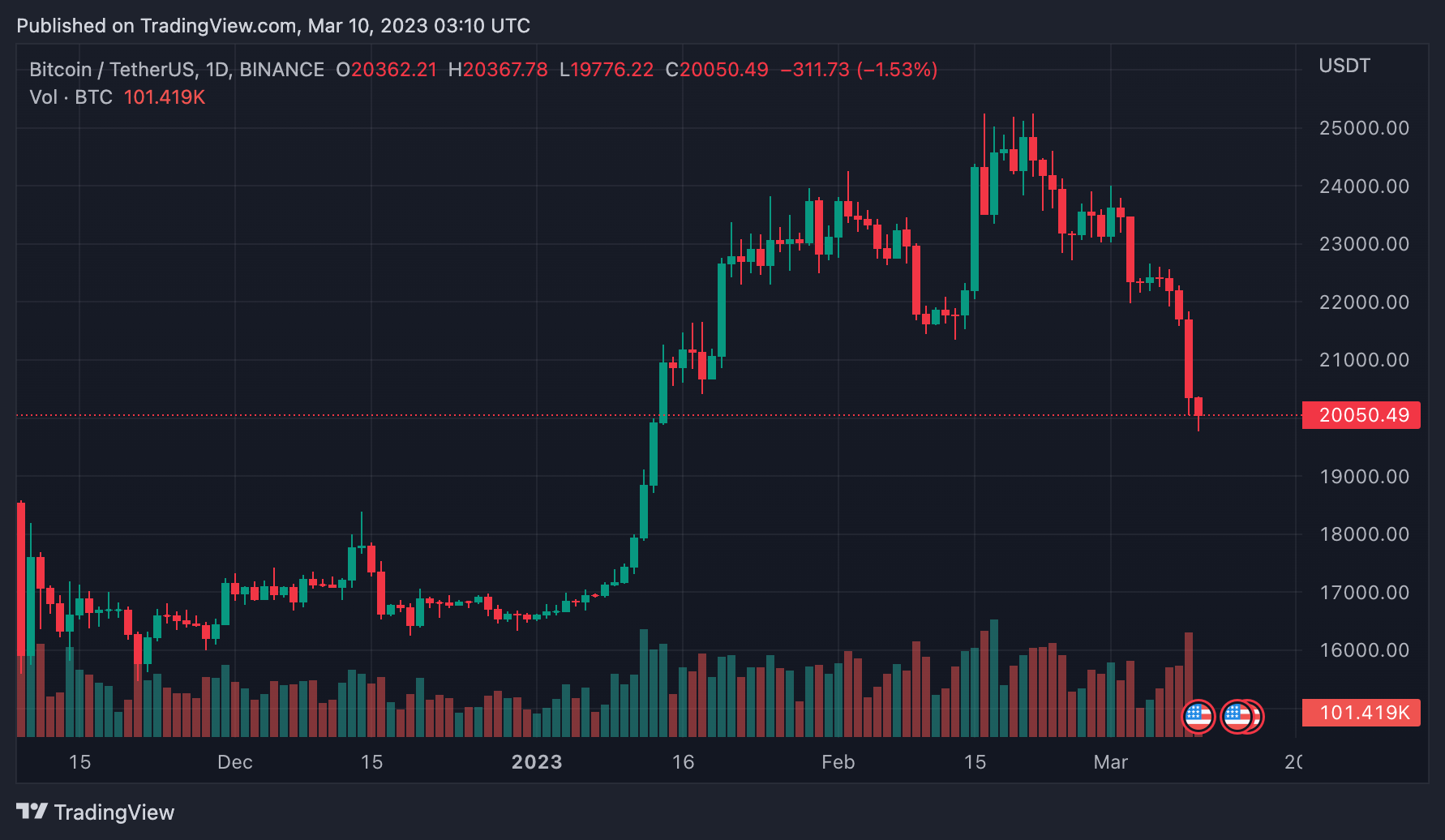 Following an encouraging start to the year, Bitcoin, the world's largest cryptocurrency by market capitalization, returned to US$20,000 levels for the first time since January 2023 – down about 20% from its highs of US$25,000 reached in February.
The Silvergate news prompted some US$307 million in liquidations among crypto traders in 24 hours, Coindesk reported, citing Coinglass data.
The bleeding isn't being helped by broader market sentiment either - investors are taking a cautious stance ahead of tomorrow's jobs report and are spooked by Powell's comments in Congress.
Investors are "fearful of being caught on the wrong side of another hot jobs report," Oanda's Craig Erlam said in a markets report on Thursday.
"That's clearly the danger at this point, that we get another hot report that confirms January was no blip and instead indicative of a labour market that not only isn't cooling but perhaps getting hotter," Erlam said.
Crypto's banking problem
A combination of regulatory concerns, reputation risk, lack of understanding, and volatility has made it challenging for traditional banks to work with cryptocurrency companies, particularly in the industry's early days.
Which is why San Diego-based Silvergate became a key player in the crypto industry – its willingness to work with cryptocurrency companies and provide them with much-needed banking services helped to legitimize the industry and pave the way for wider adoption.
However, its business took a hit from the sudden closure of crypto exchange FTX and dwindling deposits. It's 24/7 cryptocurrencies payments network, which was used by companies like Coinbase, Crypto.com, and Gemini, has also been tied up in a number of pending class action lawsuits.  
The bank also worked with many stablecoin issuers, including Paxos and Circle, providing them with banking services and enabling the issuance and redemption of stablecoins. These relationships have since been cut.
Given its mounting problems, after market close on Wednesday, Silvergate that an "orderly wind-down of bank operations and a voluntary liquidation of the bank is the best path forward."
Related: Slivergate Becomes First US Bank Casuality of FTX Collapse
​Following some respite in the first quarter, it currently looks like a tough environment for crypto, and investors better be braced for more pain ahead.
---
The world of Web3 can be quite a whirlwind. Here at Blockhead, we understand how busy crypto is keeping you, so we kindly send out three newsletters each week: BlockBeat for a wrap-up of the week's news; Blockhead Brief for weekend happenings as well as what to look forward to in the week ahead; Business Bulletin for the most important business and economic developments in the industry. To avoid FOMO and access member-only features, click here to subscribe.