New Zealand based Web3 tech innovator, Immersve has partnered with Mastercard to give consumers a "Metaverse Mastercard." The DeFi payments card will allow users to use USDC cryptocurrency directly from their Web3 wallet to make all digital, physical and metaverse purchases, wherever Mastercard is accepted.  

"Collaborating with a well-known and trusted brand like Mastercard is a big step towards mainstream adoption of web3 wallets," says Jerome Faury, CEO at
Immersve.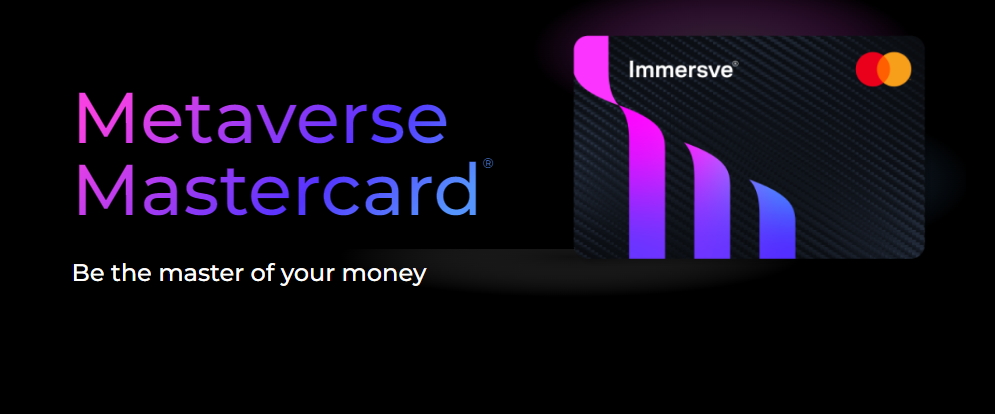 In its press release, Faury says that Immrsve is building bridges that make it possible for individuals to transact directly from their crypto wallet, anywhere Mastercard is accepted online.
"We want to bring the best of web3's technology and values, to everyday payment experiences. But we also want to provide traditional guardrails, like the Mastercard network's consumer protections, to crypto natives transacting online.
We love the fact that our platform supports both centralised crypto payments and
decentralised experiences, to enable individuals to become the master of their money," Faury added.
Read More: Mastercard's Crypto Push Includes Hiring Spree, NFT Consulting, Potential CBDCs
Immersve uses decentralised protocols, such as smart contracts, to bridge web3 and web2 applications. Immersve will also partner with a third-party settlement provider and their customers will use USDC for all purchases. USDC will then be converted to fiat currency and settled on Mastercard's network.
Immersve will also partner with Mastercard to address KYC/AML, online fraud detection and blockchain analytics, leveraging the Mastercard Identity Services and CipherTrace solutions.
Sandeep Malhotra, Executive Vice President, Products & Innovation in Asia
Pacific, said: "In the past three years, the number of people using blockchain-based wallets doubled to more than 80 million. As Web2 and Web3 increasingly converge, Mastercard remains committed to partnering with like-minded organizations like Immersve to scale and secure the blockchain ecosystem to make simple, safe cryptocurrency transactions, and even payments in the metaverse, easily accessible to billions of consumers."
Last year in April, Mastercard filed 15 NFT and Metaverse trademark applications with the United States Patent & Trademark office, signalling its commitment towards entering the crypto Payments vertical. Mastercard was also seen hiring over 500 graduate positions earlier in January for its data and services unit and over 500 positions in February 2022 to consult with banks and merchants in adopting crypto-enabled technologies and NFTs.
Mastercard was also seen earlier this year making global region announcements for cryptocurrency backed card engagements with Unbanked in Europe and Binance in Latin America.
Read More: Mastercard CEO Supports Crypto Regulation, Says SWIFT May Not Exist in 5 Years