Cryptocurrencies have warmed to yesterday's predictable Fed hike announcement.
As expected, the Federal Reserve announced interest rates will rise by 0.25%, from 4.50% to 4.75%. Although rates were still at 0% a year ago, markets had expected the increase and welcomed the Fed's announcement.
Fed chair Jerome Powell said recent cooling in inflation data was encouraging but warned that progress was not enough to return rates to 2%.
"It's very difficult to manage the risk of doing too little and finding out in six or 12 months that we actually were close but didn't get the job done, and inflation springs back," Powell said.
"We will need substantially more evidence that inflation is ebbing to be confident that it's moving back toward the target."
Powell also declared that the "disinflationary process has started."
Cryptos pump
Following the meeting, Bitcoin and other cryptocurrencies pumped up. Rising more than US$1,000, Bitcoin hit US$24,157, signalling a pump of over 5% since the Fed announcement. Its price has since sunk to US$23,870, but is still up over 4%.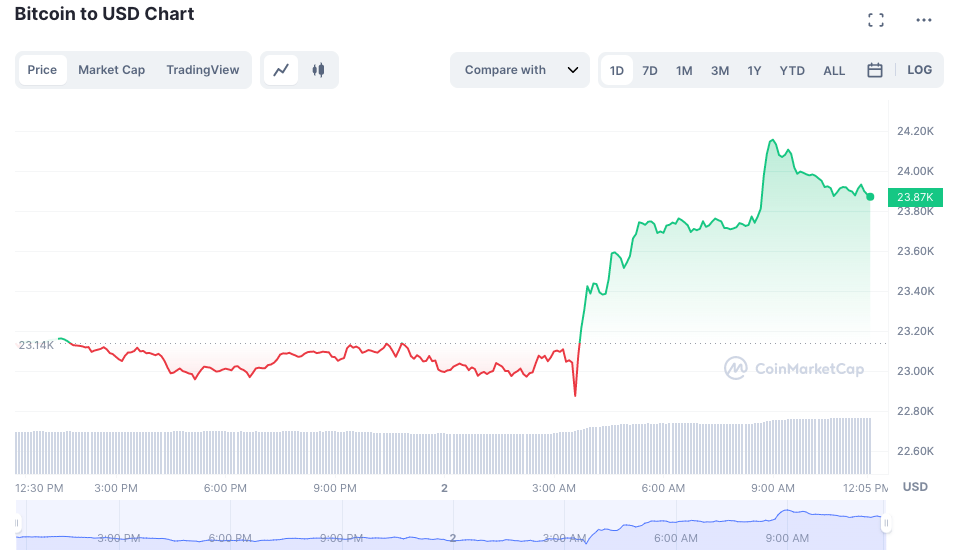 Ethereum's chart showed a similar pattern to Bitcoin's too, jumping as high as 8% to US$1,688. But just like Bitcoin, its price has since dropped slightly to US$1,673.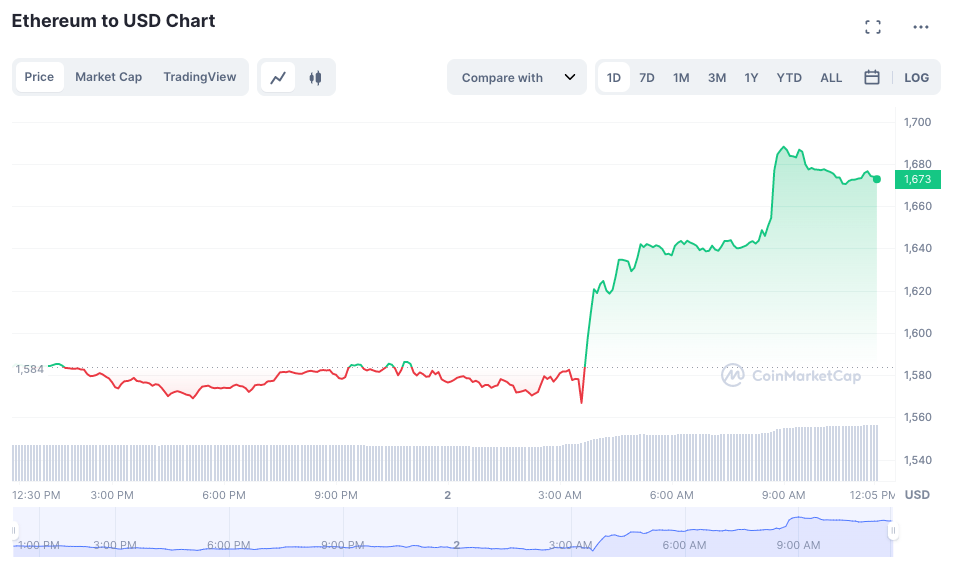 Altcoins jump
Even more interestingly, smaller altcoins are enjoying an even bigger jump following the Fed announcement.
Polygon and IMX rose almost 15% each, Magic saw a rise of over 27.20%, and OP jumped 29%.
Read more: ImmutableX's Says New Passport Will Bring More Web3 Gamers, Developers to Platform
Other significant moves include Aave's 11% spike and FTM's 10% surge.
Of course, the price rises aren't solely accredited to the FOMC announcement. FTM has been experiencing consistent growth since the start of the year, and is up 190%. Meanwhile, Bitcoin has also had an encouraging 2023, enjoying a 44% increase in its price.
Read more: Cronje Says "No Announcement," So What's Behind the FTM Surge?
That said, an overall positive reaction to the Fed's announcement was certainly baked into today's price increases. "Crypto fundamentals are taking a backseat here and the primary driver is what the overall appetite is for risky assets," said Edward Moya, an analyst at broker Oanda.
Looking ahead, crypto trading firm QCP expects "the committee to not even consider cutting rates until they actually see a 2% handle on inflation, versus the market which believes its the path that matters more."
"After today, we have to wait another 7 weeks before the next FOMC in March, and that gives plenty of time for markets to ignore Powell today and continue to hope that data will sway the Fed before March," QCP said, adding that bullish retail sentiment, typically a contrarian indicator, has risen to its highest levels since last August.