Table of Contents
Bitcoin and other cryptocurrencies continued their crab crawl into the new year, with the world's largest cryptocurrency seemingly unable to breach the US$17,000 point for now.
At the time of writing, Bitcoin (BTC) is exchanging hands at US$16,822.70 (+1.27%) while Ethereum (ETH) is trading at US$1,250.14 (4.44%). Major altcoins such as BNB, Polkadot (DOT), and Avalanche (AVAX) have also been trading in green within the same period.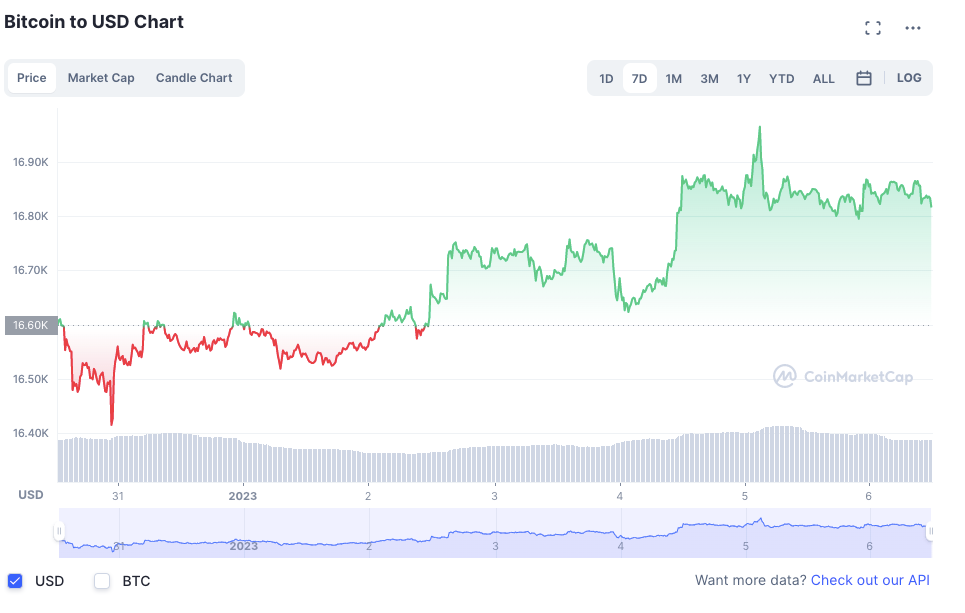 "Bitcoin is little changed despite a risk-off session on Wall Street. The Fed might need to do more hiking and that doesn't seem to be sending crypto lower," said Oanda's Edward Moya on Thursday.
Meanwhile, the broader financial market has been spooked by a stronger-than-expected US job report, with the S&P 500 and the tech-heavy Nasdaq composite declining 1.5% and 1.2% respectively on Thursday. Investors are anxious that the Federal Reserve's aggressive attempts to curb inflation is not bearing fruit, especially given the fact that the central bank signalled its intent to keep interest rates elevated in 2023.
SBF says he's not guilty
Former FTX CEO and founder Sam Bankman-Fried (SBF) has pleaded not guilty to all eight counts of US criminal charges.
Appearing before a judge in a US District Court in New York City on Tuesday, the 30-year-old pleaded not guilty to criminal charges against him including wire fraud, conspiracy to commit money laundering, and conspiracy to misuse customer funds.
Last week, Reuters reported that SBF was expected to plead not guilty. His trial date has been set for October 2, 2023.
In December, prior to SBF's extradition from the Bahamas to the US, it was reported that two of SBF's former associates, former Alameda CEO Caroline Ellison and FTX co-founder Gary Wang, had pleaded guilty to charges from the SEC and the CFTC, and were cooperating with prosecutors.
Celsius' Mashinsky sued
New York state Attorney General Letitia James has filed a lawsuit against former Celsius CEO Alex Mashinsky for allegedly defrauding investors of "billions of dollars" worth of cryptocurrency.
According to a statement on Thursday, the lawsuit alleges that Mashinsky "repeatedly made false and misleading statement about Celsius' safety to encourage investors to deposit billions of dollars in digital assets onto the platform". It also claims that Mashinsky failed to register as a salesperson for Celsius and as a securities and commodities dealer, and deliberately concealed Celsius' financial health.
The lawsuit seeks to ban Mashinsky from doing business in New York, and requires him to pay damages, restitution, and disgorgement.
"As the former CEO of Celsius, Alex Mashinsky promised to lead investors to financial freedom but led them down a path of financial ruin," said James.
Yesterday that a US bankruptcy judge ruled that the platform actually owns most the customer deposits in its "Earn' accounts due to the platform's "ambiguous" terms of service, which means users would likely be prevented from recovering the full amount that they deposited.
Silvergate Capital tanks
Shares of crypto-friendly bank Silvergate Capital fell about 43% after it disclosed customer withdrawals amounting to US$8.1 billion and announced job cuts.
The bank's preliminary fourth-quarter results showed that total deposits from digital asset customers fell to US$3.8 billion from US$11.9 billion at the end of Q3 2022, a decline of approximately 68%. The withdrawals came after FTX, one of the customers of Silvergate, collapsed in November.
Silvergate said that at the end of December last year, US$150 million of the bank's deposits were held by customers who had filed for bankruptcy protection. It also said that it sold off US$5.2 billion worth of debt securities at a loss of US$718 million in order to meet withdrawal demands and raise cash.
The company, which went public in 2017, saw its stock climb to an all-time high in November, hitting US$222 the same month BTC reached its peak of US$65,000. It's currently trading at US$12.57, more than 90% down.
China launches national NFT marketplace
China is launching its first state-backed NFT marketplace.
According to Chinese state media outlet China Daily on December 29, two government entities (China Technology Exchange and Art Exhibitions China) and one private company (Huban Digital) will be in charge or running the marketplace, whose name translates to "China Digital Asset Trading Platform" and will operate on a blockchain known as the "China Cultural Protection Chain."
Trading Volume
According to data from CoinMarketCap, the global crypto market cap stands at US$817.56, a 0.30% decrease over the last day. The total crypto market volume over the last 24 hours is US$27.18 billion, a 23.07% decrease.
Fear & Greed Index
Risk appetites in crypto remain sapped – the Crypto Fear and Greed Index currently stands at 26, indicating " fear." The index uses 5-6 measurements to assess the current sentiment of the market and then rates that level of emotion on a scale of 1-100 – 1 is extreme fear and 100 is extreme greed.