Table of Contents
The Malaysian Luno community has once again overreacted to the global markets creating internal FUD among its own users. The source of FUD comes from a TikTok video and tweet from Bicara Krypto that was shared inside their Facebook community groups.
@bicarakrypto Replying to @mohdhafizal14 Perhatian kepada pengguna LUNO. #luno #lunomalaysia #genesistrading #cryptomalaysia #crypto #merkletreeaudit #proofofreserve #bitcoin #bitcoinmalaysia ♬ Suspense, horror, piano and music box – takaya
In the video that amassed 37 000 views, Bicara Krypto expressed his worries that 'Luno Savings Wallet' customers may not be able to withdraw their funds. He validated his concerns after discovering inside the Terms of Use document that Genesis Capital was Luno's official lending partner and had locked funds of $US 175 million inside of FTX.
Read More: Genesis Halts Withdrawals But Singapore Arm "Not Technically Bankrupt"
Ironically, the Luno Savings Wallet is a feature that is not operational in Malaysia. This FUD also comes hours after a public statement from Luno Malaysia was made that Malaysian investors were not affected, raising questions on the credibility of crypto influencers.
The source of concern is valid albeit ignorant, given that Luno Malaysia is stringently regulated by the Securities Commission of Malaysia, making it the first touchpoint for cryptocurrencies in Malaysia.
In his tweet, Bicara Krypto called out Luno on his findings about the companies involvement with Genesis, demanding to have his concerns answered. In the same thread, he proceeded to provide his two-cents suggestion to the global exchange on guidelines for operational transparency with a Merkle-tree audit.
The network effect of FUD sourced from both the video and tweet reshares had set a fire that spread within the community groups causing panic within Luno investors faster than the ongoing FTX contagion.
In swift response, Luno promptly wrote a crisis management statement outlining its approach to transparency and responsible business. They also included the details of its commitment to proof-of-reserves audits released every quarter, conducted by Mazars, a French based independent global audit firm.
In their statement, they assured the funds are safe and customers will "retain full access to their cryptocurrency held in all Luno wallets including the Savings Wallet."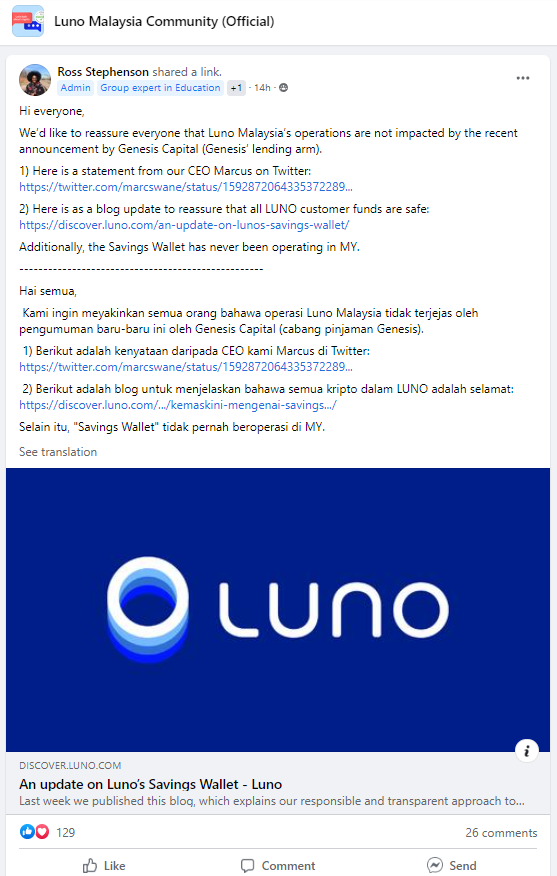 Naturally, no apology or acknowledgement of misconduct was made from the source of FUD. If there's anything to learn from this, always question findings on crypto twitter.
Read More: Temasek Writes Off $275m FTX Investment, "Irrespective of the Outcome"
---
Drop us a tweet @blockhead_co with your thoughts on Luno's FUD
Follow the Blockhead Malaysia telegram group for more Malaysia-focused commentary and intel.