Table of Contents
Bitcoin and other cryptocurrencies maintained their recent strong performance, with the world's largest cryptocurrency hovering above the psychologically important US$20,000 level for now.
At the time of writing, Bitcoin (BTC) is trading at US$20,506.85 (-1.30%) while Ethereum (ETH) is trading at US$1,582.12 (-2.43%). Major altcoins such as Solana (SOL), Avalanche (AVAX), and Polkadot (DOT) have also been trading in red within the same 24 period.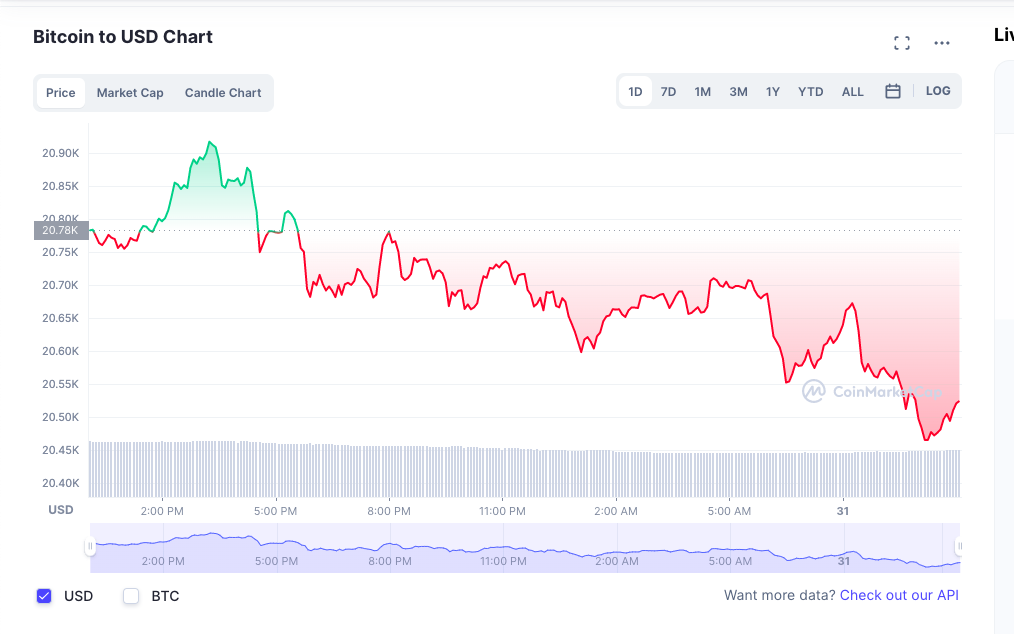 Can BTC recover and reach US$60,000 again? According to Markus Thielen, head of research and strategy at crypto services provider Matrixport, BTC could reach US$63,000 by March 2024, when the cryptocurrency will undergo mining reward halving (BTC mining rewards are halved every four years).
"Prices started to rally 15 months before the next halving (November 2022) and they tend to finish 39% from where they traded 24 months prior. This would imply that bitcoin trades around $63,160 (March 2022 at $45,538*(1+39%) = $63,160) by March 2024," Thielen wrote in the latest edition of his Matrix on Target note.
Meanwhile, Dogecoin is rearing its fluffy head once more, with the price of the popular meme coin tripling within a week after Elon Musk, the Dogefather, began tweeting about his acquisition of Twitter – something that's completely unrelated to Dogecoin.
At the time of writing, Dogecoin is exchanging hands at US$0.12, up 96.83% since last week. It has also displaced Cardano (ADA) to become the world's sixth largest cryptocurrency by market capitalisation.
Do Kwon faces lawsuit in Singapore
Terraform Labs founder Do Kwon is facing a lawsuit from 359 individuals filed with Singapore's High Court.
The individuals have alleged that Kwon, Terra founding partner Nicholas Platias, the Luna Foundation Guard, and Terra made fraudulent claims, including that Terra's stablecoin, TerraUSD (UST) was not "stable by design" and unable to maintain its US dollar peg.
According to the individuals filing the lawsuit, the four parties tied to Terra "knew or ought to have known that the Claimants wished to buy and hold cryptocurrency stablecoins that were not subject to the volatility of the wider market and earn a decent passive return."
The court document also alleges that Kwon had been aware of "the structural weakness of algorithmic stablecoins", based in part on his role in the collapse of Basis Cash – a stablecoin project believed to be developed by a few of Terraform Lab's early employees.
"The Defendants made the said representations fraudulently either well knowing that they were false and untrue, or recklessly not caring whether they were true or false," says the lawsuit.
Towards the end of last month, Interpol issued a Red Notice calling for law enforcement around the world to locate and arrest Kwon. However, his location still remains a mystery, despite him surfacing to participate in video interviews.
Crypto.com sees decline in fortune
According to data from Coingecko, Singapore-based crypto exchange Crypto.com has seen its normalized exchange volume plummet by 91%, from US$4 billion to US$380 million per day (using a 7-day average), just one year after the platform unveiled its famous "Fortune Favours the Brave" advertisement featuring Hollywood actor Matt Damon.
While normalised volumes across other major exchanges such as FTX and Binance have also decreased, Crypto.com has been significantly hit by crypto winter, with the exchange announcing a slew of job cuts in June.
However, the exchange also announced in June that it had been granted an in-principle approval from MAS, entitling it to offer payment services within the Payment Services Act, including Digital Payment Token (DPT) services to customers in Singapore.
Vitalik "blabs" about regulation
Ethereum founder Vitalik Buterin has took to Twitter to voice his opinions on DeFi regulation.
Describing his views as "blab", Buterin said that the "large institutional capital" can wait for now as the industry needs "time to mature. He also mentioned that Zero Knowledge Proofs can offer "new opportunities" to satisfy regulatory goals while maintaining privacy.
Read more: Vitalik Calls for "Helpful" Crypto Regulation Following SBF Criticism
Trading Volume
The global crypto market cap is US$1.01 trillion, a 1.26% decrease since yesterday. The total crypto market volume over the last 24 hours is US$71.80 billion, a 21.71% decrease.
Fear & Greed Index
Risk appetites are sapped – the Crypto Fear and Greed Index currently stands at 31 indicating fear. The index uses 5-6 measurements to assess the current sentiment of the market and then rates that level of emotion on a scale of 1-100 – 1 is extreme fear and 100 is extreme greed.