Table of Contents
Bitcoin and other cryptocurrencies rallied this week, with the world's largest cryptocurrency reaching a high of US$20,800 before paring gains.
At the time of writing, Bitcoin (BTC) is trading at US$20,288.55 (-2.42%) while Ethereum (ETH) is trading at US$1,514.42 (-3.23%) over the past 24 hours. Major altcoins such as Solana (SOL), Avalanche (AVAX), and Polkadot (DOT) have also been trading in red within the same period.
KLAY, the native token of the South Korean metaverse-focused blockchain, has climbed by nearly 100% in the past week to reach US$0.255, after the ecosystem announced several new developments, including a proposal for the Klaytn block reward reduction.
"Our latest proposal to the Klaytn Governance Council seeks to optimize the level of KLAY emissions via a block reward reduction for improved long-term value accruement. By reducing block rewards by 1/3, we expect to reduce the annual inflation of circulating KLAY to a level that is competitive to other Layer 1 ecosystems," David Shin, head of global adoption at Klaytn, told Blockhead.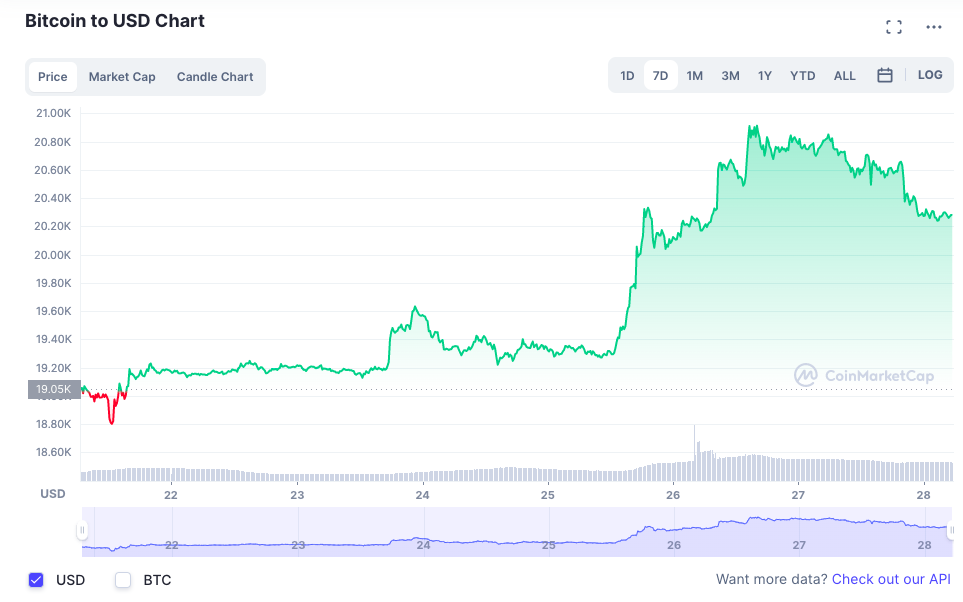 The crypto market is moving in tandem with a lift in the broader financial markets, with investors hopeful that the Federal Reserve is nearing the end of its rate hike cycle.
Meanwhile, popular meme cryptocurrency Dogecoin is predictably surging again, up ~38% in the past week to hit US$0.08, after the Dogefather, Elon Musk, sparked the excitement of his Twitter followers by posting a flurry of tweets about his on and off acquisition of Twitter.
Binance also just confirmed its US$500 million equity investment in Musk's takeover of Twitter.
"We're excited to be able to help Elon realize a new vision for Twitter," said Binance founder Changpeng "CZ" Zhao in an e-mailed statement. "We aim to play a role in bringing social media and Web3 together in order to broaden the use and adoption of crypto and blockchain technology."
A decentralised Twitter powered by Dogecoin is near.
South Korean regulators target crypto whales
South Korea's financial watchdog, the Financial Services Commission, will monitor crypto whales, or investors with assets worth over 100 million won (US$70,000) to prevent money laundering efforts via digital assets.
According to local media, the FSC noted that owning a larger amount of digital assets equates to a higher  risk of money laundering efforts, with stablecoins, especially those utilised by the public, more likely to be used in criminal activities.
"In the case of an independently listed virtual asset, it is possible that it did not meet the listing criteria of other virtual asset operators, and it can be evaluated that the risk of money laundering of virtual asset operators with a high proportion of the virtual asset is high," the report said.
The report also stated that the MSC will monitor retail investors making "high value" desposits.
Gavin Wood relinquishes role
Ethereum and Polkadot co-founder Gavin Wood is stepping down from his role as CEO of Parity Technologies, the infrastructure provider of Polkadot.
Wood, who designed Polkadot after his exit from the Ethereum foundation in 2015, will remain a major shareholder of Parity Technologies. He will also become the "Chief Architect" of the company, a role he said will make Polkadot's cross-chain ecosystem "more relevant to large swathes of the population".
FTX set to launch stablecoin
FTX CEO Sam Bankman-Fried has revealed that the exchange is considering developing its own stablecoin.
In an interview with The Big Whale, Bankman-Fried said that FTX is "trying to find the perfect partners" to work with, and its users may be "hearing something from us on that topic in the not too distant future".
"We certainly could. We know how to do it. We've held off on doing it because, we think to some extent, collaboration on that could be really powerful", Bankman-Fried said.
Most major exchanges already have an asset-backed stablecoin. For example, Binance has the Paxos-issued Binance USD (BUSD) while Coinbase launched the USD Coin (USDC) stablecoin in collaboration with Circle.
According to a report by the Wall Street Journal, FTX is also raising funds to make "efficient acquisitions".
Huobi delists HUSD stablecoin
Seychelles-based cryptocurrency exchange Huobi is reportedly delisting its native stablecoin.
In an announcement on Thursday, the exchange explained that the delisting is "in compliance with Article 11 of Huobi Global Token Management Rules."
HUSD is a small (by market capitalisation) stablecoin that Huobi launched in 2018 as a "stablecoin solution" that accepted other dollar-pegged tokens as backing. It was issued by Stable Universal but was touted by Huobi as a token that was "exclusive" to its own exchange when it launched.
Trading Volume
According to data from CoinMarketCap, the global crypto market cap stands at US$982.23 billion, a 2.13% decrease since yesterday. The total crypto market volume over the last 24 hours is US$90.12 billion, a 12.19% decrease.
Fear & Greed Index
Risk appetites are sapped – the Crypto Fear and Greed Index currently stands at 30 indicating fear. The index uses 5-6 measurements to assess the current sentiment of the market and then rates that level of emotion on a scale of 1-100 – 1 is extreme fear and 100 is extreme greed.