Polkadot is all the rage apparently, receiving attention from a Singapore hedge fund as well as digital payments platform Revolut.
Modular Asset Management – a hedge fund based in Singapore – has been buying Polkadot tokens in a bet that it offers stronger sustainability and will outperform its rivals. The firm is also buying Algorand tokens with a similar vision.
Chief investment officer Daniel Liebau said that whilst ESG may take some time to see a return, it's a bet worth making.
"In digital asset markets, we believe that the adoption of platforms is very much tied to good sustainability characteristics," Liebau said. "Not all of these sustainability characteristics are clearly adding an excess return today."
DOT, Polkadot's native coin, jumped from US$6.38 to highs of US$6.53 on 4 October following the news.
Meanwhile, Revolut is rewarding its users with DOT for engaging with its in-app educational module. Through a series of lessons and quizzes, users will be rewarded up to S$25 in DOT for completing Revolut's "Learn" feature.
"The feature is aimed at enhancing customer protection by better informing them about the specific risks, nature and characteristics of cryptocurrency," the company said in a press release this week.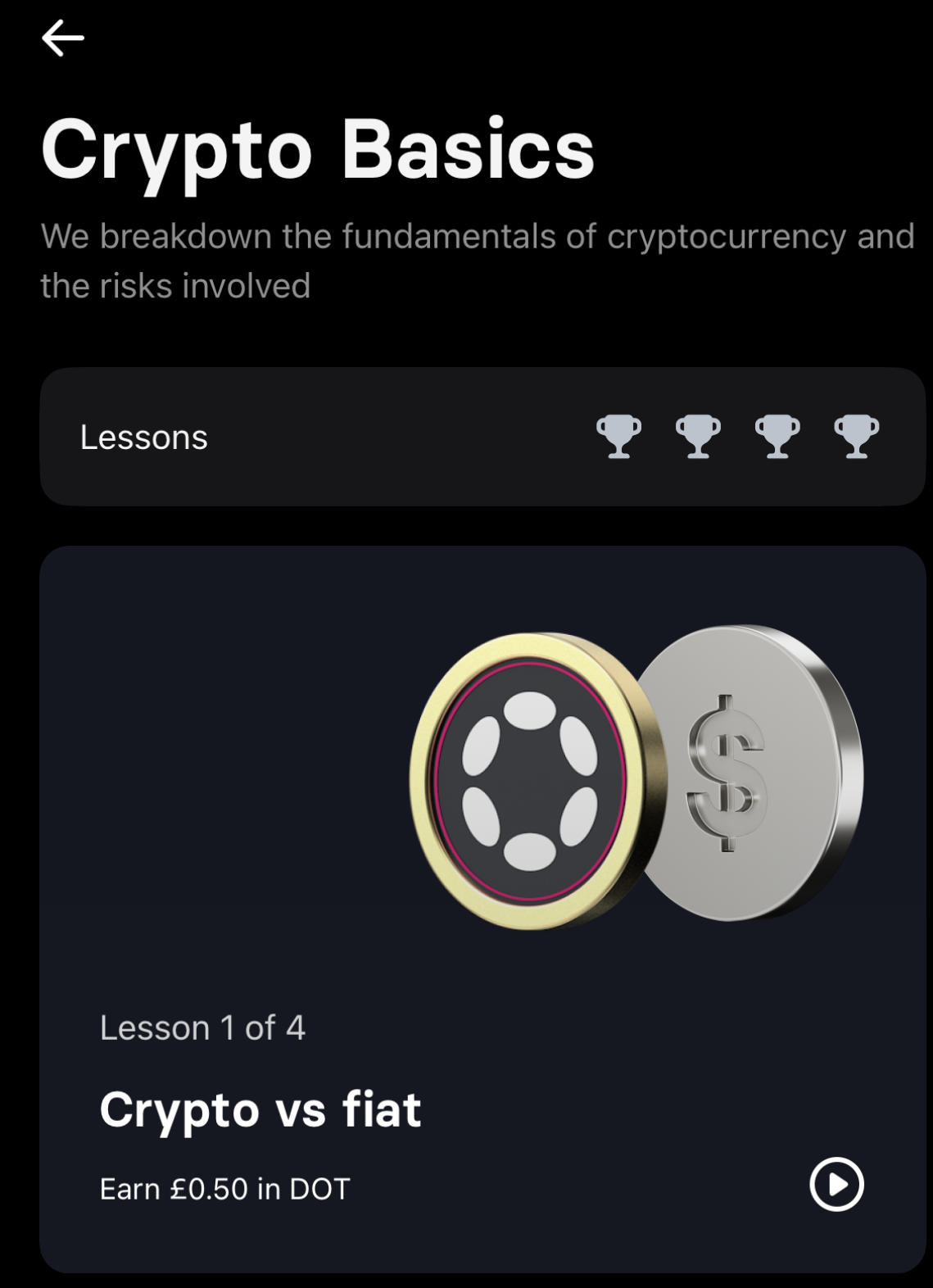 "Crypto Basics" is the first course, which educates users on the difference between fiat and cryptocurrencies. The second course is focused on the mechanics and benefits of Polkadot and its Relay Chain.
Unlike Bitcoin's Proof-of-Work (PoW) consensus which is known for its high energy consumption, Polkadot is a much "cleaner" Nominated Proof-of-Stake (NPoS) blockchain. It also facilitates cross-chain composability, allowing multiple unique blockchains known as "parachains" to operate under a single network. The blockchain is also the flagship project of Web3 Foundation, a Swiss company providing funds for research and development teams building decentralised applications (dApps).