Bitcoin and other cryptocurrencies continued to trade sideways throughout the week, with the world's largest cryptocurrency surprisingly trending higher despite a hot CPI (Consumer Price Index) report coming out of the US on Thursday.
At the time of writing, Bitcoin (BTC) is trading at US$19,808.51 (+3.86%) while Ethereum (ETH) is trading at (+3.40%). Major altcoins such as Solana (SOL), Avalanche (AVAX), and Polkadot (DOT) have also been trading in the green within the same period.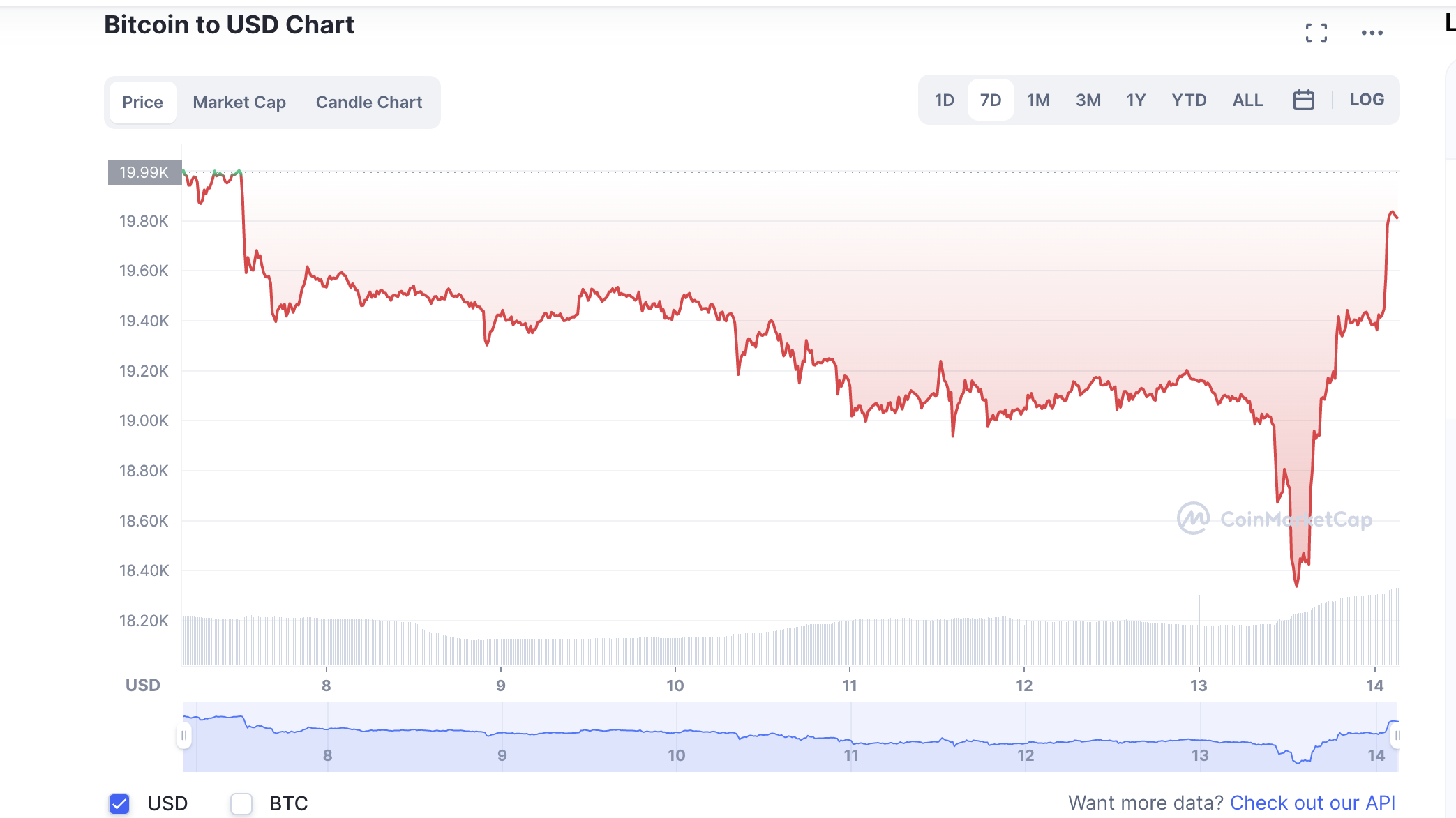 CPI climbed by 8.2% in September, more than the consensus estimate of 8.1%. The core CPI, which excludes volatile food and energy prices, rose 6.6% – the largest increase since 1982 and more than the market expectation of 6.5%.
While the crypto market plunged immediately after CPI data release, with BTC and ETH tumbling by 3% and 5% respectively, BTC quickly rebounded back above the US$19,000 level. Crypto stocks like Coinbase (COIN), Microstrategy (MSTR), and Block (SQ) saw steep drops on Thursday, while the broader financial markets also experienced sharp dips and even sharper reversals, with the S&P 500 and the tech-heavy NASDAQ gaining 2.6% and 2.23% respectively after an initial decline to finish the day in positive territory.
"Today's rally probably got a boost from short covering as well, but given the path for rates is higher, this market reversal won't last long," said Edward Moya, senior analyst at Oanda, in a note Friday
"Technical selling could get ugly for Bitcoin on the break of US$17,500, but for now it seems the consolidation pattern will continue to hold. The US is entrenched with inflation and that should pave the way for more massive Fed rate hikes which will deter appetite for risky assets, including Bitcoin", he added.
On Friday, DBS investment strategist Daryl Ho said that Singapore's largest bank "does not see the recession to be deep, nor for long", adding that US consumers "remain resilient" and that factors contributing to worries over heightened inflation "will normalise soon."
However it's also "not the time to be taking crazy/risky bets with cryptocurrency," he added.
Google partners with Coinbase
Google and Coinbase have signed a deal which will see the tech giant accept cryptocurrency for some of its cloud computing clients by early 2023.
According to Google Cloud vice president and general manager Amit Zavery, the platform will begin accepting crypto payments from a "handful" of customers through its integration with Coinbase Commerce, a payment tool for merchants that currently supports over 10 cryptocurrencies including Bitcoin, Bitcoin Cash, Dogecoin, Ethereum and Litecoin.
While terms of the deal were not disclosed, Coinbase will likely earn a percentage of transactions that go through it, just like its existing deals with other merchants.
In February, Alphabet Inc and Google CEO Sundar Pichai said that the company is "definitely looking at blockchain", adding that it's "an interesting and powerful technology with broad applications."
SEC says BAYC is a security
The SEC has reportedly launched a private investigation into Yuga Labs, the creators of Bored Ape Yacht Club NFTs, according to a Bloomberg report that cited an unnamed source.
It's believed that the SEC is examining whether certain NFTs sold by Yuga Labs bear a closer resemblance to stocks and hence should also follow the same disclosure rules. The SEC is also investigating how ApeCoin were distributed to the BAYC community, although it remains unclear why they're doing so.
"It's well-known that policymakers and regulators have sought to learn more about the novel world of Web3. We hope to partner with the rest of the industry and regulators to define and shape the burgeoning ecosystem. As a leader in the space, Yuga is committed to fully cooperating with any inquiries along the way," a Yuga Labs spokesperson said.
Tether freezes USDT, cuts commercial holdings
Major stablecoin issuer Tether has blacklisted three Ethereum wallets holding a total of US$8.2 million.
"Tether works closely with law enforcement worldwide to assist in investigations, and has to date assisted in freezing over 360 million in assets, 101 million of which have either been reissued or are scheduled to be reissued," a spokesperson for Tether said.
Tether has blacklisted a total of 795 USDT addresses on Ethereum since it first blacklisted a USDT address in November 2017.
On Thursday, the company also announced that it has slashed back its commercial paper holdings to zero and will be replacing them with U.S. Treasury bills instead. Tether said that said the move is part of the firm's "ongoing efforts to increase transparency" and back its tokens with "the most secure reserves in the market."
A record year for crypto hacks
According to blockchain analytics firm Chainalysis, US$718 million has been stolen from DeFi protocols across 11 different hacks so far in October alone, taking the gross tally for the year past US$3 billion and putting 2022 on course to be the biggest year for hacking on record.
Chainlaysis also said that cross-chain bridges remain a target for hackers, with nearly US$600 million stolen, accounting for 82% of losses in October and 64% of losses since the start of the year.
Last week, BNB Smart Chain (BSC) suffered an exploit on its cross chain bridge, BSC Token Hub, with attackers making off with approximately US$100 million worth of cryptocurrency.
Trading Volume
According to data from CoinMarketCap, the global crypto market cap stands at US$942.20 billion, a 2.90% increase since yesterday. The total crypto market volume over the last 24 hours is US$87.48 billion, a 26.86% decrease.
Fear & Greed Index
Risk appetites are sapped – the Crypto Fear and Greed Index currently stands at 24 indicating extreme fear. The index uses 5-6 measurements to assess the current sentiment of the market and then rates that level of emotion on a scale of 1-100 – 1 is extreme fear and 100 is extreme greed.