Table of Contents
In September we saw a period of brand activations happening across social media. Whilst the majority of events and findings happened in Kuala Lumpur, there were great efforts pushing web3 and NFT awareness and adoption within Penang, the second largest economy in Malaysia.
The strong capitalist nature of Malaysian markets have found NFT utility as its way of least resistance to bridge the uninitiated into web3. Here is a highlight on market movements from the state, existing players and new entrants into the space.
State initiatives from Digital Penang
The Penang state government found its hand in web3 with a focus on NFT ecosystem building through its flagship conference, "A Digital Revolution." The state government, as part of its Digital Transformational Master Plan (DTMP), showcased its support for web3 startups in place through organizing its demo day, grants and NFT projects with its booths.
Naturally, they had panelists from local industry leaders, NFT galleries set up and featured some web3 startups at the demo day. There was one notable startup we found here led by young entrepreneur Muhammad Azhar, creator of decentool that allows easier payments on social media. This was one cool tool that we felt was built too far ahead of its time.
The conference had a very clear message towards merging NFT applications onto modern business models. Driving this narrative and support, featured industry heavyweights NFT marketplace Pentas, Layer 1 blockchain Polygon, Metaverse Seetizens, and crypto exchange MX Global. Each provided a plethora of industry insights through their panels and presentations.
Top Capital Market Collaborations – 8Sian X Royal Selangor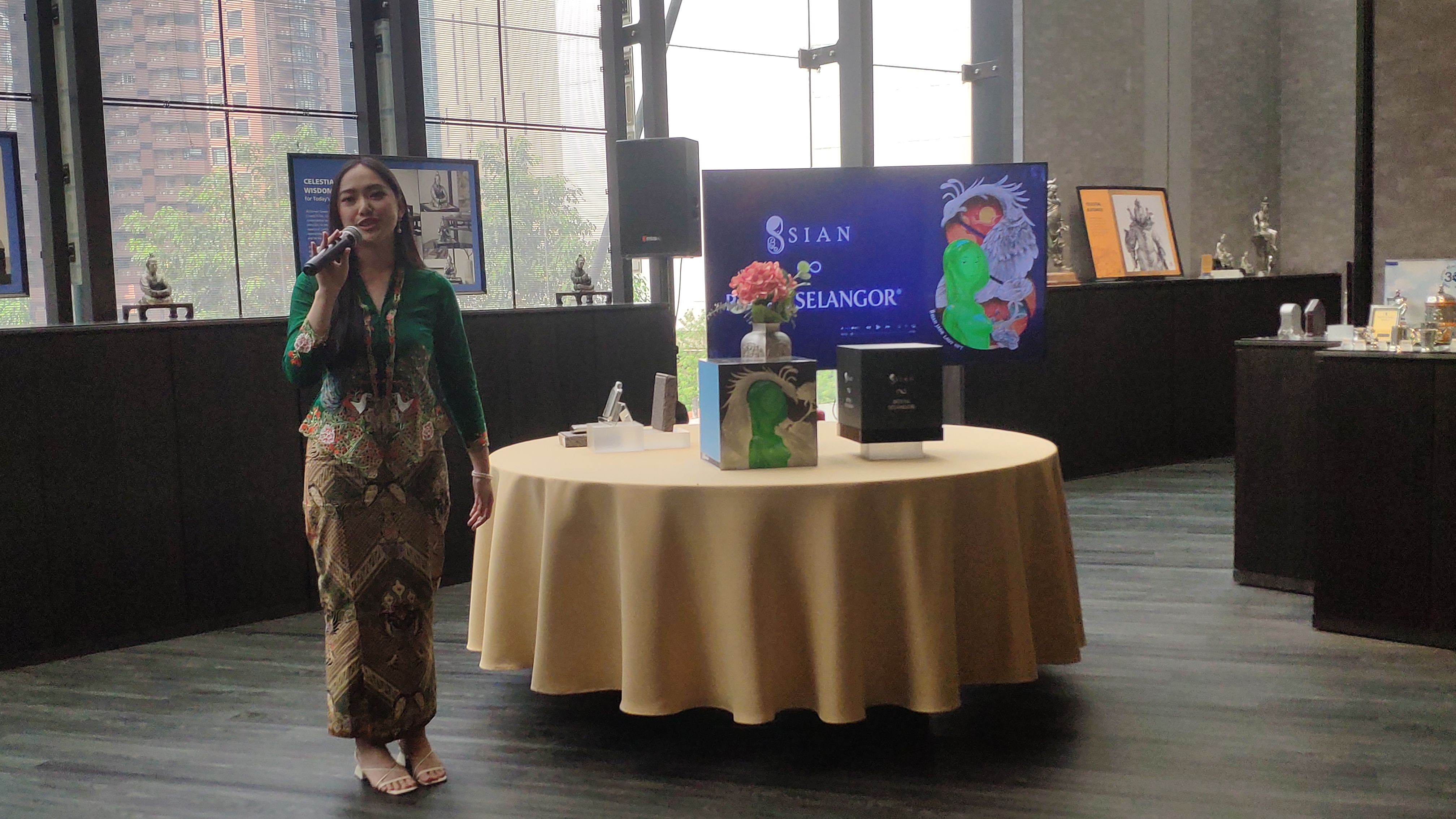 8SIAN delivered yet another heavyweight punch in a collaboration with Royal Selangor, the largest pewter manufacturer in the world with the launch of its premium phygital piece, the 8SIAN JADE LADY x ROYAL SELANGOR pewter. The exclusive 100 piece phygital collection of the Jade Lady, designed by 8SIAN's own artist MrHIKE, boasts industry support from Shark Tank's Matt Higgins and HUG community's Randi Zuckerberg (the Zuck's sis). 8SIAN promises owners of the Jade Lady phygital will be airdropped a unique wearable skin, ready to use inside the 8SIAN metaverse.
The physical pewter piece is currently available for purchase at a price tag of RM25,000 (US$5,400) from the Royal Selangor Website. Well played to Nicole Yap for this collaboration and to Royal Selangor CEO Yong Yoon Li for joining the metaverse.
Startup Pixpal's Live Mint at Mantra
Pixpal launched its live mint party at Mantra Bar, Bangsar Village. The team was eager to introduce and doxx themselves, a sign of confidence to show that they are real people building a real tech product. The team is led by Ant, a respected tech VP in a SEA startup unicorn and Dee Dee, an entrepreneur and web engineer in both local tech and fintech industries.
According to Dee Dee, the team spent nearly a whole year in continuous development of the project before launching, often tweaking as they went along the way to adjust the product to market conditions. The result of the PixPal phygital model, is a fairly complex marketplace, consisting of merchandising, gaming and DeFi elements. We think that apart from cute art, the challenge for them here is to bring in as much liquidity as they can to maximize their model to its fullest potential. With that said, it is amazing to see projects starting to crop up within the space