Bitcoin and other cryptocurrencies tumbled over the weekend despite optimism surrounding Ethereum's merge, with the world's largest cryptocurrency slipping below US$19,000 for the first time since September 7.
At the time of writing, Bitcoin (BTC) is trading at US$18,816.41 (-5.84%) while Ethereum (ETH) is trading at US$1,300.80 (-10.39%). Major altcoins such as Solana (SOL), Avalanche (AVAX), and Polkadot (DOT) have also been languishing in a sea of red.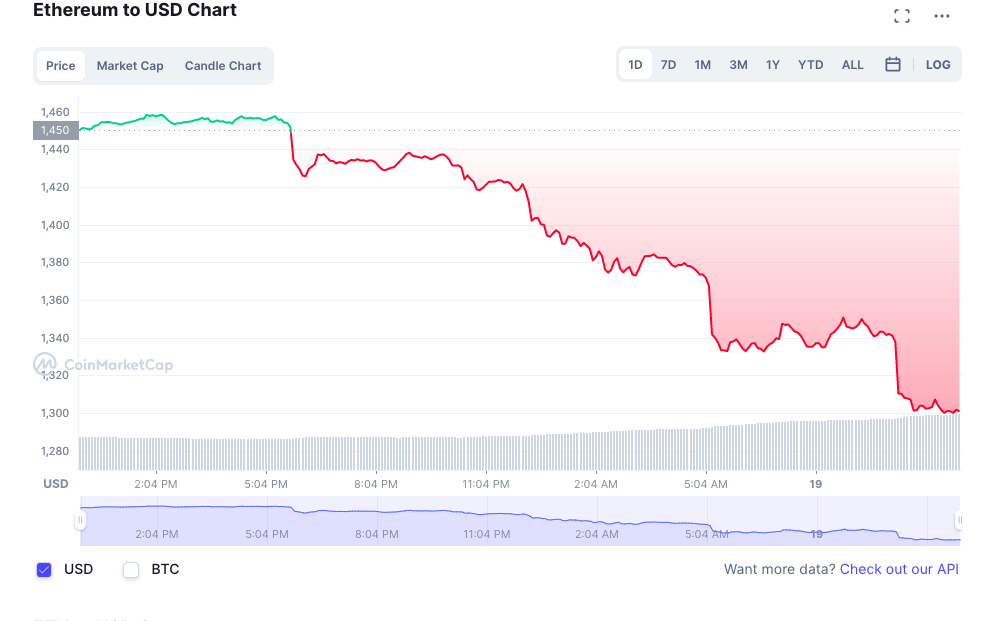 With recent data showing US inflation rooted at four-decade highs, investors remain skittish over a possible 100 bps rate hike this week. Although it's largely expected that the Fed will proceed with a 75 bp hike, the crypto market has extended its losses, with both large cap and altcoins at serious risk of revisiting the lows they hit in June.
ETH is suddenly a security?
SEC Chairman Gary Gensler has said that proof-of-stake cryptocurrencies like ETH could be classified as securities.
According to Gensler, proof-of-stake blockchains could theoretically pass the Howey Test, the Wall Street Journal reported Thursday. The Howey Test – named after a landmark 1946 case that helped determine what is considered a security and what is not – states that a transaction becomes an investment contract if money is "invested in a common enterprise with a reasonable expectation of profit to be derived from the efforts of others."
Proof-of-stake blockchains like Ethereum require validators to put up a set amount of cryptocurrencies at "stake" to ensure the security of the network. Validators can then expect a return on investment, which may classify as a "reasonable expectation of profit."
"From the coin's perspective…that's another indicia that under the Howey test, the investing public is anticipating profits based on the efforts of others. It looks very similar – with some changes of labelling – to lending," Gensler said.
Do Kwon not in Singapore
According to the Singapore Police Force, Do Kwon, the wanted founder of the collapsed Luna and TerraUSD tokens, is currently not in the city-state.
Last week, South Korean prosecutors said arrest warrants had been issued for six people, including Do Kwon, and that they were residing in Singapore.
In an August video interview Coinage, Kwon said he had moved to Singapore because of concerns about his family's safety and rejected suggestions that the relocation was due to the crash or an attempt to evade investigators. It's estimated that the collapse of Terraform Labs wiped out about US$40 billion of investors' money.
On Sunday, Kwon tweeted that he is "not on the run or anything similar", but understandably did not reveal his whereabouts.
According to local broadsheet The Straits Times, Kwon has a Singapore Employment Pass due to expire on December 7 and an application for another pass is pending.
Trading Volume
According to data from CoinMarketCap, the global crypto market cap stands at US$909.40 billion, a 6.55% decrease since yesterday. The total crypto market volume over the last 24 hours is US$69.19 billion, a 43.72% increase.
Fear & Greed Index
Risk appetites are sapped – the Crypto Fear and Greed Index currently stands at 28 indicating fear. The index uses 5-6 measurements to assess the current sentiment of the market and then rates that level of emotion on a scale of 1-100 – 1 is extreme fear and 100 is extreme greed.