God couldn't save the Queen but crypto degens could save their wallets through unapologetically insensitive meme coins inspired by the dear monarch's passing.
Over 40 meme coins have been minted since then, including Queen Elizabeth Inu, Save the Queen, Queen, QueenDoge, London Bridge is Down and Rip Queen Elizabeth. The coins were launched on a range of chains including Binance Smart Chain and Ethereum.
Degens have seen majestical returns from these Queen tokens too. Whilst Queen Elizabeth Inu coin is only priced around US$0.000003, it's surged over 30,000% from its launch.
Elizabeth token saw US$2.7 million worth of trade volume in just under 12 hours, with a pump of 8,442%. Queen Elizabeth Inu and Elizabeth token have US$17,000 and US$204,000 worth of liquidity behind them, suggesting they are simply short-term pump and dump moves.
It's a similar story for NFTs too. On OpenSea, with RIP The Queen Official project attempting to capitalize on the Queen's death.
However, whilst degens are having a field day at the wake, other parts of the crypto community remain less amused.
On Reddit, a thread starter sharing a list of Queen meme coins expressed their concerns about such moves in crypto.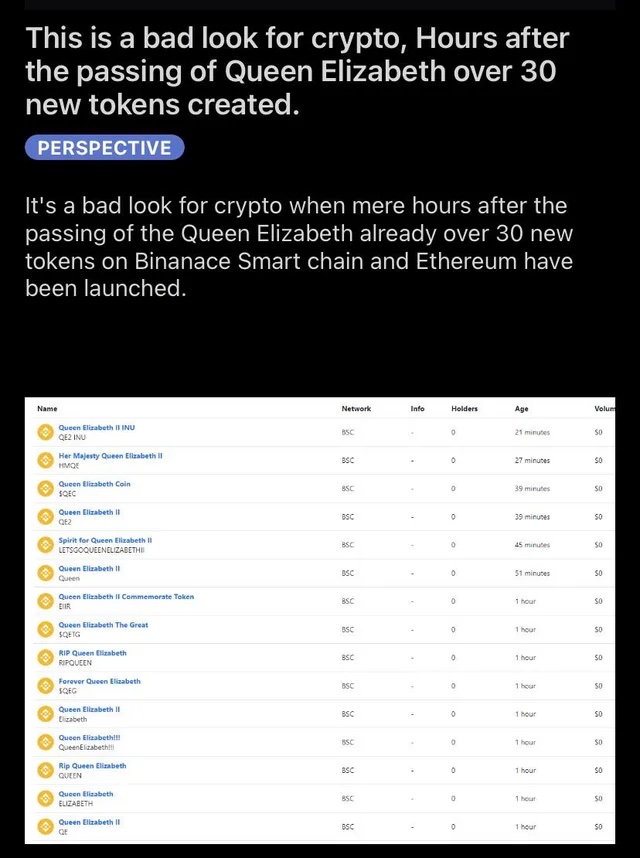 "Most here already know that these are shitcoins that will soon pull the rug on any one who puts money into them but from the outside looking, in the average person is judging all of crypto by these tokens," the Redditor stated.
"Crypto will continue to be judged by the worst among us, events like this only helps to bolster the hate that many feel towards crypto. Crypto's strength is Decentralization but it's also it's biggest problem. TLDR: creating shitcoins of Queen Elizabeth's death makes all of us look bad."
Whilst other Redditors agreed with the OP's concerned, many took solace in that not many people will even discover these coins (Blockhead says sorry not sorry for shedding light on this).
"I doubt the average person knows these coins exist. People aren't looking at crypto in general for them to notice this and conclude that it's a bad look," the top bumped comment stated.
"I don't think you have to use the word "doubt." I'm 100% confident that the only people that know about it are an incredibly small subset of people who already are in a small subset of crypto investors. This whole post is meaningless," replied another to the above comment.
Others simply shared their disgust at the coins' existence. "'Queen Elizabeth Inu'. We doing dog queens now? Man humanity is takin the fuckin piss," one comment read.