Malaysia's web3 future looks promising, with a talent pool ripe for development, judging from the turnout and interest generated by the aptly named Multichain Voyage, an outreach programme by Asia Pacific University of Technology & Innovation (APU), which launched last week with an event featuring nine blockchains under one roof: Ethereum, Polygon, Algorand, Aurora, Osmosis, Thorchain, Octopus, Near and Cardano.
Multichain Voyage, organised by the APU Blockchain & Cryptocurrency Club (APUBCC), brought over 80 people from the blockchain community to participate in outreach. The event was the brainchild of club president Lee Shuen Rui and vice president Yudhishthra A/L Sugumaran, under the guidance of NEAR Malaysia and Access Malaysia.
"The goal for Multichain Voyage by APUBCC is to be the first point of contact for anyone and everyone who wants to develop their interest in blockchain. We are here to build a community platform offering blockchain education, support and most importantly, mentorship. We are partnered with most of the blockchains already and they have agreed to support us in our goal," Yudhishthra said.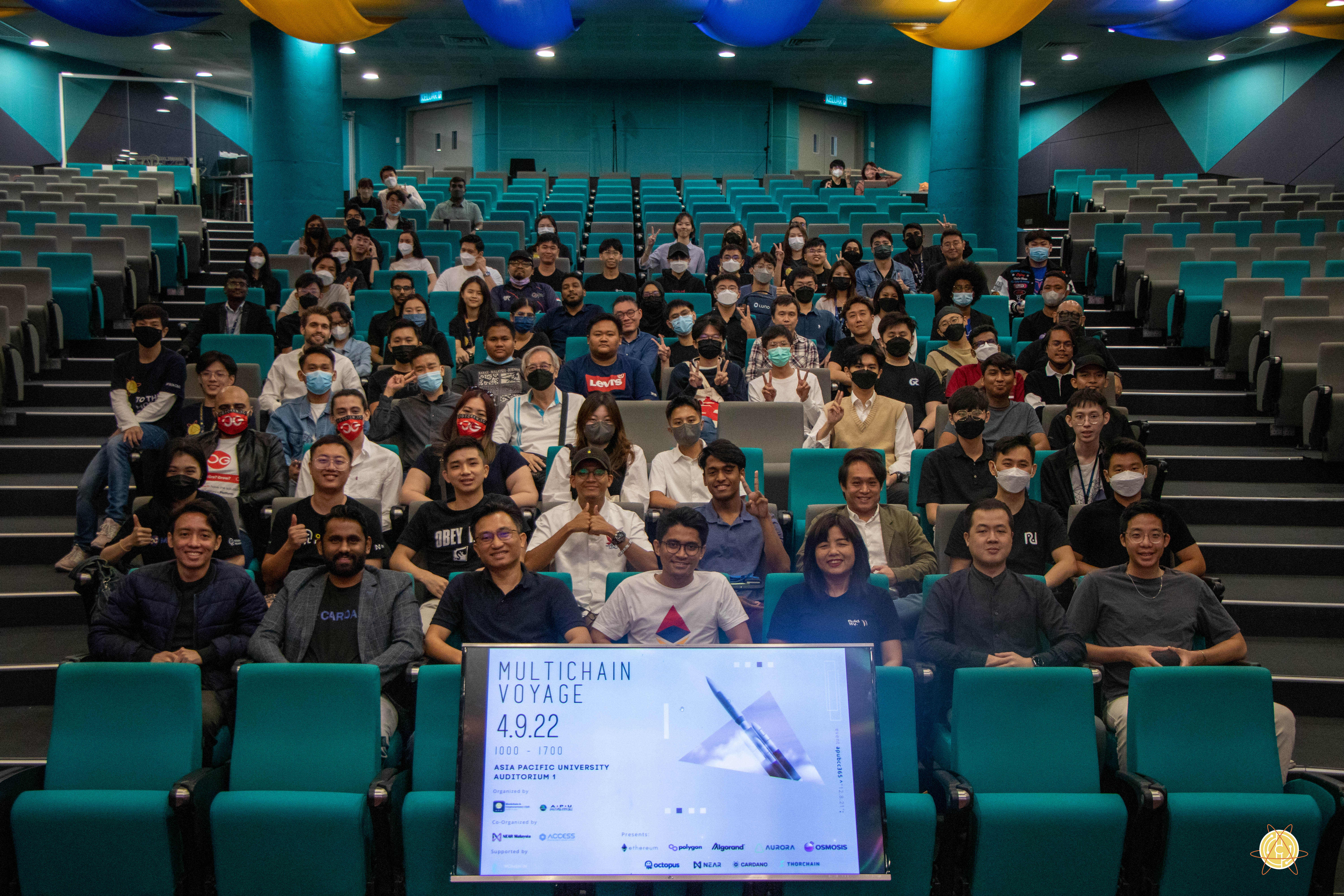 The event was true to its goal, having nine feature blockchains and a guest panel of some of the best Malaysian web3 entrepreneurs such as Cryptobilis CTO Vimal Selvamany and DrCle4n from Cle4ncuts. Each of the blockchains showcased top level overviews on blockchain specs, development updates & grant opportunities for new projects looking to be in the space.
Malaysian representative Jason Chew from Polygon network, shared his thoughts on an increase in market participation for web3: "It's good to be a part of outreach programs like these from universities. Even in a bear market we're seeing more participation from the education sector than ever before."
Panel highlights
The panel featured a diverse pool of web3 entrepreneurs who came together to impart some wisdom for those operating in the space. They were NFT project owners (Cle4ncuts, 8sian), GameFi builders (StarSymphony), Ecosystem owners (Airfoil, CryptoBilis) and a Layer 1 blockchain representative (NEAR), who freely shared their unique experiences and wisdom to the crowd.
The key insights from the panel were:
When building the product, have a goal for recurring users in mind.
Web3 development is a marathon and not a sprint.
Use a methodical approach to build and to keep organised.
Products on the market are currently too new for retail adoption.
Big picture
In a landscape where technical skills are highly prized, market share for the web3 education vertical is highly competitive. Universities and alternative education initiatives are well aware that the body that hosts the most education will have the highest leverage in the talent pipeline as the industry grows.
At the macro level, APU university takes the first mover advantage in organising collaborations between some of the best blockchains in the world, offering participants in their ecosystem a direct link to global level blockchain partners. A timely reward for taking the first leap in pushing the boundaries for Malaysia's web3 space.
Things are looking undoubtedly exciting in the emerging landscape as Malaysia slowly BUIDLs one foundational layer at a time.