Bitcoin and other cryptocurrencies continued to trade sideways over the weekend, with the world's largest cryptocurrency dipping below US$20,000 on Monday morning.
At the time of writing, Bitcoin (BTC) is trading at US$19,723.54 (-0.19%) while Ethereum (ETH) is trading at US$1,560.45 (+0.47%). Major altcoins such as Solana (SOL), Avalanche (AVAX), and Polkadot (DOT) mostly traded in green within the same period.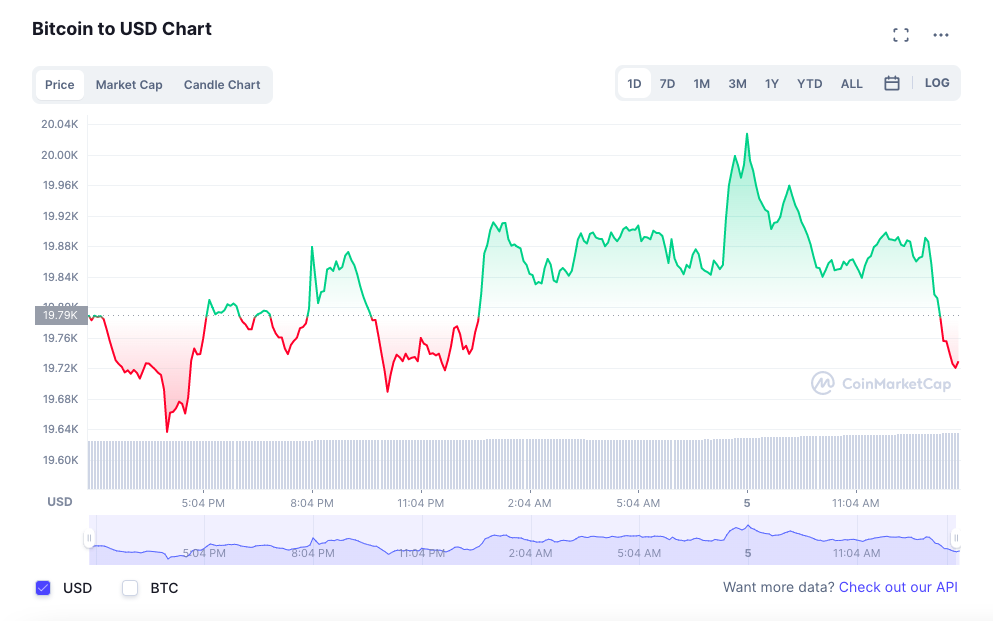 Meanwhile, Ethereum's Bellatrix upgrade is set to go live on Tuesday. The Bellatrix prepares Ethereum's consensus layer – the Beacon Chain that introduces the PoS mechanism to Ethereum – for "The Merge".
Indonesia outlines plan for crypto bourse
According to DealStreetAsia, Indonesia's government is planning to launch a crypto bourse by year-end, citing the country's Deputy Trade Minister Jerry Sambuaga.
Sambuaga confirmed during NXC International Summit 2022 in Bali that the country is still planning to launch the crypto bourse as part of the government's efforts to protect consumers amid rising interest in digital assets. However, the project has been delayed due to additional preparations.
"We will make sure that every requirement, procedure, and the necessary steps have been taken", said Sambuaga
"This is proof that we are being careful. We don't want to be hasty as it may cause us to miss something. Creating a bourse needs many preparations. We need to see which entities should be included in the bourse."
"Secondly, we need to validate the said entities. Thirdly, there is minimum capital and other requirements related to custodian depository, technical thing", he added.
Earlier this year, Indonesia's Financial Services Authority (OJK), warned that financial firms in the country are not allowed to offer crypto trading services.
However, the sale of crypto assets is still allowed in the commodities exchange, and trading is supervised by the trade ministry and the Commodity Futures Trading Regulatory Agency.
Last year, the Indonesia National Ulema Council (MUI) deemed cryptocurrencies as haram, or banned, as it has elements of "uncertainty, wagering, and doesn't meet the islamic requirement according to Shariah [law]".
Read more: Bali, Beach, Blockchain – Coinfest Asia Epically Hit the (Full) Moon
Thailand to restrict crypto ads
Crypto businesses in Thailand must be feeling the heat from the country's financial regulator as it ramps up oversight of the space – according to Thailand's Securities and Exchange Commission (SEC), cryptocurrency advertisements in the country must now indicate potential risks of investing in volatile asset class.
Thailand has been increasing scrutiny on the crypto space, amid growing retail interest. Last year, the regulator published a series of new regulations for crypto businesses, and recently issued new guidelines to govern custody of digital assets held by cryptocurrency operators.
The SEC amended existing regulations after noting that many crypto-based advertisements lacked warnings about risks associated with investing in cryptocurrencies and that some showed only "positive information."
Last month, Siam Commercial Bank (SCB) withdrew plans to purchase a majority of crypto exchange Bitkub, citing unresolved issues with the securities regulator. Huobi, one of the world's largest crypto exchanges, shut down its Thai platform on July 1, less than two years since its launch, after its license was revoked by the country's crypto watchdog.
In January, Singapore's MAS (Monetary Authority of Singapore) barred crypto providers from promoting their services to the public via any means except through they own websites, social media accounts, and/or mobile applications, citing the unsuitability of cryptocurrency trading for the general public.
Trading Volume
The global crypto market cap stands at US$983.13 billion, a 0.63% increase since yesterday. The total crypto market volume over the last 24 hours is US$49.12 billion, a 11.22% increase.
Fear & Greed Index
Risk appetites are sapped – the Crypto Fear and Greed Index currently stands at 23 indicating extreme fear, and significantly down from last Monday, when it hit 29 (fear). The index uses 5-6 measurements to assess the current sentiment of the market and then rates that level of emotion on a scale of 1-100 – 1 is extreme fear and 100 is extreme greed.