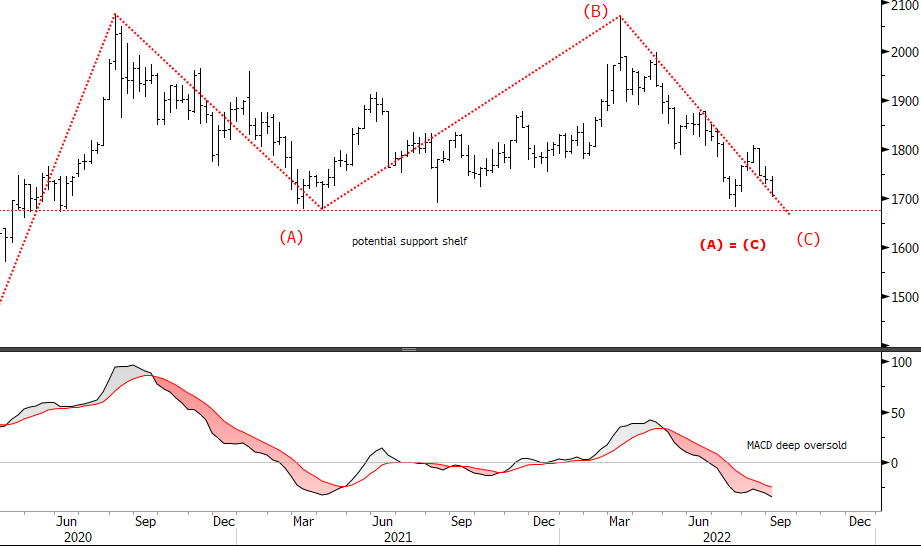 In a recent note we looked at gold's high positive correlation with Bitcoin from pretty much mid-July, which has in fact become more correlated since August. Prior to this the positive correlation was very low. As such I still think it makes sense near term to use gold as a proxy.
What we see in the chart is very interesting. A bullish M-shaped top which could be labelled an ABC "Flat" correction at Intermediate degree in Elliott Wave speak. Wave C down (the current phase) matches Wave A down in length more or less. The market is continually attempting to find balance and this relationship between Waves A and C points to that now. At the same time price is approaching a clear shelf that goes back to June 2020 and MACD, which I am using as momentum indicator here, is deeply overstretched to the downside.
In line with recent Bitcoin notes, a low is in the offing but for now the preferred view is for a countertrend advance which will stall out. For now though, let's see if gold forms the expected trough and see whether Bitcoin maintains its relationship and follows up. Then we can do a proper assessment of the likely quality and duration of the next rally.