Table of Contents
Bitcoin and other cryptocurrencies traded sideways throughout the week, with the world's largest cryptocurrency briefly touching US$24,500 before paring losses.
At the time of writing, Bitcoin (BTC) is trading at US$23,191.89 (+0.19%) while Ethereum (ETH) is trading at US$1,658.62 (+0.40%). Major altcoins such as Solana (SOL), Avalanche (AVAX), and Polkadot (DOT) have also been trading in green within the same time period.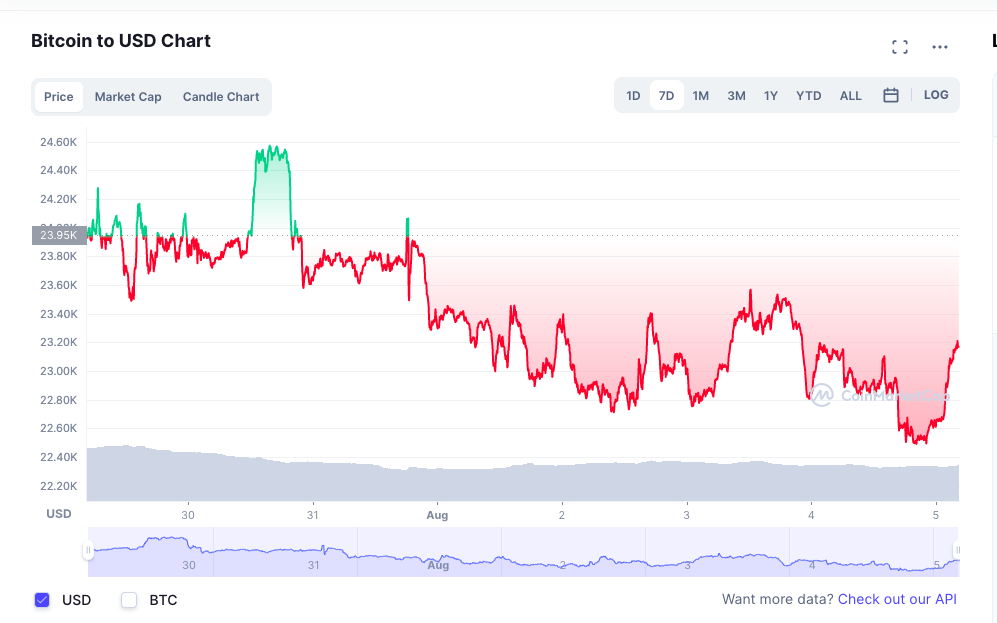 While ETH's recent rally provided the market with some optimism, questions remain over the transition of ETH to ETH 2.0, and how it might affect the network's activity and price.
"There is increasing concern that the transition to ETH 2.0 will not be as smooth as most expected where ETH(pos) emerges as the clear dominant chain while ETH(pow) fades into obscurity. In this ideal scenario, price disruption would be minimal," said QCP Capital in a note on Friday.
Read more: A Forking Catastrophe
"Instead, a hard fork might occur resulting in two active chains ETH(pos) and ETH(pow). If ETH(pow) retains material value, there could be significant price disruption akin to a stock split or special dividend. While there is overwhelming support for ETH(pos), miners have voiced their intention to continue pushing for ETH(pow). This creates a real possibility of a hard fork," QCP added.
Coinbase Gets BlackRock Boost
Shares of crypto exchange Coinbase soared on Thursday after it announced a partnership with BlackRock that will allow its institutional clients to buy bitcoin.
Shares of Coinbase Global (NASDAQ: COIN) initially climbed as much as 44% after the Wall Street open, before paring gains to about 10%, and currently sits at US$90.13 in after-hours trading.
According to a blog post on Thursday, services in the Coinbase's Prime offering will be available to institutional investors on Aladdin, BlackRock's end-to-end investment management platform, with Coinbase providing crypto trading, custody, prime brokerage and reporting capabilities.
BlackRock is currently largest asset manager in the world, with more than US$8 trillion under management.
Solana, Nomad Hit by Hackers
The Solana ecosystem has suffered a US$8 million exploit, after an unknown attacker(s) drained thousands of Solana wallets of their SOL tokens and USDC.
The hack seems to have originated on the Solana browser wallet Phantom, and is believed to have compromised the private keys of users.
The exploit comes on the heels of Wednesday's Nomad Bridge hack, which saw nearly US$200 million drained from the cross-chain protocol. It was also revealed that the person who hacked Lari Capital was the same one who hacked Nomad.
Voyager Weighs Offers
According to a report by Bloomberg, embattled crypto lender FTX has received multiple bids for its assets in excess of an earlier offer from FTX and Alameda.
In a press release on 22 July, FTX announced that it will allow Voyager customers to create new accounts on FTX the crypto exchange, while Alameda Research would buy all of Voyager's digital assets and digital assets loans, other than loans to Three Arrows Capital (3AC), in cash at market value.
However, Voyager is believed to be unhappy with the terms of the proposal, with the firms lawyers labelling it as a "low-ball bid dressed up as a white knight rescue."
CFTC Takes Charge of Crypto
The US Senate Agriculture Committee has introduced a bipartisan bill that would give the Commodity Futures Trading Commission (CFTC) more regulatory authority over the crypto markets.
The bill, dubbed as the Digital Commodities Consumer Protection Act of 2022, would set a national regulatory standard for crypto, define which tokens would fall under the definition of a "digital commodity", and require all crypto trading platforms (aka digital commodity trading platforms) to register with the CFTC.
However, the Securities and Exchange Commission (SEC) would still have sole oversight of digital assets that are classified as securities – if they give holders the right to "profits, liquidation preferences or other financial interests in a business entity."
In June, another bill dubbed as the Responsible Financial Innovation Act, was introduced by Democrat Senator Kirsten Gillibrand and Republican Senator Cynthia Lummis, and would classify digital assets as commodities like oil and precious metals.
According to a summary of the legislation, the bill would make "a clear distinction between digital assets that are commodities or securities" by analysing what rights or powers a digital asset confers to its holders. This would give digital asset companies the "ability to determine what their regulatory obligations will be".
Trading Volume
According to data from CoinMarketCap, the global crypto market cap stands at US$1.08 trillion, a 0.51% increase since yesterday. The total crypto market volume over the last 24 hours is US$63.36B, a 3.86% decrease.
Fear & Greed Index
Risk appetites are still sapped – the Crypto Fear and Greed Index currently stands at 31, indicating fear. The index uses 5-6 measurements to assess the current sentiment of the market and then rates that level of emotion on a scale of 1-100 – 1 is extreme fear and 100 is extreme greed.
The index has improved significantly from June, during which it fell to as low as 6 (extreme fear) in the wake of the Terra implosion.