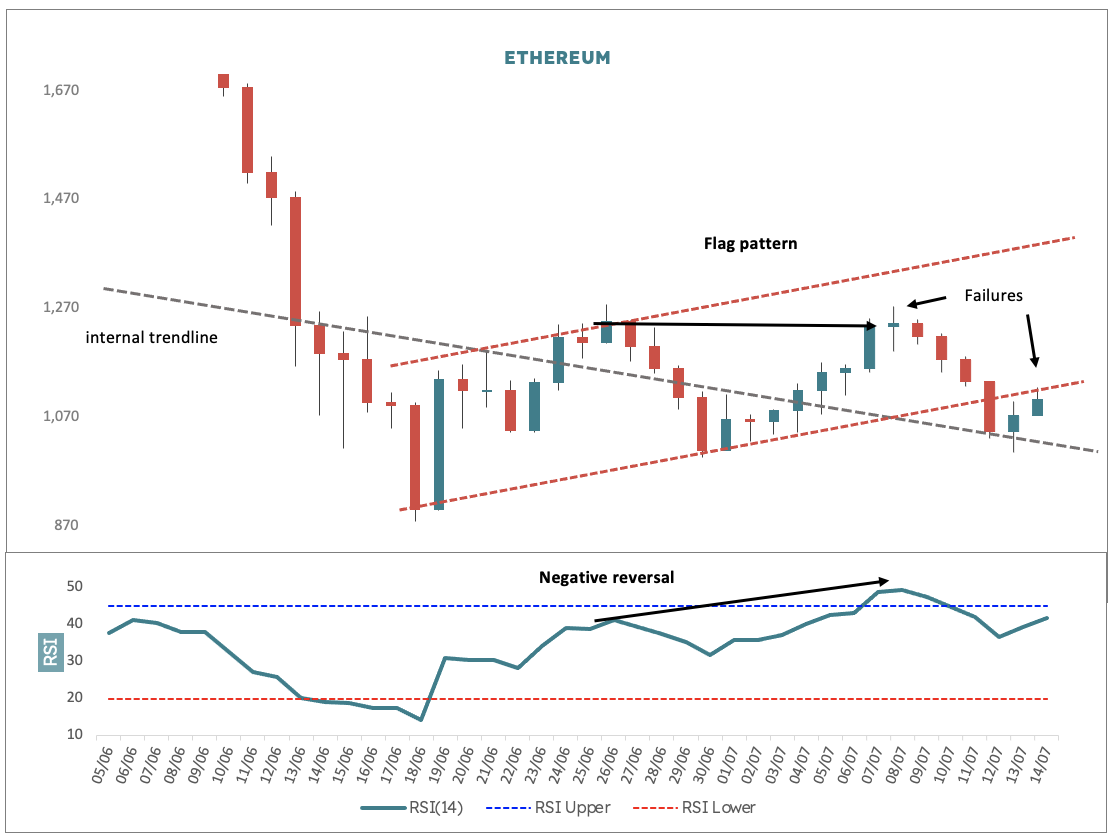 Ok so.. not much immediately new to see with crypto (and correlated equity indices) after hot US inflation print yesterday as a lot must have been priced in already.
But with that said, we're now looking down the barrel of endless Fed rate hikes and a trillion-dollar balance sheet reduction. This will not be priced in yet and its hard to not see it as ongoing weight on the market. Additionally, US earnings season has started and so far 500 downgrades in a week, which is not bullish.
There is a saying: "today's technicals, tomorrow's news". So technicians as a community tend to see news as being lower down the food chain. However, with that said, how price reacts to news can be telling and a good technician should remain alert to these intersections.
I am just going to run through some chart observations: The overall formation is that of a so called "flag pattern" – if a fast move is then followed by a straggly upsloping price pattern then generally we are looking at a rest phase that once mature then continues out of in the same direction it came into the pattern.  So here the read is hard down – flag – down again.
Negative reversal in RSI (we covered in RSI study notes). Closing prices drop across an RSI swing, but RSI goes up. The message is bearish: more momentum does not lead to higher prices, ease of movement is poor, there is a struggle and it speaks to weight on prices and typically leads to a downside resolution.
Failures: the first was a failure to reach back to the top channel line in the purported flag. This is a sign of weakness. Think of the upper channel as a liquidity magnet that is not strong enough to draw price all the way up to it. The second failure looks to be ongoing but isn't confirmed: price broke through the bottom of the flag and has come back up to test the underside – support becomes resistance.