Table of Contents
Bitcoin and other cryptocurrencies fell through multiple support levels throughout the week, with the world's largest cryptocurrency hovering just below the US$21,000 mark for now after a brief post-Fed announcement rally yesterday.
At the time of writing, Bitcoin (BTC) is trading at US$20,644.55 (-8.06%) while Ethereum (ETH) is trading at US$1,091.32 (-10.12%). Major altcoins such as Avalanche (AVAX) and Solana (SOL) have also been trading in red throughout the week.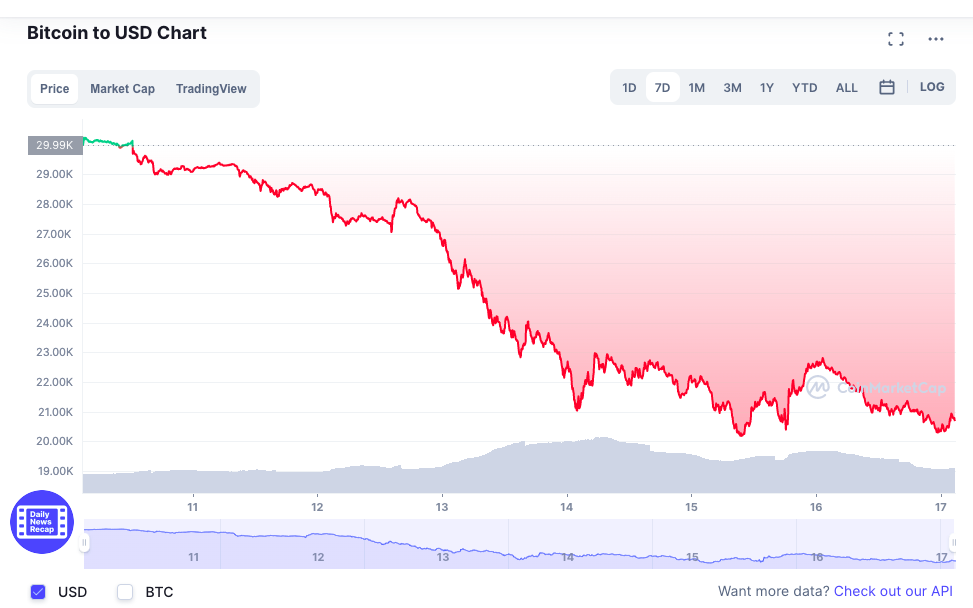 3AC's woes deepen
A Financial Times report has revealed that Singapore-based crypto hedge fund Three Arrows Capital (3AC) was liquidated by BlockFi and other crypto lending firms after it failed to top up its loan collateral.
"We exercised our best business judgment recently with a large client that failed to meet its obligations on an overcollateralised margin loan," BlockFi CEO Zac Prince tweeted. "We fully accelerated the loan and fully liquidated or hedged all the associated collateral."
Read more: Three Arrows Capital Rumoured to Be in Financial Trouble as Contagion Fears Spread
Rumours of the company's potential insolvency first surfaced online on Wednesday, and major crypto companies are now distancing themselves from 3AC to quell investor fears.
Twitter user @Danny8BC, who on Wednesday said that 3AC allegedly withdrew US$1 million out of its accounts on Monday morning, has followed up with a thread further explaining his side of the story.
"What we learned is that they were leveraged long everywhere and were getting margin-called. Instead of answering the margin calls, they ghosted everyone. The platforms had no choice but to liquidate their positions, causing the markets to further dump", he claimed.
Read more: Below 0° Celsius: When Your Deposit Gets Frozen
Meanwhile, a report by The Wall Street Journal has revealed that investors in crypto lending platform Celsius Network are unlikely to provide more financing to bail out the struggling cryptocurrency lender. The platform has been facing pressure to sell its stETH holdings to restore liquidity to user withdrawals.
Elon Musk sued for "pyramid scheme"
Elon Musk has been sued US$258 million on Thursday by a Dogecoin investor who claimed that the Tesla CEO was running a "pyramid scheme".
"Defendants were aware since 2019 that Dogecoin had no value yet promoted Dogecoin to profit from its trading," the complaint said. "Musk used his pedestal as World's Richest man to operate and manipulate the Dogecoin Pyramid Scheme for profit, exposure and amusement."
Read more: $SHIB – It's All Fun and Memes Till You Become a Meme
However, since the plaintiff seems to be well aware of the fact that Dogecoin has no value, he should readily admit that like many others, he just wanted to make quick, short-term gains off the Dogefather's obviously nonsensical tweets.
Crypto exchange OKX joins Binance in hiring spree
OKX exchange has said that it plans to increase its global headcount by 30% to 5,000 in the next 12 months. The Seychelles-based exchange is also aiming to become the first crypto exchange to achieve gender balance. At present, OKX's team includes 40% of female employees.
Last week, Binance CEO Changpeng Zhao announced that the trading platform has a "very healthy war chest" and will expand hiring activity despite the market downturn.
Read more: "Failure is Part of the System": CZ Closes Consensus 2022
Nevertheless, many crypto firms have been forced to reduce their headcount. BlockFi Inc said that it will reduce its staff by 20%, while the Singapore-based Crypto.com announced layoffs of about 260 staff, or 5% of its work force.
Earlier this month, crypto exchange Gemini Trust Co. said it plans to slash 10% of its staff. Coinbase Global Inc also announced that it will be rescinding job offers and freezing hiring.
Trading Volume
According to data from CoinMarkerCap, the global crypto market cap stands at US$894.23 billion, a 6.77% decrease over the last day.
The total crypto market volume over the last 24 hours is at US$75.80B, a 40.44% decrease.
Fear & Greed Index
Risk appetites are really, really sapped – the Crypto Fear and Greed Index currently stands at 9, indicating extreme fear. The index uses 5-6 measurements to assess the current sentiment of the market and then rates that level of emotion on a scale of 1-100 – 1 is extreme fear and 100 is extreme greed.
The index has stayed at this level for numerous weeks now, and it seems like it will remain at this level for some time to come.