Table of Contents
Bitcoin and other cryptocurrencies continued to consolidate this week, with the world's largest cryptocurrency hovering above the key support level of US$30,000 for now.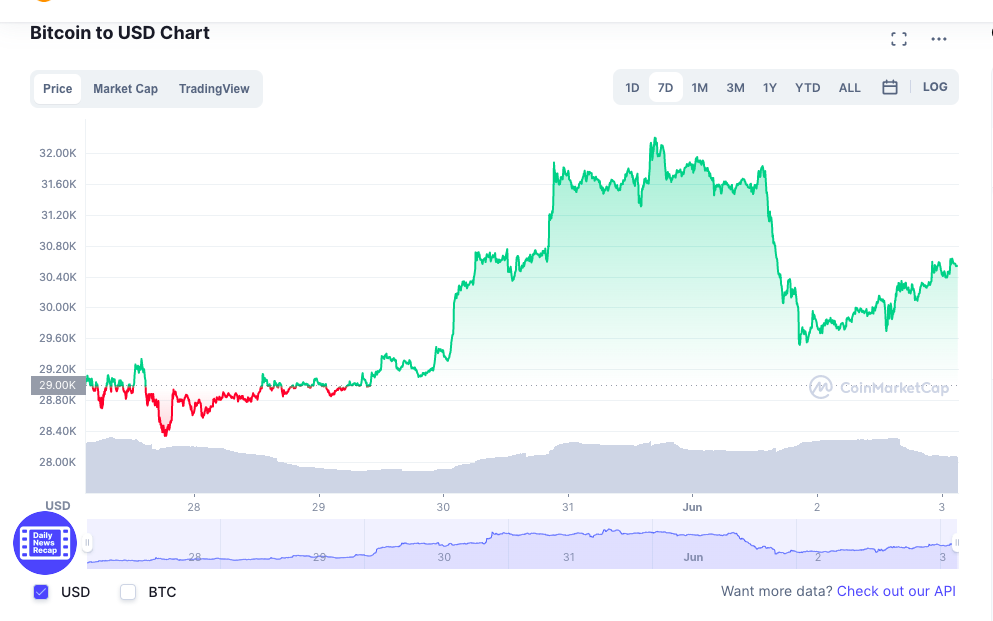 At the time of writing, Bitcoin (BTC) is trading at US$30,498.60 (+2.48%) while Ethereum (ETH) is trading at US$1,829.26 (+0.17%). Major altcoins such as Solana (SOL) and Avalanche (AVAX) have also been trading in green over the past 24 hours. SOL is still nearly 4% down over the past week, due its recent network outage.
Ethereum co-founder Vitalik Buterin has said that the era of "good-guy" teams is fading, with much more conflict surfacing in today's climate.
In a thread on Twitter, Buterin began by saying "a big difference between the "new idealistic movement" scene 10-15 years ago vs today is that back then it felt possible to be on all the good-guy teams at the same time. Today, much more adversarial thinking and conflict."
"I've been trying to understand.. where to from here?" he questioned.
Former OpenSea head of product hit with charge
Former senior OpenSea employee Nate Chastain has been arrested in the US government's first case of digital asset insider trading.
Chastain allegedly bought at least 45 NFTs in 2021 ahead of OpenSea featuring them on its homepage. He then sold the NFTs for 2x to 5x the price he had originaly paid for them.
OpenSea fired Chastain after his transactions were discovered on the Ethereum blockchain. The company admitted to not having policies in place to prohibit such behaviour but has since enacted new employee rules.
Singapore's Deputy Prime Minister Heng Swee Keat has said that cryptocurrencies are not suitable for retail investors, despite their potential to transform finance in the future.
However, a recent instagram post by Singapore's CPF (Central Provident Fund) Board has listed "NFTs" as a source of investment portfolio diversification, which contradicts the government's current stance on crypto investing for retail investors.
Trading Volume
According to data from CoinMarkerCap, the global crypto market cap stands at US$1.26 trillion, a 1.87% increase from yesterday. The total crypto market volume over the last 24 hours is US$69.11 billion, a 28.95% decrease.
Fear & Greed Index
Risk appetites remain sapped – the Crypto Fear and Greed Index currently stands at 10, indicating extreme fear. The index uses 5-6 measurements to assess the current sentiment of the market and then rates that level of emotion on a scale of 1-100 – 1 is extreme fear and 100 is extreme greed.