Table of Contents
Pledging allegiance to your local football team carries a bond between fans that's thicker than blood. Whether it's this season's new sponsored kit or garish car livery, showing your support has no boundaries.
Ahead of every football season, fans around the world gear up with their team's latest merch to proudly display their ardent support and loyalty. Bringing your support into the 21st century has been relatively seamless. Aside from perhaps smartphone accessories, merchandise has not varied in form. Scarves, jerseys, hats, mugs and other wearables have long existed as fan merch. However, the age of NFTs is upon us and the football world is starting to play ball.
Just as digital art is disrupting the art industry, NFTs are poised to be a game changer for the sports world too. With global football franchises developing their own NFTs and even their own crypto tokens, just how beneficial is this technology to fanbases?
What Are Football Fan Tokens?
I'll be using Aston Villa fan tokens as a case study because all football coins currently operate in the same manner and more importantly, there's no better club in the world.
All leading football fan tokens are currently hosted on Socios.com, minted on the Chiliz $CHZ blockchain. Over 45 sporting organisations have partnered with Socios.com, including FC Barcelona, Paris Saint-Germain, Juventus, AC Milan, Atlético Madrid, Manchester City, Inter Milan, Arsenal and the Argentina and Portugal national football teams. Additionally, a number of leading teams from F1, esports and cricket also have their own coins on the platform.
According to Alexandre Dreyfus, CEO of Chiliz and Socios.com, tokens offer supporters the opportunity to "enjoy influence, exclusive content, games, competitions and access to once-in-a-lifetime experiences and rewards".
"Aston Villa, a club with great tradition and a proud heritage, understands the huge potential of global fan engagement and is now ready to unlock it by launching $AVL Fan Tokens on Socios.com", Dreyfus said.
On face value, football coins claim to offer an interactive fan experience that provides supporters with a say about various aspects of their club. Depending on the club, fans will be able to vote on decisions such as dressing room murals, matchday playlists and the captain's armband message.
The more tokens you have, the more influence you carry.
As an Aston Villa $AVL coin holder, I'm able to vote on messages displayed at Villa Park, win tickets to games and gain access to VIP tickets.
Tokenomics of fan coins
The process of acquiring a football token is relatively simple: fans must first convert their money into Socios.com's own crypto-currency, $CHZ, to buy the token.
The total supply of coins varies from club to club. Aston Villa's total coin supply is 10,000,000, whereas Arsenal's total supply is 40,000,000. According to BBC, clubs own about 80% of the coins in circulation, which means the market is at their mercy. The top 13 clubs reportedly hold tokens with a value exceeding USD 1.9 billion but individual buyers hold only USD 376 million worth.
Clubs are earning easy revenue from football tokens. FC Barcelona's initial cryptocurrency sale earned the club USD 1.3 million in just 2 hours. Over 600,000 tokens were sold each at EUR 2.00 (USD 2.26).
Just like other cryptocurrencies, football token prices vary depending on supply, demand and more crucially, hype. When Atletico Madrid won La Liga last season, the price of its fan token surged over 440% before crashing immediately.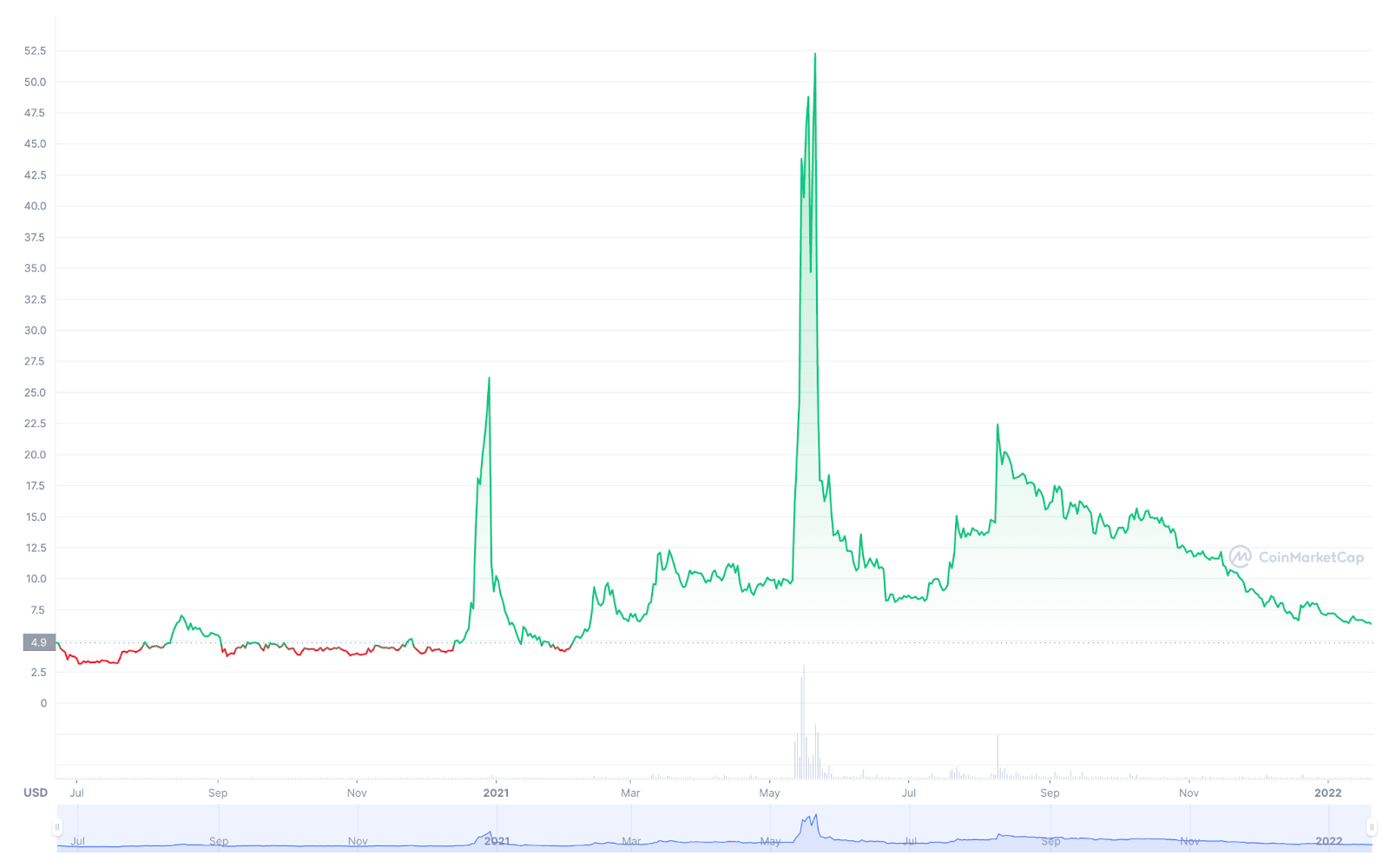 It's not really about football
Football tokens are cryptocurrencies disguised as artificial segments of fan loyalty. Crypto traders are capitalising on the volatility of these coins, irrespective of their link to football. Chiliz itself is volatile and the behaviour of its coins is equally as erratic. As mentioned, Atletico Madrid's coin price surged 400% after their La Liga win; a clear pump and dump by traders.
Also as mentioned, football clubs own the majority of coins in existence. If fans or traders pump the coin's value, clubs can sell off their holdings and earn extra revenue.
Concerns surrounding football tokens' exposure to the crypto world's notoriety doesn't stop there either.
Just like much of the crypto world, there's a certain level of opaqueness that foreshadows football tokens. At the time of writing in January 2022, Aston Villa's coin ($AVL) is available to buy on Socios.com's app. However information on the coin is sparse. The latest information on the Socios website regarding $AVL is dated 11 August 2021, with the title "Aston Villa To Launch $AVL Fan Token on Socios.Com". Clicking on the Aston Villa logo on Socios' website leads nowhere too.
On the app itself, Aston Villa's coin page is filled with expired polls and closed rewards. The only available rewards at the time of writing is 3,000 Socios coins to upgrade your match day ticket to a VIP one. The exact perks of a "VIP" ticket are not listed.
Football tokens are sold with the premise that fans can influence club happenings, but the frequency of the votes and information regarding the rewards are not disclosed. In any case, influencing un-important decisions is not worth the price of entry.
Centralised de-regulation
Despite its official ties with major football clubs, Socios.com's football coin ecosystem is completely unregulated. Socios.com is based in Malta so regulatory bodies, including the UK Financial Conduct Authority, have no power to intervene if things go south. Whilst it's unlikely that Socios.com will simply pack up shop and run off with your money, it's still unnerving to trade in a lawless environment.
Seasoned crypto traders might be all too familiar with the industry's unregulated nature. Some may even thrive on it. But the appeal of football tokens is directed towards football fans, not crypto enthusiasts.
The net result is football fans are unwillingly thrusted into the crypto wild west, where crypto cowboys are pumping and dumping their coins at their expense.
Clubs themselves have yet to offer protection to their supporters in the space. Their irresponsible hands-off approach is far from reassuring.
Forever blowing (crypto) bubbles
If there's one thing the 2005 film Green Street has taught us, it's not to mess with West Ham fans. This message proved to be true in 2020 when West Ham fans opposed the club's deal with Socios.com.
Fans were particularly displeased with how Socios.com was attempting to monetise supporter engagement, which the West Ham United Independent Supporters' Association (WHUISA) argued should be done by the club for free.
WHUISA were one of many supporter groups that formed the "Don't Pay To Have Your Say" campaign against Socios.com. Ultimately, the club paid attention to the criticism and terminated its partnership with Socios.com.
"We are pleased this relationship between West Ham and Socios has seemingly ended", West Ham United Independent Supporters' Association (WHUISA) said, adding, "We hope another fan opinion exploitation scheme is never entered into by WHUFC and that our club will start to meaningfully engage with supporters going forward".
The West Ham win (which is a rather rare sight) demonstrated that fans could have an influence in club matters without having to buy club tokens.
Not Singing Any More
Unpopular opinion: football fans aren't stupid. We're fully aware that we're over-paying for a jersey that largely resembles the previous season's. We also know that we'll buy almost anything with our club's badge on it.
However, we draw the line at exploitation.
Football tokens are testing the loyalty of football fans, but their meaningless nature and lawless ecosystem is enough to deter the most hardcore fan. Fanbases are crucial to the survival of football clubs, and a healthy fan-club relationship needs to be upheld. Clubs engaging in the issue of football tokens are at risk of souring this relationship.
Rewards earned through the ownership of football coins are perks that should be offered to fans for free. Voting on club issues sounds prestigious, but these issues tend to be of low importance, and certainly do not warrant an entry fee.
Furthermore, its opaque nature means that fans who purchase football tokens, such as myself, are left holding the coin without really knowing what can be done with it. Whilst we wait for the next "vote" or "reward" to be announced, crypto traders are aggressively pumping and dumping the coin, exposing us to intense volatility. It's not a fun fan experience, nor is it a fun crypto experience.
Looking ahead, perhaps clubs will offer more worthwhile perks for holding their tokens, but there's no roadmap as such for these projects. Instead, fans are buying in blind without fully comprehending the tokenomics and without the protection of the club itself.
That said, I'm not selling my $AVL as I'm naively curious to see how football tokens will advance in the future… but mainly because Villa 'til I die.