Table of Contents
As Southeast Asia continues its search for its crypto regional hub, competition continues to ramp up. Efforts to balance maximising Web3's potential with safe and efficient regulation have led different countries to adopt different approaches.
Already renowned for its unforgiving approach to the law, Singapore has exerted more stringent measures to crypto regulation, including banning crypto advertising. Thailand took a similar stance, declaring that digital assets are not lawful currencies.
However, Vietnam is increasingly becoming a star of the region. According to new research by Chainalysis, Vietnam is ranked 3rd in 2023's Global Crypto Adoption and 1st in Southeast Asia.
The Global Crypto Adoption Index is measured by transaction volumes and protocols based on web traffic patterns, weighted by characteristics like population size and purchasing power.
Regionally, the Philippines, Indonesia and Thailand were ranked 6th, 7th and 10th respectively. Singapore was dismally ranked 77th.
Crypto Pho Sho
Considering it remains illegal to use crypto to conduct financial transactions in Vietnam, the country's crypto adoption is astonishing; around 21% of the total population owns crypto or almost 21 million individuals.
Whilst using crypto for transactions is illegal, there is no formal legislation that governs the asset class. Furthermore, 70% of the population lacks access to traditional financial services. Thus, Vietnam's DeFi usage is among the world's highest.
Last year, remittances in Vietnam rose from USD$1 billion to approximately $19 billion, making the country one of the top three largest remittance recipients in Asia. Cryptocurrency is a more efficient means of transferring money.
GameFi has proven to be a driving factor for crypto adoption in Vietnam too. Players found themselves being able to afford education, land and even property. 75% of GameFi crypto investors began investing in digital assets after joining such platforms.
Revenue from crypto exchanges in Vietnam is expected to reach $109 million the end of 2023. It is then expected to grow 16.8% annually over the next four years.
Don't Banh-Mi From Crypto
Over the past year, the crypto industry has exposed its underbelly and the true dangers of its wild-west style. Whilst crypto's strength may lie in decentralisation, a call for reasonable regulation to prevent seven-figure losses would be more than fair.
Over 70% of respondents in Vietnam favoured regulatory oversight, with 33.4% in support for regulating centralized exchanges. 24.6% call for broader regulations for the industry.
The Vietnamese government appears to be opening its ears too. Last year, the Vietnam Blockchain Union was launched to develop the local ecosystem.
Educational institutions are doing their part too. FuniX, the University of Technology and the Vietnamese branch of the Australian university, RMIT, are all offering blockchain courses.
Calls for more regulation follow countless instances of crypto-related crime in Vietnam. Earlier this year, two Vietnamese criminals were sentenced to life in prison for kidnapping an individual and stealing $1.5 million worth of bitcoin from him. Ho Ngoc Tai and Tran Ngoc Hoang, former police officers, resorted to kidnapping and extortion to cover losses from converting Bitcoin. Fourteen others were arrested and received sentences ranging from 9 to 19 years.
Vietnam now has over 100 Web3-related businesses, spanning many sectors including game studios and exchanges.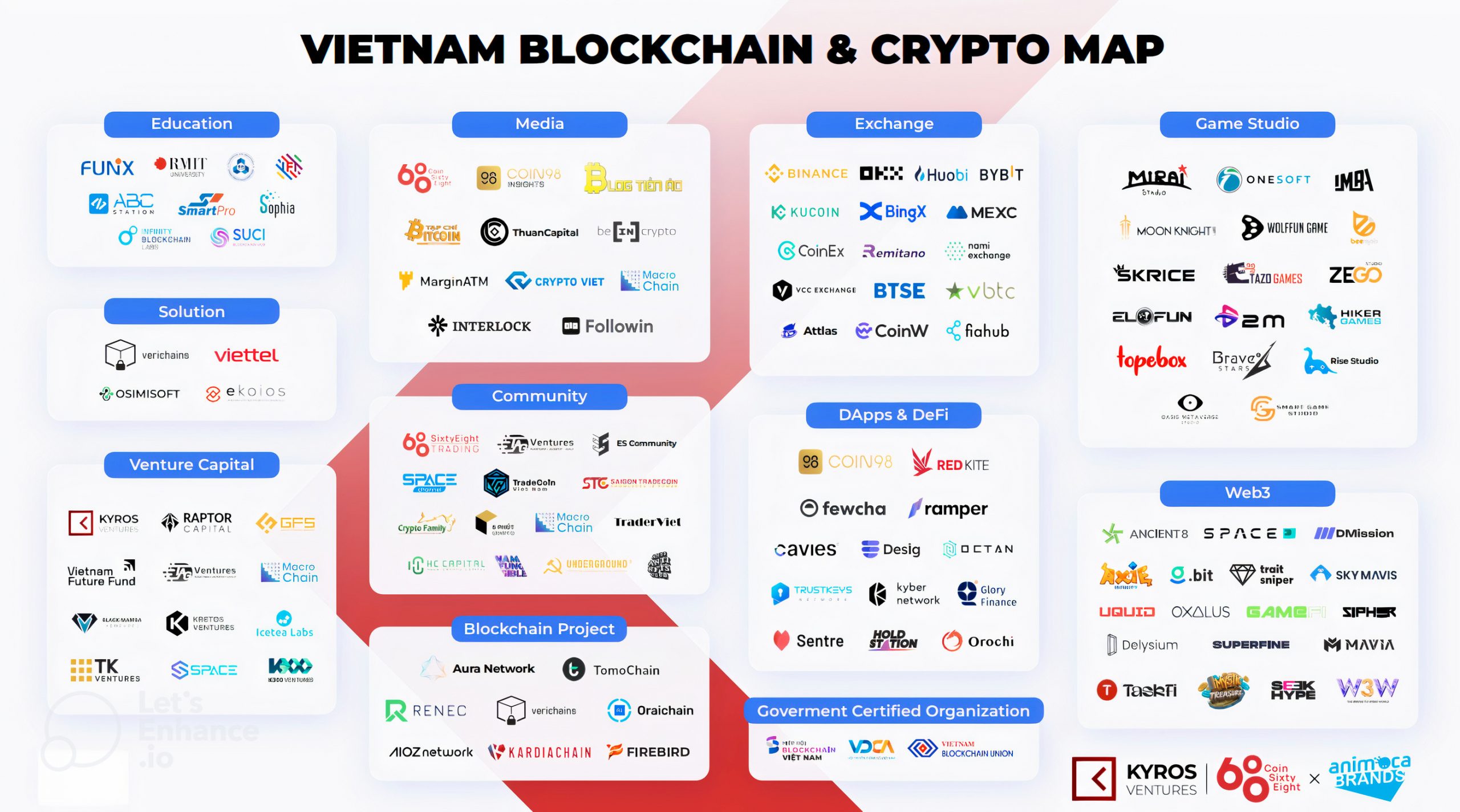 As Vietnam moulds its regulatory position, we can expect an increase in crypto firms setting up camp in the country.
Watch this space, at least pho' now.
Elsewhere:
Bitcoin Price Surges Past Key Resistance Levels: As Bitcoin continues to capture market attention, its price performance remains a focal point for both traders and long-term investors. Today, The Block reported that Blackrock's iShares ETF appeared on a list of ETFs on the website of clearing house DTCC, driving the most recent round of speculation that its approval is imminent. The OG cryptocurrency has witnessed a significant price surge past the US$35,000 mark. Other factors driving a wave of optimism among investors include growing institutional interest, increasing adoption, regulatory clarity, macroeconomic uncertainty, and the recognition of Bitcoin as digital gold. BTC is currently up about 20% over the past week, sitting at US$33,888.
Binance UK Faces Leadership Change Amid Regulatory Squeeze: Jonathan Farnell, the chief of Binance's UK arm and CEO of its payments subsidiary Bifinity, is the latest senior departure at the cryptocurrency exchange. He resigned from his position in late September due to increasing regulatory pressure from the UK Financial Conduct Authority (FCA) on offshore cryptocurrency companies operating within the UK. Binance is under increasing regulatory pressure worldwide, leading to recent departures including Vladimir Smerkis, the General Manager of the CIS region; Gleb Kostarev, the Regional President for Eastern Europe, the CIS, Turkey, Australia, and New Zealand; Leon Foong, head of Asia Pacific; Patrick Hillman, chief strategy officer; and Han Ng, general counsel.
Bit Digital Diversifies into AI Infrastructure, Eyeing Higher Margins: Bitcoin miner Bit Digital is branching into the AI infrastructure business to mitigate the challenges of the crypto winter. Establishing a new unit, the company will invest $35 million in GPUs to support AI firms, expecting to generate over $250 million in three years through a strategic deal, according to a press release Monday. This move diversifies Bit Digital's revenue streams, reducing reliance on Bitcoin mining and Ether staking, the firm said.