Another year, another F1 done; blink and you'll miss it, just like the cars themselves. But perhaps this thinking was the driving force behind MAS' crypto advertising rules.
For the second year running, crypto adverts were banned throughout the Marina Bay Street Circuit, in line with the regulator's wider crypto advertising ban throughout Singapore. However, exclusively to the F1, one caveat remains: crypto adverts are prohibited on the circuit but are permitted on the cars' liveries and drivers' kits.
Perhaps the cars are travelling so blisteringly fast that the average eye can't catch the advertising whizzing past, compared to the permanent fixtures of Singapore Airlines plastered on the grounds and surrounding trackside?
The official party line is that trackside branding is directly aimed at local audiences and thus advertising to locals would be in breach of its rules. Meanwhile, teams' equipment – such as on cars and tracksuits – is more of an advert to F1 fans globally.
Last year, Sergio Perez took pole position with Red Bull Racing, alongside Charles Leclerc and Carlos Sainz who came second and third respectively, representing Ferrari. To the dismay of regulators, Bybit's and Tezos' logos were branded on the corner of Perez's tracksuit as he lifted the trophy.
Likely a result of crypto controversy or generally just a weaker market, fewer crypto sponsors were featured in this year's Singapore Grand Prix. Mercedes dropped FTX (no surprise there), Red Bull ended its deal with Tezos, Ferrari terminated its Velas partnership and AlphaTauri let Fantom go.
However, crypto titan OKX inked a huge deal with McLaren as the racing company's primary sponsor. Consequently, whilst McLaren driver Lando Norris only placed second, he still sported a giant OKX logo across his torso as he stood on the podium, for the whole world (including Singapore local audiences) to see.
🇸🇬 Carlos and his national anthem moment in the podium! 🌶️🏆
We can't be more happy for him! 🥹❤️#CarlosSainz | #SingaporeGP | #F1 pic.twitter.com/Q30fO1wfel

— Carlos Sainz News (@CSainzNews_) September 17, 2023
Our top 10 drivers in Singapore 🇸🇬#F1 #SingaporeGP pic.twitter.com/GkMTWbNxiu

— Formula 1 (@F1) September 17, 2023
With OKX being branded so prominently on the world stage, how effective is the crypto advertising ban? It's not like McLaren's OKX branding is subtle either. Blockhead had the privilege of attending McLaren's livery unveiling to get a close-up look at their car - a close-up look was not needed to spot the OKX logos plastered all over the car.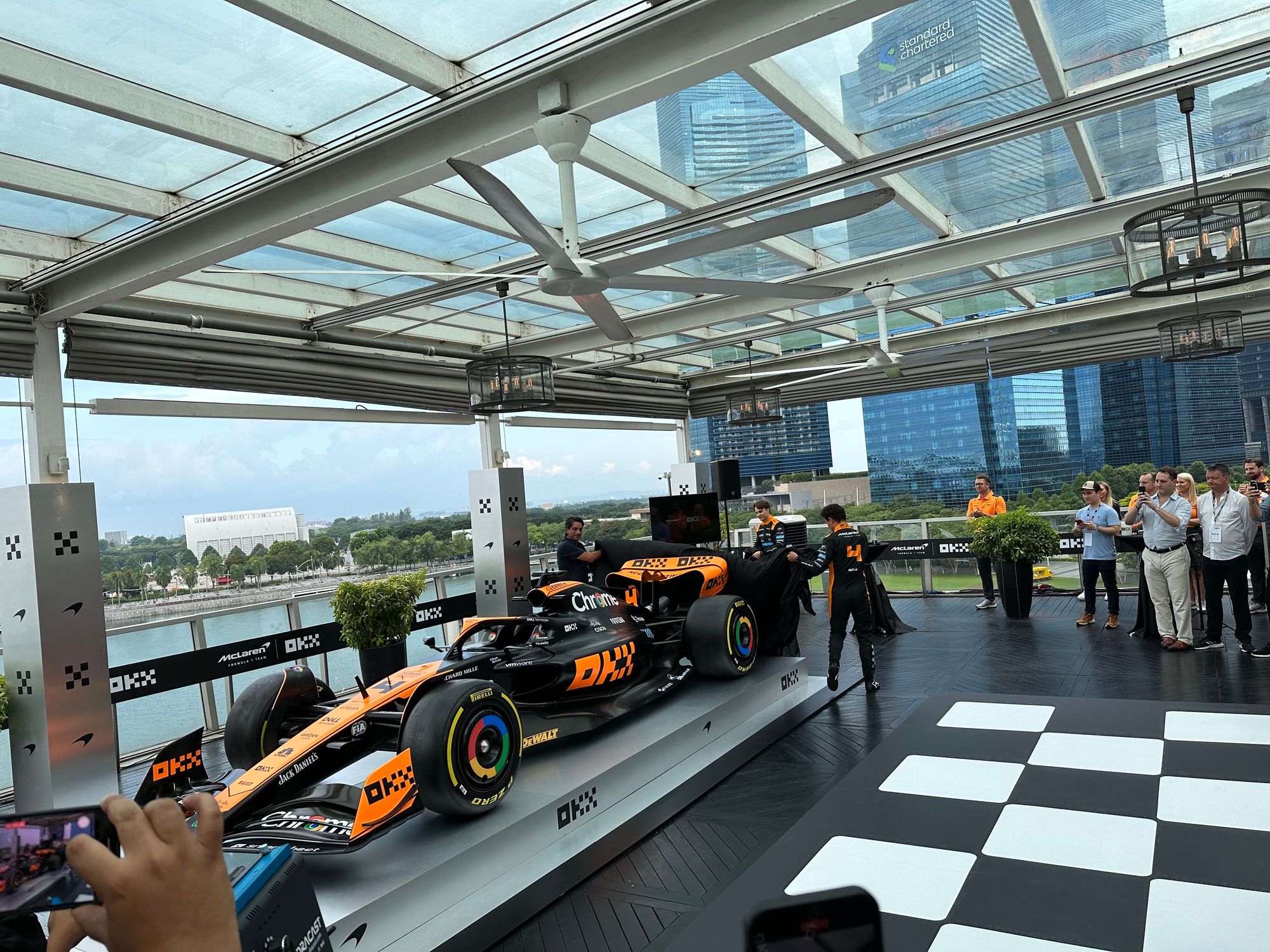 Moving forward (no pun intended), it seems inevitable that crypto advertising rules will need to change. No matter how you angle it, sponsorship is a form of advertising - hence why firms are willing to splash out so much on it. OKX's loud branding in this year's Singapore Grand Prix shows that the industry will continue to make a mockery of the rules if sponsorship is allowed in certain instances but not others.
Elsewhere: