Welcome to Blockhead's Daily Digest, your go-to source for staying informed on the dynamic and ever-changing world of cryptocurrency. Whether you're a seasoned investor, blockchain enthusiast, or simply curious about the latest developments, we've got you covered with the most comprehensive news and analysis.
---
Hello, my dear contrarians,
Just when you thought the DeFi world was settling into a comfortable rhythm, Uniswap Labs decides to stir the pot with the announcement of Uniswap v4. As always, I'm here to cut through the hype and give you the unvarnished truth.
Uniswap v4 is being touted as the next big thing in DeFi, with its new features like on-chain limit orders, automated compounding of liquidity provider rewards, and dynamic fees. But let's not forget that we've seen this song and dance before.
The introduction of "hooks" and "flash accounting" could significantly reduce transaction costs, which is a big deal, don't get me wrong. But will it be enough to cement Uniswap's lead in the decentralized exchange space? Only time will tell. Uniswap v3 was a game-changer, introducing concentrated liquidity and massively improving the DEX's capital efficiency. But let's not forget that Uniswap is still the big fish in a relatively small pond. Yes, it currently has a 57.4% share of on-chain trading volumes, but that's still a drop in the bucket compared to the volumes handled by centralized exchanges.
Uniswap v4 promises to be more customizable and gas efficient, which could help it capture more order flow from DEX aggregators and longer-tail exotic trading pairs. But will it be enough to challenge the dominance of centralized exchanges? I'm not holding my breath.
Uniswap v4 should make Uniswap a more composable protocol, making it easier to build on and utilize its liquidity. This could usher in a wave of new applications and spur a wave of creativity in DeFi. But let's not forget that we've heard these promises before. Uniswap v4 does introduce some interesting new features, I'm not convinced it's the game-changer that some people are making it out to be.
But hey, I've been wrong before. Maybe this time will be different.
Elsewhere:
XRP prices surged overnight following the release of documents related to former SEC's Division of Corporation Finance Director, William Hinman. In his 2018 speech, Hinman stated that Bitcoin and Ethereum should not be considered securities. Ripple had been pushing for the release of the documents in which the wording of his speech was enclosed. The firm argues that Hinam's statements imply that XRP should also be regarded in the same manner and exempt from security classification, which is the premise of SEC's lawsuit. XRP jumped 7.4% following the news but has fallen drastically since to below its surge.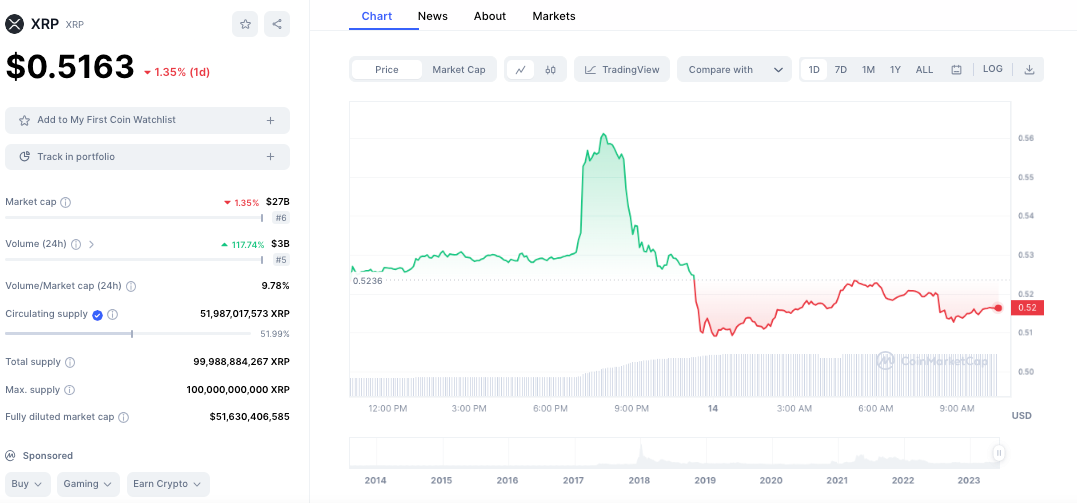 Apple has threatened decentralized social media app Damus with removal from its App Store due to its "Zaps" Bitcoin tipping feature. Damus's Zaps feature allows users to tip others and content creators using Bitcoin through the Lightning Network widget for Bitcoin payments and tips. Apple cited a violation of its policy that prohibits tipping features other than in-app purchases. Damus, which is backed by Twitter co-founder Jack Dorsey, has 14 days to address the issue. On Twitter, the team described Apple's move as "pretty sus."
Damus will be removed from the app store in 14 days, apple says zaps are not allowed on their platform because they *could* be used by content creators to sell digital content. This is right before we're about to give our talk at the oslo freedom forum on how decentralized social… pic.twitter.com/uAK1U0UBet

— Damus⚡️ (@damusapp) June 13, 2023
Bitstamp and Interactive Brokers have become the latest additions to the UK's crypto register, approved by the Financial Conduct Authority (FCA), and the first in six months. The firms join other registered firms like Gemini, Kraken, and eToro. The UK's FCA introduced its anti-money laundering registration process in January 2020 but many failed to meet its criteria by the 31 March 2022 deadline. Only 42 crypto firms have been successfully registered. There has been growing interest in the region from the crypto space. a16z is also planning to open its first international office in London later this year due to greater regulatory clarity in the U.K.
Binance CEO Changpeng Zhao (CZ) has denied allegations that Binance has been secretly selling Bitcoin to boost BNB. Crypto Twitter influencer Cory Klippsten accused Binance of engaging in wash trading to create the appearance of support for BNB. In response, CZ tweeted that Binance had not sold any BTC or BNB and even revealed the firm is still holding FTT.
Wash trading like craaaaaazzzzyyyyy on Binance right now trying to pretend there's support for BNB. This looks sooooooo bad for CZ.https://t.co/qCHjQCSXwD

— Cory Klippsten 🖐️ Swan.com 🦢 #Bitcoin (@coryklippsten) June 12, 2023
4. Binance have not sold BTC or BNB. We even still have a bag of FTT.

It is amazing they can know exactly who sold based on just a price chart involving millions of traders. FUD. 🤷‍♂️ pic.twitter.com/M3MUH2bFRE

— CZ 🔶 Binance (@cz_binance) June 13, 2023