Welcome to this week's edition of Bangkok Block, your go-to source for the latest updates in Thailand's burgeoning crypto scene. Get ready to dive into the exciting developments shaping the industry, from a groundbreaking metaverse collaboration to boost tourism to one of the biggest Bangkok rooftop Web3 builder gatherings of the year.
Here's everything you need to know about Thailand crypto happenings in the past week, and events to get hyped up for that are right around the bend.
Bitkub Metaverse Added to Thailand's Smart Tourism Transformation
The Tourism Authority of Thailand (TAT) and Bitkub Blockchain Technology announced a joint partnership to develop the Bitkub Metaverse, leveraging blockchain technology to transform Thai tourism. The metaverse will showcase tourist landmarks and offer immersive experiences with 3D images and videos, integrating digital assets and NFTs. This collaboration aims to attract domestic and foreign tourists, promoting Thailand as a leading destination for digital and virtual tourism.
With the "Visit Thailand Year 2023: Amazing New Chapters" campaign, the TAT's partnership with Bitkub highlights its commitment to digital transformation. The Bitkub Metaverse project combines blockchain, crypto, and NFTs, creating a virtual world that promotes tourism. By utilizing virtual reality as a powerful tool, Thailand aims to redefine the tourism industry and become a role model for embracing technology in tourism promotion.
Blockchain Security Level Up 0x03: Education and Networking Event
The Blockchain Security Level Up 0x03 event, held at the SCB 10X DISTRICTX venue, offered valuable knowledge and networking opportunities for blockchain security enthusiasts. Attendees delved into Optimistic Rollup and ZK Rollup, prominent layer 2 scaling solutions, during the knowledge-sharing session. A panel discussion centered around navigating the DeFi world during bull markets, further enriching the event.
This platform aimed to enhance understanding of blockchain security and foster connections among industry peers. By facilitating knowledge sharing and networking, Blockchain Security Level Up 0x03 aimed to strengthen the security foundations of the blockchain ecosystem and promote collaboration among security professionals. Attendees left the event equipped with new insights and valuable connections.
Supercharging Bangkok Web3 Builder Con: New Frontiers in Asian Web3 Tech
Supercharging Bangkok "Web3 Builder Con 2023" gathered global experts, crypto leaders, and top VC institutions to discuss Web3 technology's impact at a stunning rooftop venue in the Sathorn business district. With a focus on public chains, metaverse, NFTs, DeFi, and GameFi, the event explored emerging opportunities and trends. Speaker sessions, guest sharing, roundtable discussions, and demos provided insights into the future of Web3.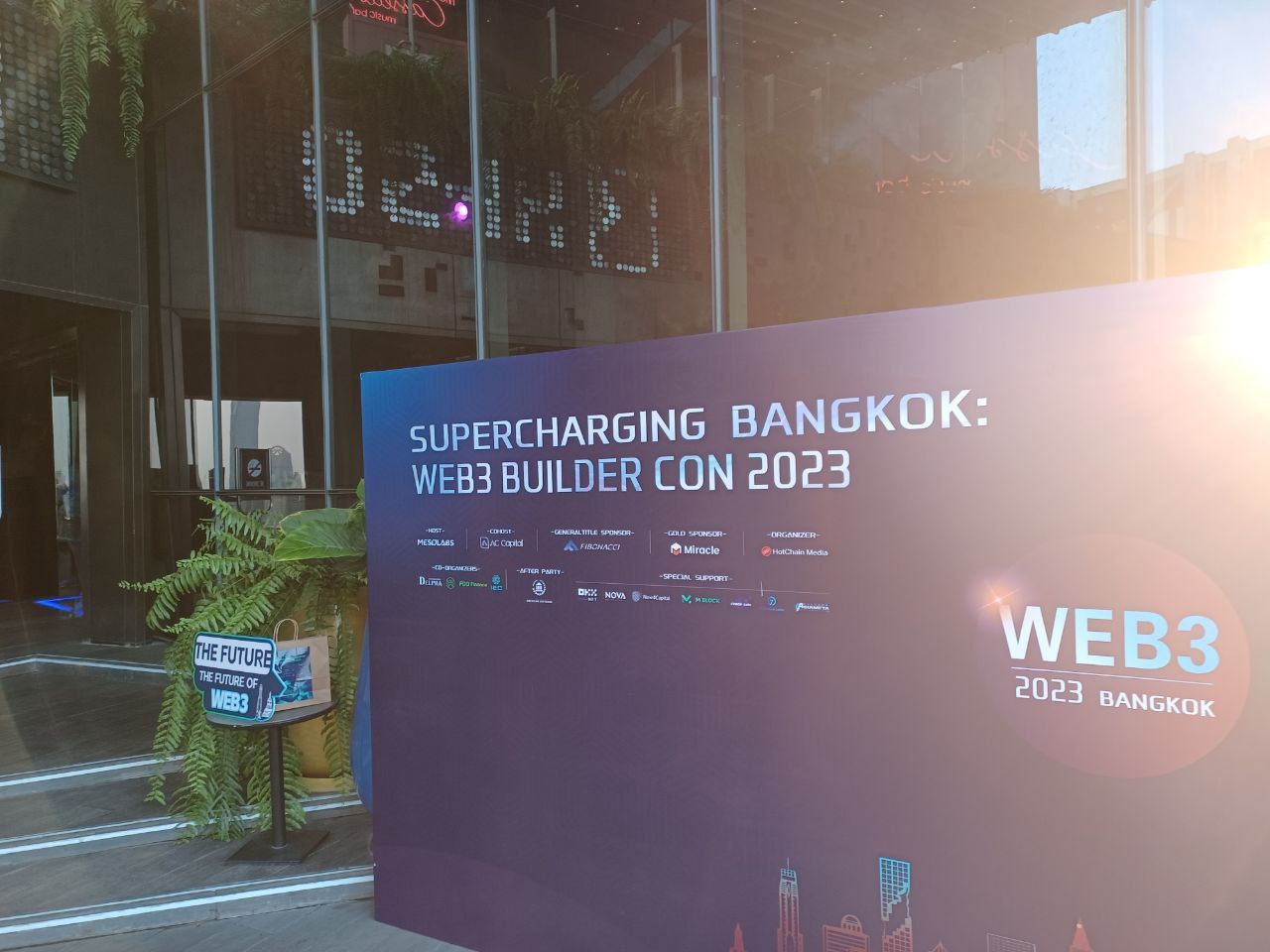 Over 20 influential VC institutions attended, sharing their perspectives and investment strategies in the Web3 field. The get together emphasized public chains, DAOs, NFT ecosystems, GameFi, and metaverse, diving deep into economic innovation, compliance, and future trends. With close interactions with Web3 investors and showcases of innovative projects, the event fostered collaboration and highlighted the potential of the Web3 industry in China, India, ASEAN, and beyond.
Upcoming Events
Thailand's crypto scene witnessed notable advancements last week, including the Bitkub Metaverse collaboration and the successful Blockchain Security Level Up 0x03 event. Looking ahead, engaging events such as the HODL a Drink networking session, and the Crypto, Pool Party & Beers gathering will continue to demonstrate the vibrancy of Thailand's crypto ecosystem.
Experience an unforgettable evening of networking, Latin music, dancing, cocktails, and cigars at Havana Social on May 24th. Connect with crypto and FinTech enthusiasts, share ideas, and enjoy a vibrant atmosphere. Don't miss out on this exciting opportunity to HODL a Mojito and talk blockchain.
Interoperability World Tour at Drinks & Co. Phuket on May 24th, 2023 will feature the founder and CSO of Layer One X blockchain. Explore the world's fastest interoperable blockchain technology while enjoying complimentary Aussie pies and pizzas at Drinks & Co. Phuket (Boat Avenue). Free entry for all attendees.
The "Crypto, Pool Party & Beers" is set to take place on May 27th at Amari Watergate Bangkok. Co-hosted with Epic Entertainment, this vibrant event promises a memorable evening filled with networking, fun, and refreshing drinks. Don't miss out on this exciting opportunity to splish splash and chat about Web3.
If you're around, please drop me a line! And reach out if you're in Thailand and have an interesting story or project you'd like to talk about.
---
Stay ahead of the game by signing up as a member of Blockhead and never miss a beat in the world of digital assets.