Bitcoin and other cryptocurrencies traded sideways throughout the weekend, as the crypto markets continue to eye next Tuesday's release of the CPI data.
At the time of writing, Bitcoin (BTC) is trading at US$22,970.55 (-1.59%) while Ethereum (ETH) is trading at US$1,631.75 (-2.13%). Major altcoins such as BNB, Polkadot (DOT), and Avalanche (AVAX) have also been trading in red within the same period.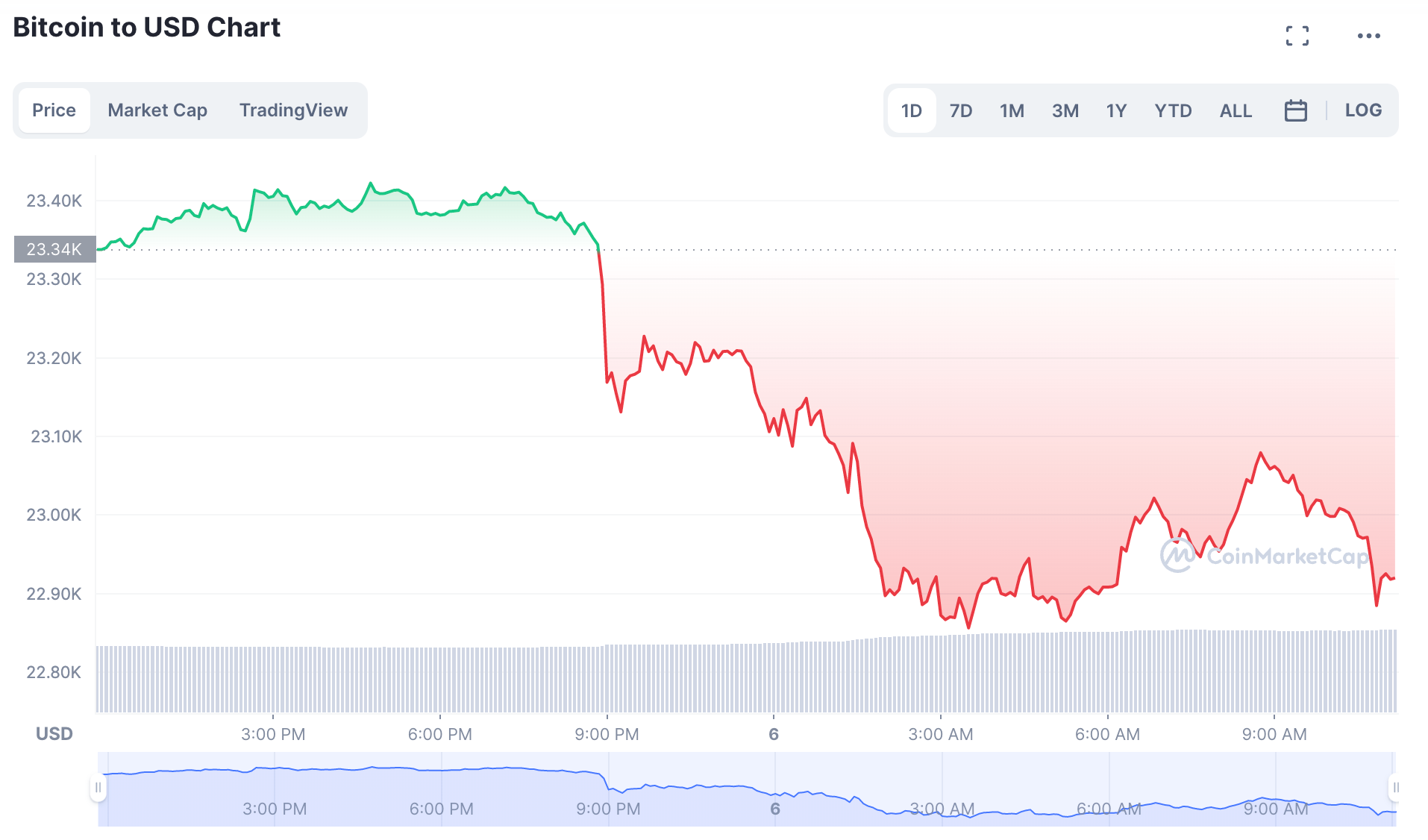 Last week's optimism in the crypto and broader financial markets seems to have faded a little. BTC managed to tease US$24,000 last week, but has since fallen below US$23,000, as investors grow skittish about next week's CPI report, which will give the markets a more accurate indication of how effective the Federal Reserve's rate hikes have been.
"We the committee to not even consider cutting rates until they actually see a 2% handle on inflation, versus the market which believes its the path that matters more," said QCP Capital in its latest note.
"After today, we have to wait another 7 weeks before the next FOMC in March, and that gives plenty of time for markets to ignore Powell today and continue to hope that data will sway the Fed before March," QCP said, adding that bullish retail sentiment, typically a contrarian indicator, has risen to its highest levels since last August," it added.
Binance makes moves
Binance has returned to South Korea after a two year absence.
The world's largest cryptocurrency exchange acquired a majority stake in embattled local cryptocurrency exchange GOPAX, Bloomberg reported on Friday.
According to Binance, the investment into GOPAX comes via the Industry Recovery Initiative, which Binance had set up following the collapse of FTX in November.
"Binance has a responsibility to protect our users, as well as our industry. The Industry Recovery Initiative was created to support promising companies that were negatively impacted by the events of last year. We hope that taking this step with GOPAX will further rebuild the Korean crypto and blockchain industry," Binance CEO Changpeng Zhao said in a press release on Friday.  
GOPAX halted withdrawals of its yield product GoFi in November, citing heavy exposure to now-bankrupt crypto lender Genesis. Digital Currency Grup (DCG), which also owns Genesis, became the largest shareholder of GOPAX's parent firm Streami Inc in 2021.
India dispute
Meanwhile, Binance is escalating its bitter dispute with India-based cryptocurrency exchange WazirX. On Friday, Binance said that it was "inviting" WazirX to withdraw any remaining assets held in Binance wallets.
Last week, according to emails obtained by Coindesk, Binance sent WazirX a demand letter requiring the exchange to publish a pre-written "clarificatory statement" to retract WazirX co founder Nischal Shetty's previous statements that Binance owned WazirX. It also requested WazirX to erase all mentions of Binance in its terms of service.
Elsewhere, experts from Binance's Law Enforcement Training and Investigations teams led a training session focused on cryptocurrency investigation during a Virtual Asset Investigation Course (VAIC) conducted by the Cyber Security and Technology Crime Bureau (CSTCB) of the Hong Kong Police Force (HKPF).
Australia charts regulatory path
Australian's government has announced the initial step of what it dubs as a "multi-stage approach" to tackling cryptocurrency regulation.
According to an announcement on Friday, "the multi‑stage approach has three elements: strengthening enforcement, bolstering consumer protection; and establishing a framework for reform."
The first stage involves the Australian Securities & Investments Commission (ASIC) increasing the size of its crypto team and "upping enforcement measures", which includes taking legal action when cryptocurrencies are marketed without the appropriate credit or financial services licence.
The government also intends to "reform the licensing and custody of crypto assets, particularly for the subset of crypto assts that currently fall outside the financial services regulatory framework".
Last week, Stephen Jones, the country's Financial Services minister, said that regulators are considering treating certain cryptocurrencies as financial products under the law, with the government planning to launch a "token mapping" exercise that would indicate which crypto assets it plans to regulate.
a16z says no to Wormhole
Andreessen Horowitz (a16z) is showing the crypto community that it actually controls decentralised exchange Uniswap, after the venture capital firm used its 15 million UNI holding to vote against the deployment of Uniswap V3 on the BNB chain via the Wormhole bridge.
On Feb 2, OxPlasma Labs introduced the proposal to deploy Uniswap V3 on BNB Chain, using the Wormhole bridge for the deployment. The Wormhole bridge is backed by Jump Crypto, another VC which has significant voting rights in Uniswap. While Jump Crypto did no vote for or against the proposal, a16z used all of its 15 million UNI holdings to vote against it.
Partners of a16z previously expressed their intention to vote for LayerZero, a bridge backed by the firm, as the deployment bridge for Uniswap V3.
"To be totally unambiguous, we at a16z would have voted 15m tokens toward LayerZero if we were technically able to. And we will be able in future Snapshot votes. So, for the purposes of a "temperature check", please count us this way," said Eddy Lazzarin, head of engineering at a16z, in the proposal discussion on Jan. 31.
Trading Volume
According to data from CoinMarketCap, the global crypto market cap stands at US$1.06 trillion, a 1.77% decrease since yesterday. The total crypto market volume over the last 24 hours is US$48.01 billion, a 24.93% increase.
Fear & Greed Index
The index uses 5-6 measurements to assess the current sentiment of the market and then rates that level of emotion on a scale of 1-100 – 1 is extreme fear and 100 is extreme greed.
Risk appetites in crypto continue to surge – the Crypto Fear and Greed Index is down from last week's 60 and currently stands at 56, indicating "greed." Sentiment has improved significantly since the FTX implosion in November, during which the index fell to the low twenties.